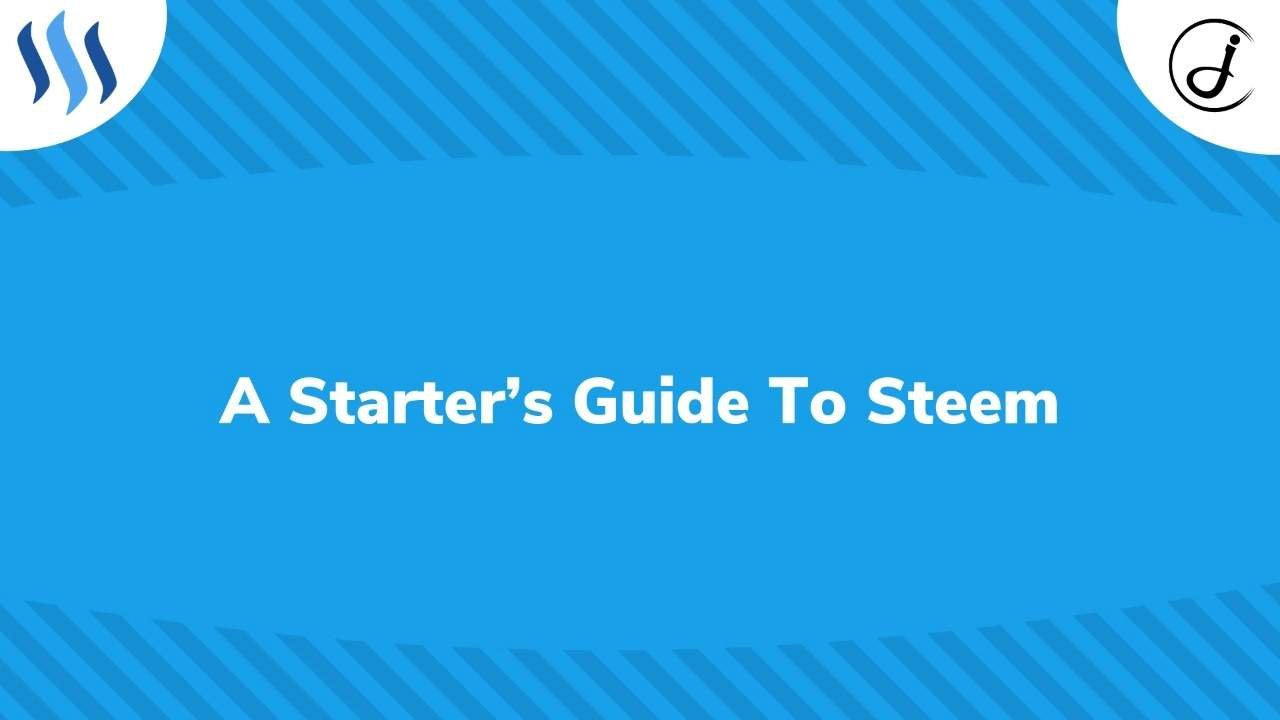 You've been invited to Steem!
Great. Now what?
Hi there,
You've probably read about Steem in one of my Tweets, Facebook posts or I personally recommended you to use Steem. But, I left you with more questions then answers. Or maybe, you already have an account, and after getting no traction and no up vote, you decided to give up and never try again. Or, we have already connected on Steem and you just read my regular posts. Welcome either way :).
This post is a step by step process on how to experience Steem in a way that you won't feel left out, specifically written for Steem newbies or aspiring Steemians.
1. Step one: Make a Steemit account
Ok. This is by far the easiest step. Go to https://signup.steemit.com/. It might take some time before you get accepted, but no need to worry, you can continue reading this article and maybe try the course by @paulag at the bottom of this post to get familiar with the platform while you await your approval.
2. Step two: Download Partiko
Get yourself Partiko, download it here.
To be totally honest and fair. You can use any app or website you prefer to make your Steem experience better. I even enjoy just using Steemit sometimes because I personally feel the UX is great. Others however, beg to differ. Here is a list of options, if you want an unbiased approach.
Websites:
busy.org
steampeak.com
Apps:
Appics
Esteem
The aforementioned websites/apps all have their unique distinction and are all great if you want to experience Steem differently.
I ended up a @partiko user because:
A) Their UX is great. For me, Steem feels like a Social Media platform because their mobile app make me feel like I'm on Facebook or a similar platform
B) Notifications. You get notified if someone comments, upvotes or starts following you.
C) Partiko points. A little gamification element they've added. You can collect the points and try to get in their top 20 or use them to up vote your posts. You get points for upvoting, commenting and posting, which really rewards those who are interactive on the platform. They also have the opportunity to gain points by watching ads. Last but not least, you get rewarded for referrals.
D) SP delegation. One of the biggest issues for newbies is resource credits. Small accounts only have limited steem power, meaning they can post and comment only 5-10 times a day. Partiko helps you out by giving you 15 SP delegation if you are just starting out.
E) Their customer service. Questions? Just send them a message in Partiko and they will help you out.
If you decide to use Partiko, I would be really grateful if you use my referral link as a token of appreciation: https://partiko.app/referral/jeanlucsr
3. Step three: Get connected to the PAL network
There are really a lot of great people on steem that are willing to help you out.
The Minnow Support Project is one of them. It's a witness project run by @aggroed, @ausbitbank, @teamsteem, @someguy123, @neoxian, @followbtcnews, and @netuoso. Their goal is to help Steemit grow by supporting Minnows.
Go to their Peace, Abundance, and Liberty Network (PALnet) Discord Channel. Read everything carefully and follow the rules.
Once you register you will be able to apply for a free upvote on content of your choice every 30 hours. This is a real lifesaver for those just starting out. Most newbies only get a couple of upvotes which are often not worth anything. The minnow support upvote is a pretty big upvote to start with and sometimes attracts attention from more senior users if the content is really good. Don't misuse the upvote option to upvote crappy content and avoid using it for dapp posting (I think I once had an issue when trying to upvote a share2steem post).
This step could be a hurdle for some, especially those who've never used discord before. But trust me, it is worth it. If you are on discord, feel free to hit me up (Jeanlucsr#8411).
4. Step four: Find your niche
I guess in a sense, the Steem platform is much like any other Social Media platform. If you just post random stuff (without having a big following), it will get you nowhere. Take your time to find a niche. There are some great country based communities, so do check out if your country has a steem community as well. The great thing about Steem however, it that it is a worldwide community with many different interests. Check out which niche fits you best.
I'll tag some people you might want to follow based on your interests:
@tattoodjay - awesome photographer. Great follow if you are into photography, but also shares contests which you can join.
@mariannewest - must follow if you are into writing, also has a great daily freewrite which you can join anytime.
@detlev - If you are into beer. He is your guy. Also runs a weekly beer contest.
@dtube - If you are a video creator, it would be a waste if you didn't upload to dtube.
@pennsif - Covers anything Steem related, gives daily updates on the community, as well as news related to meet ups around the globe.
@sagescrub - If you are interested in homesteading, but also if you want to use steem for E-commerce (builder of the Woocommerce Steem Payment Method plugin).
@stackin - If you are a hustler, grinder, entrepreneur or investor and you want to be stackin, Charles Fuchs is definitely worth a follow.
@thedarkhorse - Founder of @pifc and @minnowbuilder. Helps out a lot of beginners with free Steem Power (SP).
There are a lot of great people on Steem. Take your time to connect with people and you will be rewarded for it.
5. Step five: Learn more about Steem dapps
There are a lot of great apps (Decentralized apps) that are connected to the Steem blockchain.
Currently, the top 4 dapps on stateofthedapps.com are Steem related. So are 7 out of the top 10. There are 3 more in the top 20, and 6 more in the top 50. So let's examine these 16 dapps.
Dapps already mentioned:
@steemit, @partiko, @busy.org, @esteemapp, @steempeak, @dtube
Dapps I personally use:
@actifit - Tracks and Rewards you for your daily activity @share2steem - Connects your Twitter, Instagram and other Social Networks to Steem
Dapps I don't use, but have my interest:
@steempress - pretty cool Wordpress plugin that connects your blog to the blockchain
@fundition - A Steem based Crowdfunding and collaboration platform
Dapps I haven't researched yet:
@steemhunt - Daily ranking for cool new products
@smartsteem - Investment and promotion-service connect to the Steem blockchain
@dclick - Incentived advertisement platform by Proof of Click
@minnowbooster - Steem Power delegation and post promotion markets
Games:
@drugwars and @steemmonsters are currently the 2 hottest crypto games on the market
Dapps that I haven't seen listed, but I also use:
Steemworld.org - awesome website by @steemchiller that gives an overview of your Steem account
Dpoll.xyz - A decentralized poll app on the top of the STEEM blockchain
@steemitworldmap - App the shares your travel stories by pinning the photos/posts on a world map.
6. Step six: Power up
I guess I can't stress this enough. Community matters, so does investing in yourself and the platform. It is seen as common courtesy that you power up your earnings at least until you reach the level of 500 Steem Power. Trying to cash out your earnings early will raise some eyebrows from bigger accounts that have been supporting you along the way.
In the end, it is all about your intentions. If you abuse the steem blockchain, people will call you out for it and might even respond by unfavorable action. If you open up and are transparant about why you need to do a withdrawal, it might be better accepted. But powering up is the best way to show you are willing to invest in Steem and dedicated to the platform.
7. Step seven: Participate in contests
Growing on the platform can be quite a long and enduring process. That's why a lot of accounts over different contests for Steemians to empower them.
Currently @nathanmars is running a #Seven77 competition. It means doing 7 creative push-ups for 77 days. The goals is to get more people familiar with the Steem blockchain while doing a healthy exercise. You can #share2steem or post on dtube, but posting on Twitter is mandatory, to improve the awareness outside the steem blockchain.
If you are dedicated, you will get rewards. And if you keep it up for 77 days, you will definitely be rewarded, not only through Steem, but with your health as well ;).
On to some contests I came around recently:
@jaynie runs a weekly contest track of the day in which you can comment your favorite track
@czechglobalhosts run a lot of different photocontests
@gogreenbuddy runs a daily green give away
@jaybird runs a weekly steemit sandwich contest
@jayna runs a weekly micro-fiction contest
Again, just a small collection, but enough to get you started on your Steem journey. Good luck and Steem On!
Bonus tips
If you want to learn a bit more, make sure to check out this minnow tips post by @fitinfun
https://steemit.com/busy/@fitinfun/monday-minnow-tips-for-everyone-from-fitinfun
Make sure to check out @steemsavvy as well.
Also, @paulag has a free Udemy course on the Steem Blockchain. If anything follow this:
https://www.udemy.com/understanding-the-steem-blockchain-economy/
---
Let's built #SteemAwareness, connect on Twitter!
Steemians on Twitter
---
#Lobi
@jeanlucsr



Special shoutout to @zord189 for this awesome signature
Posted using Partiko Android