Hey Jessiee payers
They say death and taxes are two things you cannot avoid in this world, and to me, one of them seems unnecessary. The world's income tax rates range from between 7% and a whopping 60%. In my country of South Africa, you can pay anything between 18 - 45% tax on your income and we all accept this as part of being a citizen of a specific country. People begrudgingly pay it, others try to avoid it or limit their tax burden, but no one ever challenges it.
Many people beg the government for more, yes tax the rich! Everyone wants to tax the rich until they are rich, then they don't want to pay taxes, and you'll quickly find out the rich don't pay taxes. You pushing the rich to pay taxes is what drives them to put their money into real estate and other commodities and drive up asset prices more so you cannot afford your standard of living. But that's a story for another day. .
Image source: - reddit.com
How much of your time do you spend working for free?
If you're paying the least amount of tax you can at 7% you would have to work you would work for just shy of 4 weeks a year without getting any of your money. If you're paying the maximum of 60% income tax, you would spend 32 weeks or close to 8 months of your year working for free.
You are an employee of the government, and you work to pay their salaries and income. You don't notice it because they spread it out and take from you each month, but if you look at it rationally, you'll see how irrational this is when it comes to income tax.
By this calculation, how many weeks do you work for free? Please share it with me in the comments.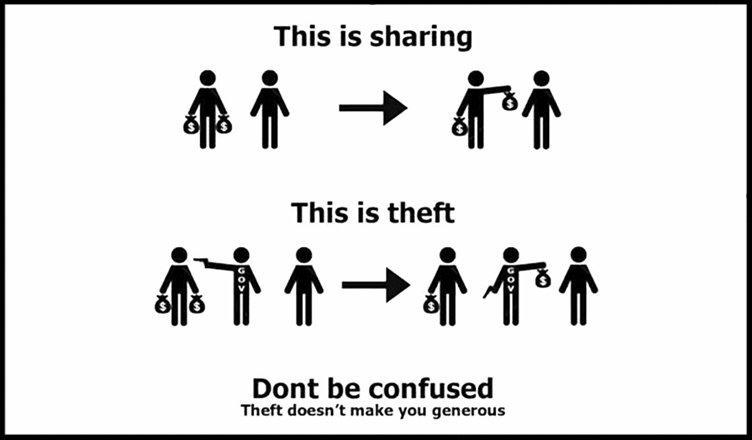 Image source: - libertyhangout.org
Crypto will allow more time off with less time working for free
It's because we spend so much time working for the government that we have less time for the things we want to do, spending time on recreational activities, friends, family, travelling and more. As we grow the crypto market, as people start to accept payments in crypto, earn salaries in crypto and instead of opting out into fiat we should be looking to move some of it into stable coins for general use.
Once we step out of the toxicity that is fiat currency, we will be able to realise what money can do for the average person. I truly believe in the power of people to allocate resources responsibly if given a chance and that people should be allowed to do as they please with the wealth they acquire.
If you could hold money that's not liable for income tax, sin tax, value-added tax, import tax and not being bogged down by inflation through central banks, who knows what kind buying power we could have from the fruits of our labour.
Let's connect
If you liked this post sprinkle it with an upvote or resteem and if you don't already, consider following me @chekohler


---
| Buy & sell STEEM | Donate LikeCoin For Free | Earn Interest On Crypto |
| --- | --- | --- |
| | | |