Hey Jesslaves
When we're born, we're told that we will be able to learn skills that will earn us a living wage and from it, we will be able to build our little place in the world. Have a home, raise a family, travel the world and work your way into having anything you want.
Trading your skills for money, the better your skills, the more the value you can get and the quicker you can attain personal and financial freedom.
Unfortunately, many of us don't work in markets where we can dictate our income based on our skill level and improvement thereof. We work in markets where we get a fixed rate vs the 8 hours we spend completing rudimentary tasks.
Wages have not kept up with the increase in inflation, and each year, more of your paycheque is stripped away from you through various taxes, levies, fees and financial tools.
Dancing around the real problem
I often find it amazing how people would spend so much time debating things like the gender pay gap or the minimum wage none of which affects the situation as much as the fact that overall wages have flatlined.
Human capital is the most costly expense for any company and because workers expect to be paid more for their labour each year regardless of performance or what they output as a whole companies try to cut down on it.
Since most workers remuneration isn't directly tied to the performance of the company they couldn't care less about income, net income and the balance sheet, they want to see an extra few bucks on their paycheck each year.
Financially it doesn't make sense for a company to pay more for a task that they could pay less for, so they keep wages flat, disgruntled employees leave, and a new one takes their place at the old rate of payment. Unfortunately, most modern jobs are pretty replaceable; it doesn't take much unique skill and can be replicated by several people all willing to do it for a little less.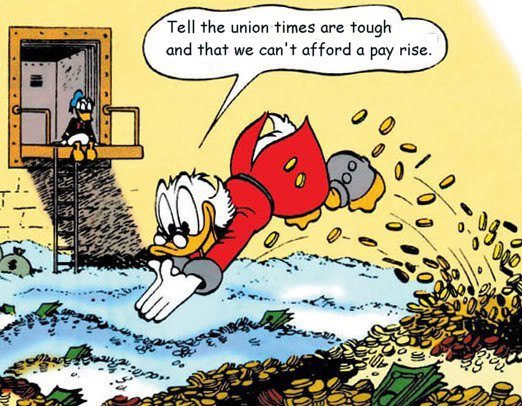 Image source: - thedailyblog.co.nz
Outsourcing
Due to the internet, we've opened up the global economy, and companies now have access to labour from all over the world. A company can ship in immigrants willing to work and earn a low salary with the fear of deportation and going back to their old lives.
Alternatively, they can set up operations in countries with cheaper labour costs and cut down on human capital expenditure.
Investing in automation
Outsourcing was one way of reducing labour costs, but companies are always looking for scale and to trim a little more off the wage bill. Now with the introduction of automation and AI, they can take specific tasks and allow bots to do it at a fraction of the cost. Allowing them to work 24/7 without any performance restrictions and eliminate human error.
Cash hoarding
Companies also prefer to hoard cash these days and use it to buy back stock to quickly inflate their value.
Why would they want to spend on retaining talent and producing better output in service for customers on the off chance that it will improve share prices when you can just buy back shares and drive up share prices? The path of least resistance and better financial results will always be taken, even to the detriment of others and society.
Spending on ancillary benefits
Instead of adding more wages to peoples paycheques and reducing tax burdens companies prefer to spend on benefits like free food and transportation for workers. While this does drive up the convenience factor for workers, it's effectively money that could have gone to higher wages.
Big corporate and big banks make for smaller wages
We've given over power to big corporates and banks and they have full control over how our lives are run. They dictate wages, prices and how we live as a society.
The elite can continue to extract wealth from the working population as long as they don't become disgruntled or wake up and realise that services, products and finances all need to be spread and decentralised.
That without healthy competition and alternatives markets cannot become efficient.
Let's connect
If you liked this post sprinkle it with an upvote or resteem and if you don't already, consider following me @chekohler


---
| Buy & sell STEEM | Donate LikeCoin For Free | Earn Interest On Crypto |
| --- | --- | --- |
| | | |