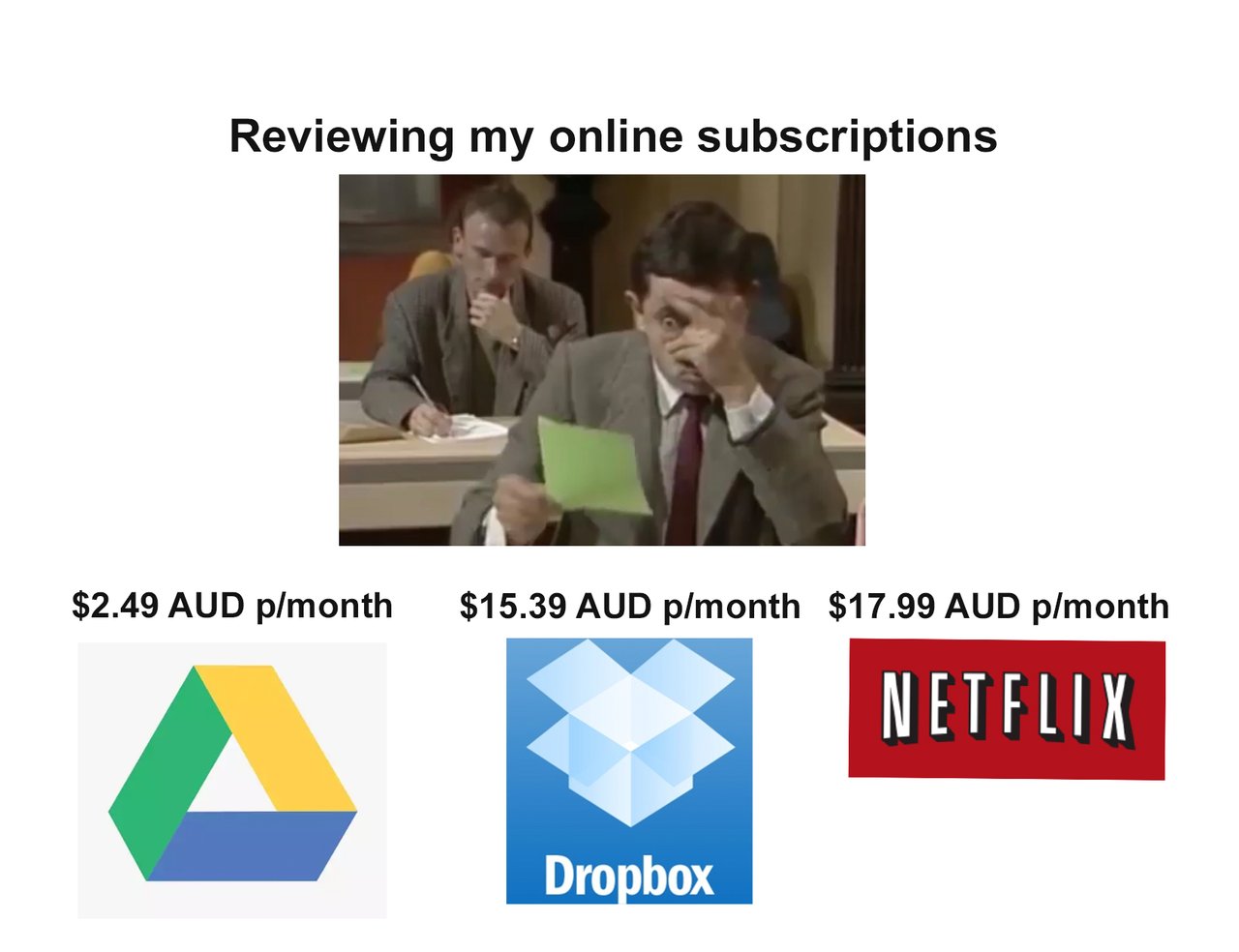 Not too long ago, my friend @organduo and I were discussing finances (just the usual 'organists' talk, haha!) and we got onto the topic of online subscriptions. I think this was probably sparked in relation to my Patreon post. It's much easier to be on the giving end of an online subscription, rather than being the one to provide a service and get some sort of regular income (for the average joe). @organduo said that online subscriptions are solving problems and providing value so this inspired me to review my credit card statement and see where I could cut out any extraneous cost.
I was paying for a Google Drive and Dropbox subscription. Did I need both subscriptions? The Google Drive one was much cheaper for the same 1TB of storage. I simply did a cleanup of my Dropbox and moved my items to Google Drive. I'm now back on the free Dropbox plan along with my earned storage through referrals over the years. Google Drive pretty much provides similar functionality to Dropbox, so making this move (and saving money) was simple.

I was paying for the top tier Netflix subscription. Did my account really need the 4k resolution? I don't even own a 4k screen. Was I ever going to need the ability to use Netflix on four devices simultaneously? Probably not, although two of my kids would are likely to watch on their iPads separately. So a simple downgrade of the plan from Premium to Standard was done.
MONTHLY SAVINGS REPORT
| Subscription | Savings |
| --- | --- |
| Dropbox | -$15.39 |
| Netflix | -$4.00 |
Savings total: $19.39 AUD, p/month
I encourage you to review your subscriptions, from time-to-time, and use the savings to invest in more STEEM!