Despite what you may have heard, the main driver behind the price action of the stock market is not technical factors nor are the fundamental factors, it is emotion.
Beyond any shadow of a doubt, there is an eerie sense of euphoria in the equity markets today.
Have a look at the chart below. This is the "fear and greed index" and we are now entering the phase of extreme greed.
To some what I am about to say may seem counter-intuitive however, history has proven that when we enter this extreme greed phase-it is generally a bearish sign, or a sign to take profits.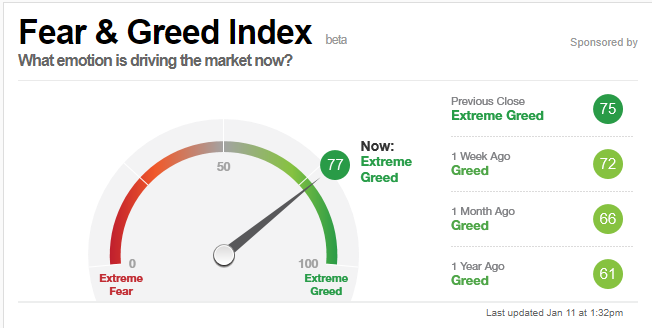 Keep in mind, the extreme greed phase which we appear to be in today can continue, and in this environment more than likely will, however this should serve as a signal that we may be nearing a short term market top.
Gregory Mannarino. "The Robin Hood Of Wall Street."
BEAT THESE MARKETS FOR FREE. On My Website: Charts Of Bonds, Gold, Silver, Bitcoin, STEEM, Ripple, Ether, Litecoin, SLV, GLD, MORE! Click here: https://www.traderschoice.net/