Have a look at the charts below.
This one is the US Dollar index from today, Monday 1/15/18. (Down again).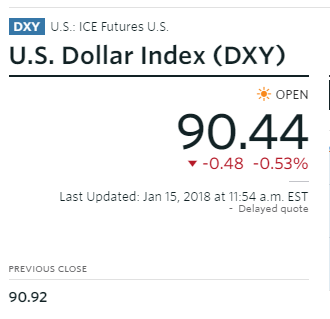 This next chart is also the US Dollar index. (One year).


The current trajectory of the dollar value, and hence your purchasing power, is in terminal decline.
What the main stream media should be concerned with is not if cryptocurrencies like Bitcoin are in a bubble, but if the Dollar bubble has finally burst. The fact is the dollar is a unit of debt, which may indeed be in an irrecoverable fall. It appears that the dollar has started a "random walk" with a downward drift moreover, why would a reversal of this trend occur?
FACT: Global debt and deficits will continue to inflate exponentially, which means that debt notes (The Dollar) will continue to deflate. It is a simple cause, effect scenario.
The general public believes that the dollar value is constant, therefore they will continue to hold those dollars despite every evidence that the dollar is in serious trouble.
Gregory Mannarino, "The Robin Hood Of Wall Street."
BEAT THESE MARKETS FOR FREE. On My Website: Charts Of Bonds, Gold, Silver, Bitcoin, STEEM, Ripple, Ether, Litecoin, SLV, GLD, MORE! Click here: https://www.traderschoice.net/
PLEASE PAY IT FORWARD. This is an animal shelter which I personally support financially with monthly donations. Please adopt homeless pets. https://animalfoundation.com/