Wait for the fat pitch!
As in baseball you should only swing in investing when the ball is in your personal sweet spot. Waiting for that nice fat pitch is the difference between a base hit and a home run.
Here is another highlight of a company being aggressively purchased by the worlds best money managers as shown in the quarter SEC Form 13F filings.
A secert to Warren Buffett's success was his patience to hold cash and other low risk assets until the fat pitch presents itself where he can buy great businesses cheaply or at least fairly valued. The results speak for themselves, if you had invested just $100 in Buffett's Berkshire Hathaway (BRK-B) in 1964, it would be worth around $2.4 million today (a 20.5% compounding annual return for 54 years). With a record $122 billion in cash Berkshire Hathaway is waiting for the once in a lifetime purchase.
You can still follow his lead and invest in one attractive business that he holds a huge position in. Right now Berkshire owns Apple (AAPL) which represents 24% of his total U.S. stock holdings. The $930 billion behemoth makes some of the most popular devices in the world, like the iPhone, iPad, and Apple Watch. Apple gushes profits earning $56 billion last year and the company has a strong balance sheet with enough cash to pay off all debt while still having $102 billion in cash for play money.
The shares are cheap trading at an EV/EBITDA of 10.8. You can own the world's best business at a 16% discount to the S&P 500 which trades at an EV/EBITDA of 12.9.
The shares are trading well after hitting a high of $232.07 it has been consolidating gains building energy for the next leg higher.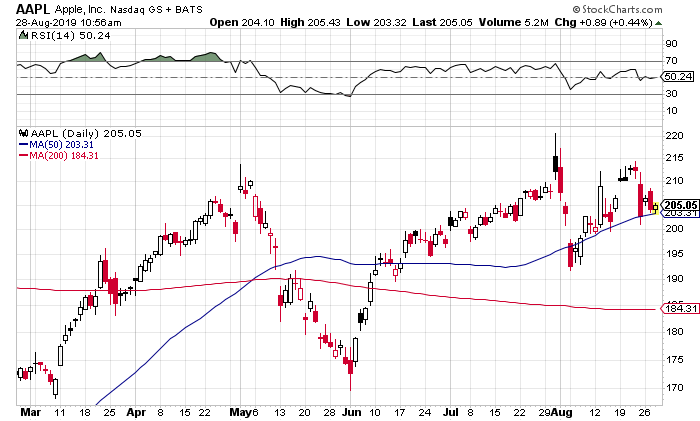 The increased market volatility provides an optimum time to trade for income by selling a put option. We will potential buy shares lower than the current market price while taking less risk. This deal is sweetened by the upfront cash received.
Trade details:
Sell to open, the October 18, $195 puts on Apple for $4.80 using a limit order for a 2.5% instant payment.
At expiration if shares are trading above $195: put sellers will keep the $4.80 earning a 17.3% annualized return in eight weeks.
At expiration if shares are trading below $195: put sellers will buy shares at a 7.9% discount to yesterday's closing price. Then you can collect more income by selling covered calls.
Use a stop loss at $173 (about 9% below your adjusted cost basis). Below $173 Apple will have broken its uptrend and is best to protect your capital for another trade.

Disclosure: I wrote this article myself, and it expresses my own opinions. I have no business relationship with any company whose stock is mentioned in this article. The information provided should NOT be considered advice. The topics discussed are risky and have the potential to lose a substantial amount. I am not an investment professional and therefore do not offer individual financial advice. Please do your own research before investing.