This stable business is a buy.
General Mills (GIS) is a $32 billion packaged-food maker with large brands include Cheerios (cereal), Betty Crocker (baking), Pillsbury (the "Doughboy"), Nature Valley (granola bars), Yoplait (yogurt), Old El Paso (Mexican-inspired food), Häagen-Dazs (ice cream), and Blue Buffalo (pet food). General Mills owns and markets more than 100 brands in more than 100 countries and people tend to buy these products for a lifetime. General Mills is known as a consumer staples which tend to hold up better than the overall market during recession periods which may be starting soon.
General Mills' business is still going strong generating $17 billion in sales over the last 12 months and earning 12% profit margin. Earnings per share reached a new high of $3.23, up 5% from the prior year. The company rewards shareholders with a large 3.7% dividend (almost double the S&P 500 yield of 1.9%).
Business slowed from 2015 to 2017 which hurt the share price but with the company back on a growth track we would expect shares to continue to rise. Shares are currently in an uptrend with share prices above the 200 day moving average (DMA)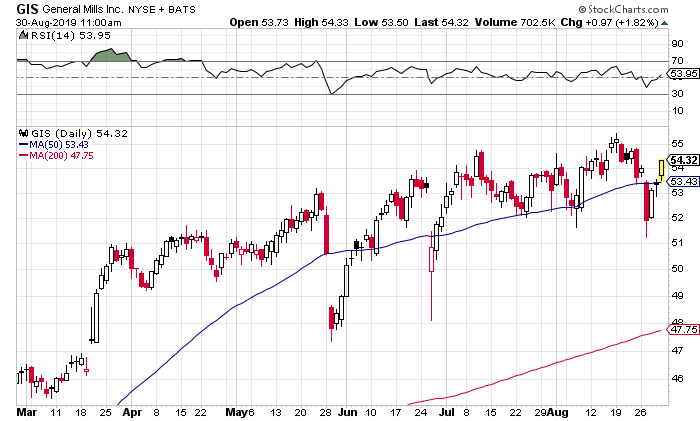 Trade details:
General Mills shares are a buy but I like to earn more consistent income by selling put options.
Sell to open, the October 18, $52.50 puts on General Mills for $1.80 using a limit order to earn 3.4% payment for agreeing to buy shares at a discount to yesterday's closing price.
At expiration if shares are above $52.50: put sellers will keep the $1.80 for a 25.6% annualized return in about 7 weeks.
At expiration if shares are below $52.50: put sellers will buy shares at a 5% discount to yesterday's closing price ($52.50 strike price - $1.80 premium received). Then you can sell covered calls on your shares to earn even more income.
Use a stop loss at $46. You risk 9.3% on your cost basis and protect yourself from a new downtrend in share prices.
General Mills is a great business with wonderful brands. It is time to collect cash today.

Disclosure: I wrote this article myself, and it expresses my own opinions. I have no business relationship with any company whose stock is mentioned in this article. The information provided should NOT be considered advice. The topics discussed are risky and have the potential to lose a substantial amount. I am not an investment professional and therefore do not offer individual financial advice. Please do your own research before investing.