En esta oportunidad traigo una serie de fotos que me parecen están relacionadas por un elemento particular, a pesar de que han sido captadas en sitios y momentos distintos.
In this opportunity I bring a series of photos that seem to me to be related by a particular element, even though they have been captured in different places and at different times.
Este elemento particular es El sombrero, en la primera imagen pueden ver un señor que no se detalla sus rostro porque está de perfil, pero a pesar de eso se puede ver que es un persona de edad avanzada, se evidencia en sus arrugas muy marcadas y a pesar de ser una foto en blanco y negro se aprecian las manchas en la piel producto de los años, con la mirada puesta en un sitio indeterminado (para mi).
This particular element is The hat, in the first image you can see a gentleman who does not detail his face because he is in profile, but despite that you can see that he is a person of advanced age, is evident in his very marked wrinkles and despite being a photo in black and white are appreciated the spots on the skin product of the years, with the look set on an indeterminate site (for me).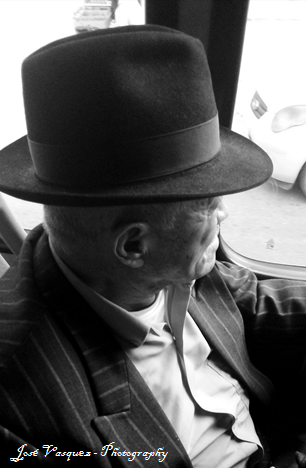 La primera imagen la he captado en el transporte público, esperé el momento indicado para poder hacerlo, las que a continuación mostraré han sido en otro espacio y tiempo.
The first image I have captured in public transport, I waited for the right moment to be able to do so, which I will show below have been in another space and time.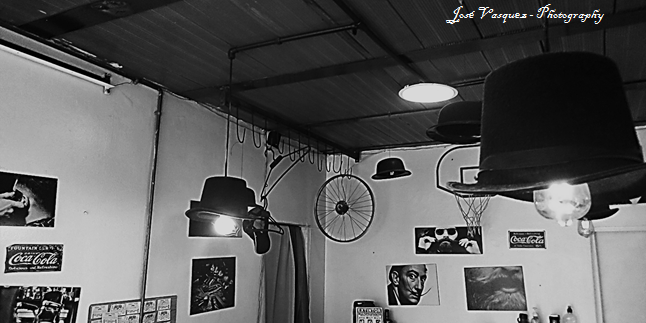 Esos sombreros colgando del techo que a la vez sirven de lámpara, me parecieron siempre muy curiosos.
Those hats hanging from the ceiling, which at the same time serve as a lamp, always seemed very curious to me.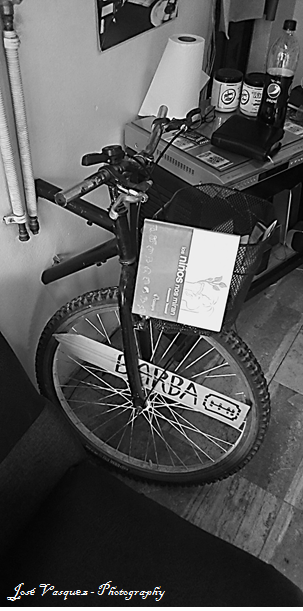 Este espacio es una barbería muy particular a la que asisto por lo menos una vez al mes, para que me afeitan el cabello. Desde la primera vez que entré había querido sacar algunas fotos, pero no había visto una buena oportunidad, ya que con frecuencia se encuentra llena de personas, sin embargo en esta oportunidad fui en una hora no habitual, y estaba sólo con un trabajador, quien en su momento me dejo sólo para buscar algo, y fue el momento.
This space is a very particular barbershop that I go to at least once a month to have my hair shaved. From the first time I came in I had wanted to take some pictures, but I had not seen a good opportunity, as it is often full of people, however in this opportunity I went in an unusual hour, and was only with a worker, who at the time left me only to look for something, and it was the moment.
Aros de basket y rines de bicicleta colgando del techo, media bicicleta pegada a la pared, suena descabellado, pero no se ve así, muy original su diseño, nada ostentoso además, pero llamativo, por lo menos para mi. Es de resaltar que el trato también es muy ameno, y el trabajo destacable. Espero hayan disfrutado las imágenes.
Basketball hoops and bicycle rims hanging from the roof, half a bicycle attached to the wall, sounds crazy, but it does not look like that, very original design, nothing ostentatious in addition, but eye-catching, at least for me. It should be noted that the treatment is also very pleasant, and the work remarkable. I hope you enjoyed the images.