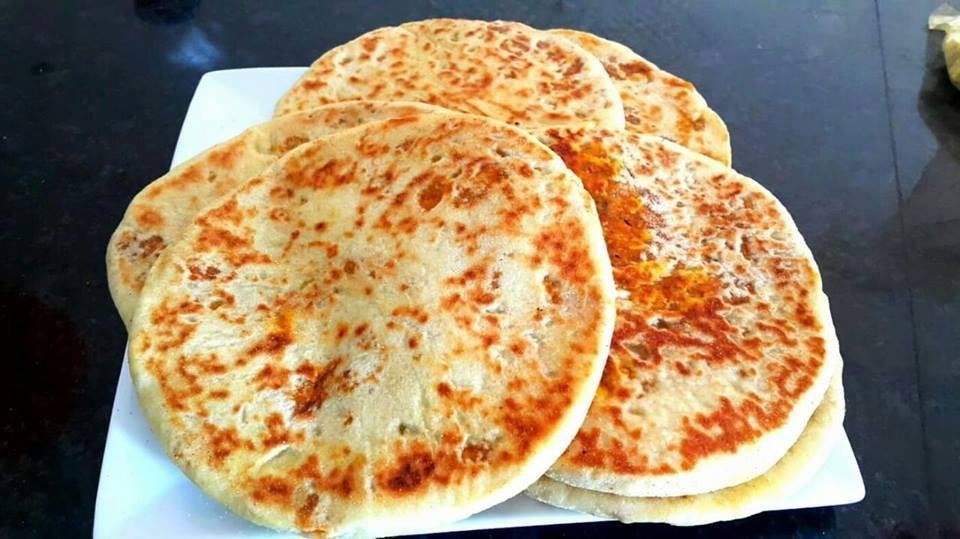 Fat Moamer
Pâte:
500 g de farine blanche 4 avec votre huile municipale, avec 2 k de lait en poudre, avec votre levure et la moitié de la terre, un peu de sel et 200 ml d'eau
Nktaiw tout chaud et Ndlk la pâte et de l'eau Njilloh se détend pendant une heure.
Remplissage:
Dans une huile poêle à frire, Blida et 2 Nodao relie deux syllabes wafers jusqu'à faire tomber l'oignon, 2 Khizo démangeait et Masr d'eau, 2 Krat Ngukin longueur, boulettes de viande, sel, Abzar, Thmirh, un peu de Alcamon, du Soudan par le désir, la coriandre et Almadnos et AAHR Tout va bien.
la pâte Nsarho et le remplissage refroidir Njillo et ANRM en remplissant et en aspects Ndjemao et Njillohm Ertaho puis Ntalegohm Balmudallk et sobre et Njillohm Gaufrettes 30 minutes Ikhmro et Ntebouhm au four ou à la poêle et Nkdmohm


Fatty Moamer:
Dough:
500 g of white flour, 4 with k of municipal oil, 2 with k of powdered milk, with of dry yeast, a pinch of salt and 200 ml of water
Mix all the warm water and knead the dough and let it rest for an hour.
Filling:
In a frying pan, pour the blida oil and 2 onions, cut into thin slices, until the onion is removed, 2 iced almonds and 2 tablespoons of water, 2 cubits of length, kofta, salt, sesame seeds, yeast, All well.
Spread the dough and feed the carrots. Refrigerate and nemro with the filling and collect the sides and let them relax. Then we will call them with the pestle. They will be roasted and grinded for 30 minutes. Bake and cook in the oven or frying pan.