I. Presentation
II. Check the state of health
III. Migration with the "dfsrmig" utility
III. Migration with the "dfsrmig" utility
Everything will be done in the command line with the utility dfsrmig, already integrated with Windows. You will see that the process is very simple, but do not go too fast.
Open a command prompt as an administrator on your DC that is PDC emulator and run:
dfsrmig / setglobalstate 1
The migration goes into preparation mode, a copy of SYSVOL will be created with the name SYSVOL_DFSR.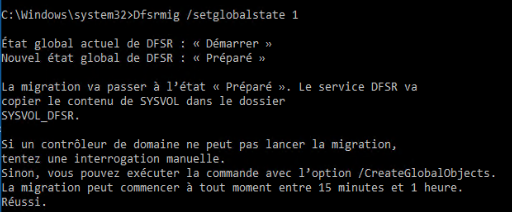 Before continuing, you must execute the following command:
dfsrmig / getmigrationstate
It allows to visualize the state of progress of the stage that we have just launched. If one or more CDs are returned is that it is not over yet, we must wait again.

You can restart the command from time to time ... until you get this:

So we can go to the second step with the following command:
dfsrmig / setglobalstate 2
The SYSVOL_DFSR copy will be mounted on the SYSVOL share instead of the copy that runs on FRS. During this operation you have to wait again.

As for the first step, follow the evolution with the same command, as a reminder:
dfsrmig / getmigrationstate

When you get this message, you can continue to the 3rd step.

This is the 3rd and final step, where we will completely remove FRS and its SYSVOL, to switch completely on DFSR. Enter the following command:
dfsrmig / setglobalstate 3

It is necessary to wait until FRS is removed on all DCs and DFSR is operational.

When you reach this state, you can consider that the replication is migrated to DFSR!

If you access the Event Viewer, you will notice different events related to DFSR. This takes a little more detail what we saw in the command line with dfsrmig.
You will see the message "The DFSR migration for the my-server domain controller is complete" within an event with ID 8019.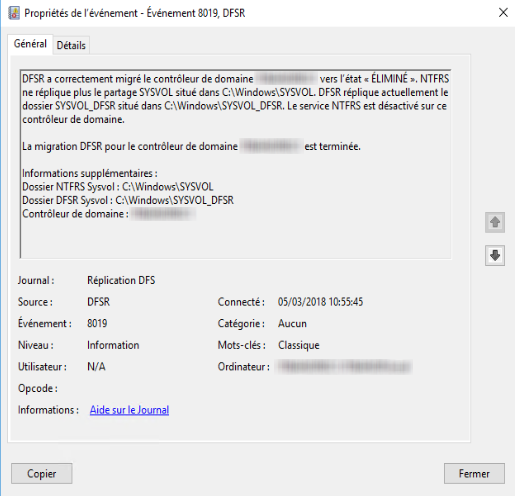 Finally, if you look on your domain controllers you have a folder "SYSVOL_DFSR" which is shared as SYSVOL and now corresponds to your SYSVOL in production.

If your antivirus is suspicious with SYSVOL, consider changing the SYSVOL exclusion path to SYSVOL_DFSR.
Good luck with your migration!