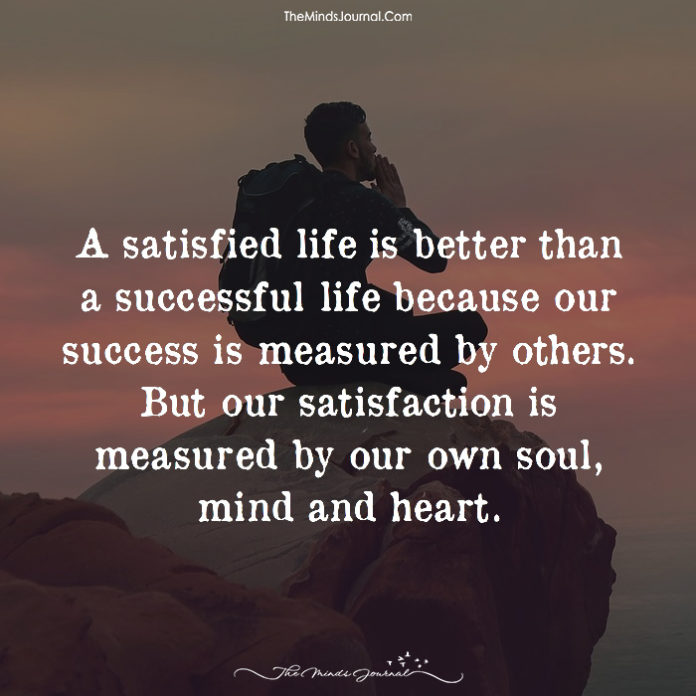 A satisfied life is a successful life.
But here comes a question what is the meaning of a satisfied life? Do we really know the things which makes us satisfied? It's an unending list. Sometimes we need one thing and in another second our aspiration changes. It's a growing world and similarly the desires also grow.
May be we see a person who is rich and has got all the luxurious things with him. So we on a general basis assume that he is successful and happy. But he may be successful in one walk of life not other. He might be facing a break up in his relationship. "Successful life" is a really big word.
To the days I have spent on this earth I have realised the fact that the parameters of being satisfied and successful is not set by others, we set it for our self. I believe in counting small things now, you can say it planning for a day. I sit down at night after returning from office, I write down the things which I need to do like I have to exercise no matter what, I have to complete an innovative task at office,I will be spending some time with the street kids, I will meditate and learn something new, may be it's just a puzzle or a data structure algorithm I make sure to do it. If I live the day as I have thought to be ,then I feel successful and satisfied for that particular day.
For me living a life in which you wake up with happiness in your soul and wherever you go people are happy with your aura is what I call successful and satisfied these days.
In our era almost everyone is making money, buying the comforts. So in this fast moving world I measure success and satisfaction on the parameters like happiness, gratitude, peace etc. And A life which gives you inner satisfaction will make you successful one day.
Life is like a camera. Just focus on what's important, capture the good times, develop from the negatives, and if things don't turn out – take another shot.
Thanks for reading.