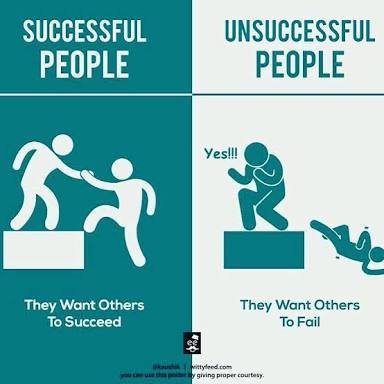 source
We are in a world were majority of the things we see,hear or even participate in makes us feel inferior and tells us we can't or cannot.
We are in a world where mediocrity and inferiority complex has become the other of the day,due to failing economies and failed leadership or government,hence telling on our psychological and emotional growth and plans.But in the midst of all the stigmas and dogmas there are a few,and I mean a very few who have dared to think out,come out and also stand out and trail new paths,become pacesetters and be the hope for the future.
What has made this very few people unique and standout?.Its what I call the Success/Winner's mentality.
This is the ability to question and challenge the status-quo,this is the ability to refuse the ordinary,this is the ability to want and dare to be different,this is the ability to be hungry,and not just hungry for food,but hungry for a positive change,hungry for success,hungry for innovation,hungry for something new,hungry for a better world.Cause with hunger and determination comes all the great inventions we have,a saying goes this way,hunger is the mother of all inventions..
With this I say to all who is and who will read this article,"DARE TO BE DIFFERENT "and "DARE TO BE HUNGRY "
Let me use this opportunity to thank a few people who have been quite supportive and encouraging in my journey so far in the steemit community
@dayveedben @kubbyelizabeth @nikflossus @samstickz @gabchik I really love and appreciate you all..