The old becomes inspiration for the new / Lo antiguo se vuelve inspiración para lo nuevo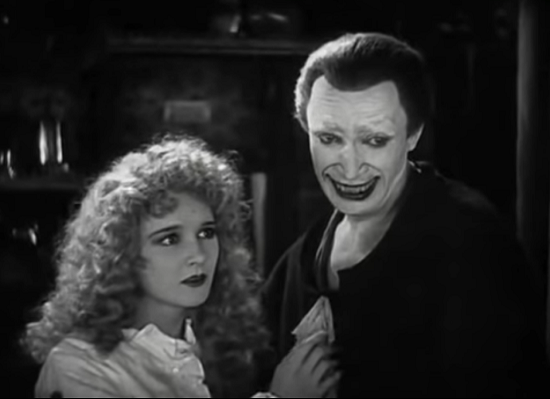 Souce/Fuente
Looking for reviews on the premiere of the new joker of Joaquin Phoenix, I came across "The Man Who Laughs" is a very old black and white film from 1928 made by Paul Leni, a German expressionist filmmaker; This film is a romantic melodrama of the time, based on a Victor Hugo novel of the same name "the man who laughs"
Buscando reseñas sobre la premier del nuevo joker of Joaquin Phoenix me topé con "el Hombre que ríe" es una película en blanco y negro, muy vieja, de 1928 realizada Paul Leni, cineasta expresionista alemán; esta película es un melodrama romántico de la época, basada en una novela de Víctor Hugo del mismo nombre "the man who laughs"
Pelicula "el Hombre que sonríe" / Movie "the Man who smiles"
It seems that thanks to this film I inspire the films that formulated the aesthetics of horror films of subsequent decades such as, Dracula, Frankenstein, The House of Shadows, The Invisible Man, The Black Cat, Frankenstein's Bride and accommodated the first joker, how curious that part of a genre that is not horror or horror to inspire them.
Parece ser que gracias a esta película inspiro las películas que formuló la estética de las películas de horror de décadas siguientes como, Drácula, Frankenstein, El caserón de las sombras, El hombre Invisible, El gato negro, La novia de Frankenstein y dio cabida al primer joker, lo curioso que el parte de un género que no es de horror o terror para inspirarlas.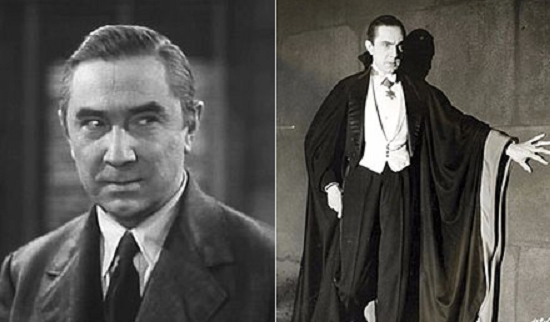 Souce/Fuente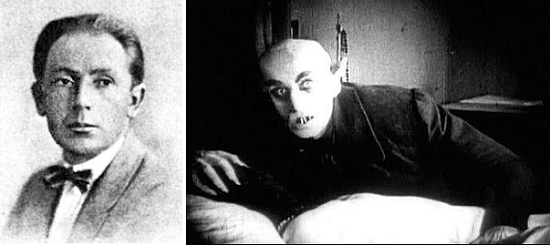 Souce/Fuente
Souce/Fuente
I can imagine many directors reviewing films by Lugosi, Friedrich Wilhelm (from Nosferatus) and others from the period including Paul Leni, to be inspired by their stories, scenes, characters and pictures, What for me is romantic at one time, can be terrifying in another. (1928 spoiler alert of "the man who laughs").
Me puedo imaginar a muchos directores revisando películas de Lugosi, de Friedrich Wilhelm (de Nosferatus) y otros del periodo incluyendo Paul Leni, para inspirarse para sus historias, escenas, personajes y cuadros, Lo que para mí es romántico en una época, puede ser terrorífica en otra. (Alerta de spoiler de "the man who laughs" de 1928).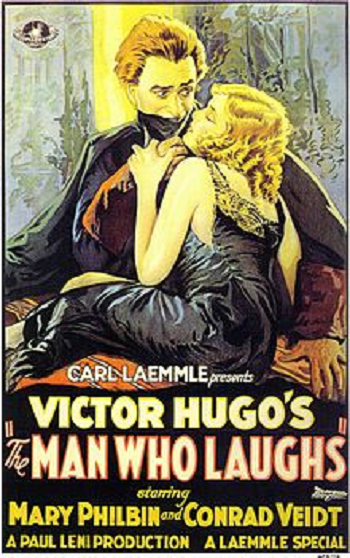 Souce/Fuente
The story revolves around the character of Gwynplaine, this character was the son of a kind of opposition politician of the time; the film is silent with musical adaptations, so there are things that are not understood by generational issues, there I leave the link in case they are encouraged; but the general idea is that he is the son of an opposition politician who is murdered in a very ugly way, they put him in the iron maiden, an Iron Maiden, which is like an iron sarcophagus where he is locked up and there is already death; they get rid of the son, the protagonist who is a baby, but not before disfiguring him in a way that always seems to be laughing; he never stops smiling, which ends up becoming his misfortune; Somehow it is found by a kind of circus of phenomena and obviously Gwynplaine becomes one of the attractions.
La historia gira alrededor del personaje de Gwynplaine, este personaje era hijo de una especie de político de oposición de la época; la película es muda con adaptaciones musicales, así que hay cosas que no se entiendo por cuestiones generacionales, allí les dejo el link por si se animan; pero la idea general es que es hijo de un político de oposición al que asesinan de una manera muy fea, lo meten en la doncella de hierro, una Iron Maiden, que es como sarcófago de hierro en donde lo encierran y pues ya hay muere; se deshacen del hijo, del protagonista que es un bebe, pero no sin antes desfigurarlo de manera en que siempre parece que está riendo; nunca deja de sonreír lo que termina volviéndose como su desgracia; de alguna manera es encontrado por una especie como de circo de fenómenos y pues obviamente Gwynplaine se vuelve una de las atracciones.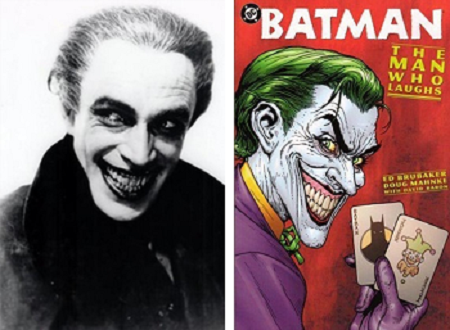 Souce/Fuente
Souce/Fuente
Here the thing becomes interesting and similar, do not tell me that the joker was not inspired by Gwynplaine, comes out of a clown with white makeup, combed back that later we associate with the Batman nemesis and then end up happening a series of circumstances that somehow he finds out this "joker" that he is his father's heir, is that he did not know who his father is, a total inheritance arrives where he has to marry a duchess to receive his enormous property, but this "joker "He is in love with the blind girl and the blind girl is in love with him, but he does not dare to tell her because he thinks it is a phenomenon, as everyone else thinks it is a phenomenon because he does not stop smiling and is quite disturbing, it is not but until this scene where she touches his face and he is surprised and says oh my god he will reject me! she retires for a moment but returns and corresponds to her love and everything very beautiful and to sum up, "the joker" ends up running away so as not to be killed by a mob, (what a strange other mob) for a reason that I do not quite understand, I need to read Victor Hugo's novel, and the two of them finally flee very happily in a boat to leave England.
Aquí se vuelve interesante y semejante la cosa, no me diga que el joker no fue inspirado por Gwynplaine, sale de payaso con maquillaje blanco, peinado hacia atrás que después nosotros asociamos con el némesis de Batman y pues terminan sucediendo una serie de circunstancias que de alguna manera se entera este "joker" de que es heredero de su papá, es que no sabía quién es su papá, total que le llega una herencia con condición donde tiene que casarse con una duquesa para recibir su propiedad enorme, pero este "joker" está enamorado de la chica ciega y la chica ciega está enamorada de él, pero no se atreve a decírselo porque piensa que es un fenómeno, como todos los demás piensan que es un fenómeno porque no deja de sonreír y es bastante inquietante, no es sino hasta esta escena en donde ella le toca la cara y él se sorprende y dice ¡oh dios mío me va a rechazar! ella se retira por un momento pero regresa y le corresponde su amor y todo muy bonito y para resumir, "el joker" termina huyendo para no ser asesinado por una turba, (que raro otra turba) por una razón que no termino de comprender, necesito leer la novela de Victor Hugo, y pues los dos al final huyen muy felices en un barco para irse de Inglaterra.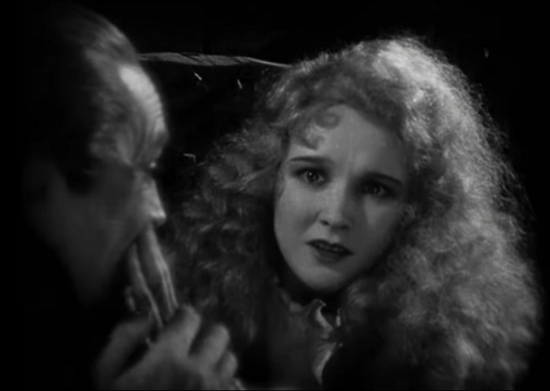 Souce/Fuente
So you have a super romantic movie supposedly, it was one of those movies that began as silent but before they finished it a technology came out in which you could add audio later then the actors really do not have their dialogue in audio, but if they could put music and sound effects like the things that happen, the voices of the actors not because the actors had already acted on it and still did not think about doing things like dubbing and because the soundtrack was even successful; the music because it is very romantic, very pretty supposedly nobody would expect this movie to inspire the genre of commercial horror.
Entonces tienes una película super romántica supuestamente, fue de esas películas que empezó como muda pero antes de que la acabarán salió una tecnología en que se podía añadir audio posteriormente entonces los actores realmente no tienen su diálogo en audio, pero si le pudieron meter música y efectos de sonido como las cosas que suceden, las voces de los actores no porque los actores ya le habían actuado y todavía no se pensaba en hacer cosas como doblajes y pues hasta fue exitosa la banda sonora; la música porque es muy romántica, muy bonita supuestamente nadie esperaría que esta película inspirará al género de horror comercial.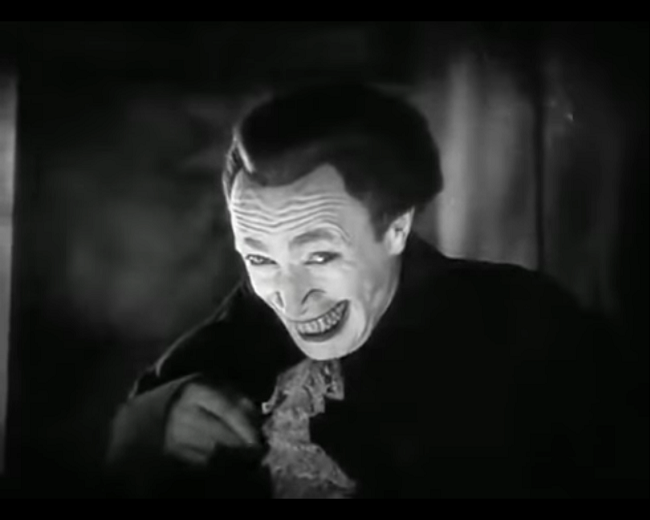 Souce/Fuente
The aesthetics of these times where it was thought that the characters had to be very make-up for facial expressions to be noticed, this makes them look strange now, look creepy, really creepy and at that time they were the norm in the cinema, then that accentuates a little more the feeling that we have of restlessness, when we see the image above in the present, today it will be unthinkable that this image had not left a romantic melodrama-like film; but it was like that, then this character possibly ended up inspiring the creators of the joker, they took not only the mind smile but their clown makeup and hair with a beak in the back and lying down the theory of the first joker played by Cesar Romero from the television series and the 60's movie.
Well for me the first joker was Gwynplaine although that was not the intention; Tell me what you think in the comments; which was the first joker for you
La estética de estos tiempos en donde se pensaba que tenía que estar muy maquillados los personajes para que se notaran las expresiones faciales, esto hace que ahora se vean extraño, se vea creepy, realmente creepy y en aquel momento eran la norma en el cine, entonces eso acentúa un poquito más el sentimiento que tenemos de inquietud, cuando vemos la imagen arriba en el presente, hoy será impensable que esta imagen no hubiera salido una película tipo melodrama romántico; pero pues así fue, entonces este personaje posiblemente terminó inspirando a los creadores del joker, tomaron no sólo la sonrisa de mente sino su maquillaje de payaso y el cabello con un pico en la parte de atrás y tumba la teoría del primer joker interpretado por Cesar Romero de la serie de televisión y la película de los 60.
Bueno para mí el primer joker fue Gwynplaine aunque no fue esa la intención; dime lo que piensas en los comentarios; cual fue el primer joker para ti.