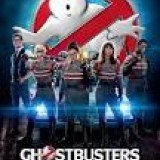 Paranormal researcher Abby Yates (Melissa McCarthy) and physicist Erin Gilbert are trying to prove that ghosts exist in modern society. When strange apparitions appear in Manhattan, Gilbert and Yates turn to engineer Jillian Holtzmann for help. Also joining the team is Patty Tolan, a lifelong New Yo… More
Release date: July 11, 2016 (USA)
Director: Paul Feig
Box office: 179.5 million USD
Hello, here is a movie most of you dreaded. Give it a chance, and support your movie theater and enjoy Steemit users.