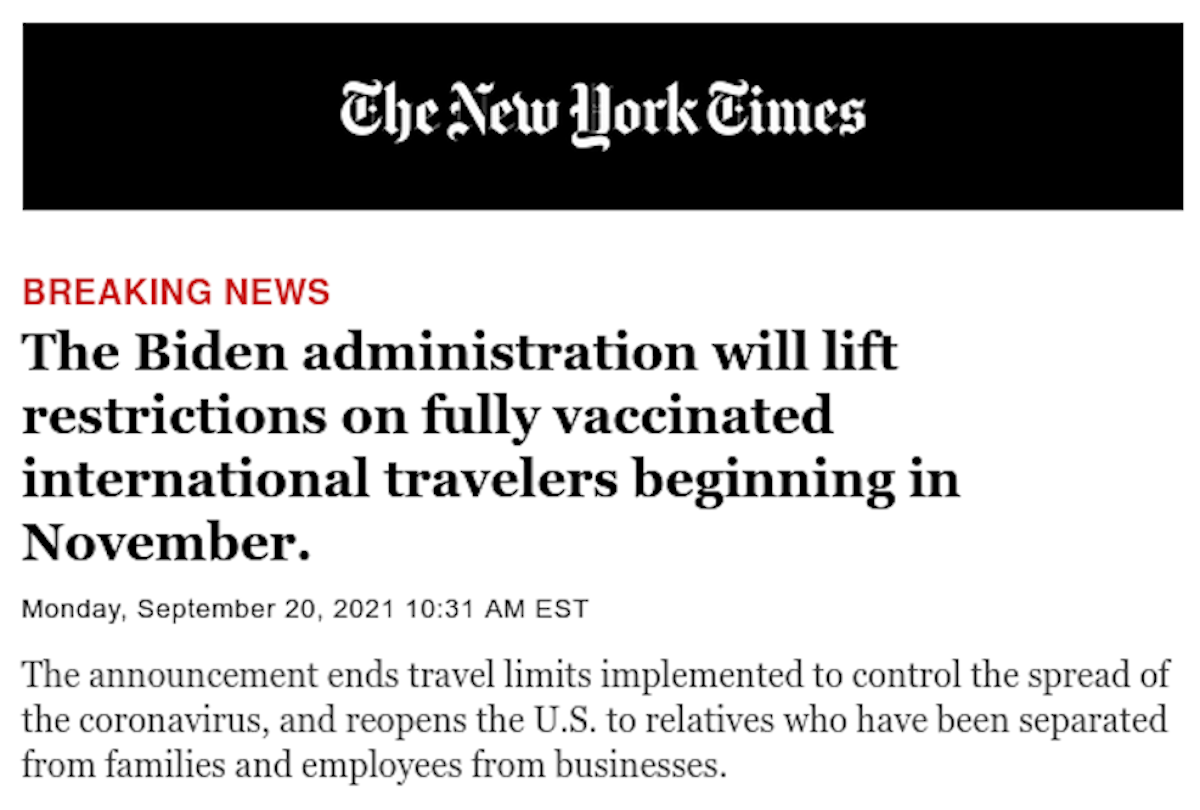 Is it only me or do others read the above as The Biden regime will keep the restrictions against the non-vaccinated international travelers?
See, there are lines, there are between the lines, and there is the real news which is never represented in the western mainstream media, they mastered lying as a profession, they've been doing so for decades, some for over a century, it's not easy to lie, the majority of people around the world can never realize the sheer amount of lies spewed by the western MSM because they simply do not lie and do not expect these parasites to lie.
Had this been a Trump regime's decision, the New York Times would report it as how I read it and Fox News would report it as what the NY Times did.
A small piece of advice to the western audience: Freedom of speech is not the liberty to attack and smear your politicians, that's in the rest of the world, the established civilizations, is called rudeness and impoliteness, freedom of speech is report the reality and demand answers for controversial questions, hold the culprits accountable not give them a pass and definitely, do not mock the news like these clowns do.
What they don't tell you in this New York Times headline is that the non-vaccinated people will remain to suffer from the restrictions of international traveling, a basic right for legal-abiding people, just like how you don't vaccinate the healthy people, you vaccinate the ones exposed to danger who cannot develop the needed immunity to survive a disease.
And please, do not try to convince us that the Biden regime cares for human lives, you'll look ridiculous.----
Your objective comments are always welcome.
---
Affiliate: Sign up for a free account and a credit card with Payoneer and earn $25.
---
Follow @ArabiSouri:
Twitter: Arabi Souri
Syria News: www.syrianews.cc
---
Donations are highly appreciated, just click on the Donate button via PayPal or Credit Card: Donate
You can also donate with Hive or HBD or even delegate some much-needed HP.
#Nusra #ISIS #Terrorism #USA #EU #Wahhabism #Zionism #alQaeda #FSA #Saudi #Qatar #Israel #Net #Neutrality #Mainstream #MSM #Control #WarOfTerror #kurdistan #sdf #kurds #RegimeChange #Syria #Iran #Russia #InformationWar