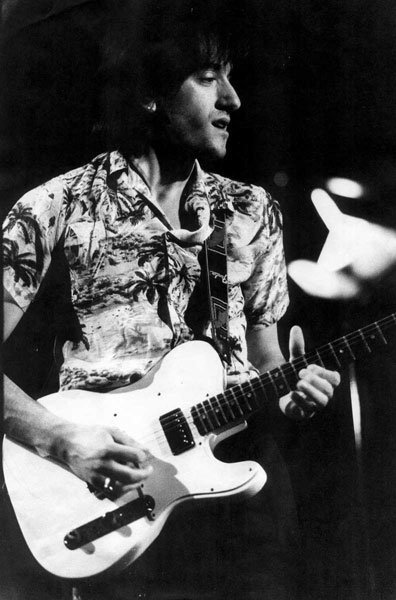 Photo Source http://vlatkostefanovski.com.mk
Vlatko Stefanovski was born in 1957 in Prilep as part of SFRJ (former Yugoslavia) and now Macedonia. First musical steps Vlatko do it at age 13 by playing guitar. Those happy times made some of the best musicians of all time. I am not talking about Yugoslavia artist, i am talking about worldwide musicians. He was one of starting members and founders of his first band (1977) called LEB I SOL. Interesting thing is that first concert was played as foreband of Bijelo Dugme. Bijelo Dugme was then one of most popular rock bands in former Yugoslavia. After that jump start LEB I SOL became one of the most important names in the music scene.
Vlatko was considered as one of makers new genre (etno-rock) but he was not the only one. People described this genre as mixture of rock and etno sound and adding note of jazz style.
Leb i Sol (translated as "Breed and Salt") as synonym of christian tradition "I will eat just salt and bread if i need to but i wont give up ". First music house that published theirs album was PGP RTB in 1977. Since then Leb i Sol made 16 albums touring at the time, all over the world.
Vlatko Stefanovski has decided in middle of 90's to to try as solo guitar player. His solo career was start being very succesfull. "Cowboys & Indians", "Vlatko Stefanovski trio", "Sarajevo", "Kula od karti" etc. Later Vlatko was teaming with Miroslav Tadic, playing solely on acoustic guitar what was opposite from previous playing on electric guitar. Miroslav was on the albums "Krushevo", "Treta majka", "Live in Belgrade", and "Live in Zagreb" giving him whole new acoustic style in traditional Macedonian music.
Vlatko was played and recorded all around the world with many top artists like Tommy Emmanuel, Stochelo Rosenberg, Gibonni, Jan Akkerman, Theodosii Spassov Stefan Milenkovic, Kudsi Erguner, Bojan Z., Manu Katche, Toni Levin, and many others. Latest trio (and still playing with them) King of Strings. That trio was made from Tommy Emmanuel, Stochelo Rosenberg and Vlatko Stefanovski.
Stefanovski was made unique guitar style and recognizable tone. Simpy, when you hear it you know that is him.
Albums
Leb i SolPGP-RTB – 1978
Leb i Sol 2 PGP-RTB - 1978
Rucni Rad PGP-RTB - 1979
Beskonacno PGP-RTB - 1980
Sledovanje PGP-RTB - 1981
Akusticna Trauma PGP-RTB - 1982
Kalabalak Jugoton - 1983
Tangenta Jugoton - 1984
Zvucni Zid Jugoton - 1985
Kao Kakao Jugoton - 1987
Putijemo Jugoton - 1989
Live in New York Third Ear Music - 1991
Antology Third Ear Music - 1995
Croatia records - 2006
Croatia records - 2008
Live in Macedonia - Avalon production 2006
Solo Albums
Zodiac Third Ear Music - 1990
Krusevo MA Recordings - 1998
Gipsy Magic Third Ear Music - 1997
Sarajevo Third Ear Music - 1996
Cowboys & Indians Third Ear Music - 1994
VS Trio Third Ear Music - 1998
Live in Belgrade Third Ear Music - 2000
Jurney to the Sun IFR - Kalan - 2000
Kino Kultura Third Ear Music - 2001
Treta Majka Avalon Production - 2004
Kula od Karti Avalon Production - 2003
Live in Zagreb Croatia Records 2008
Thunder from the Blue Sky with Jan Akkerman $ Damir Imeri
Kings of Strings GAF 2012
Kings of Strings GAF 2013
SEIR Esoteria records 2014
Balkan Fever
Fire & ice
BIG BAND Orkestra Slovenske Vojske 2015
My favourite hit