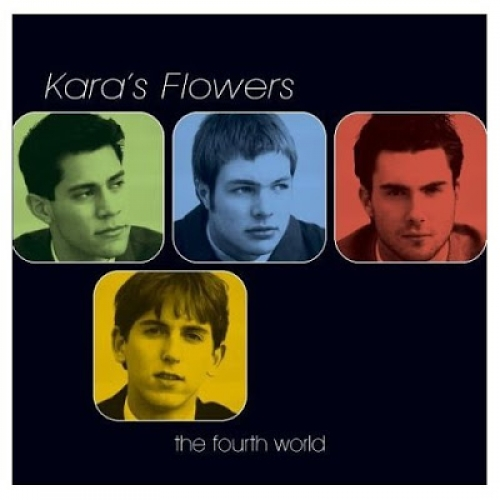 KARA'S FLOWERS
THE FOURTH WORLD
1997-REPRISE
Produced By ROB CAVALLO
Soap Disco
Future Kid
Myself
Oliver
The Never Saga
Loving The Small Time
To Her, With Love
Sleepy Windbreaker
Pantry Queen
My Ocean Blue
Captain Splendid
So, check out Kara's Flowers. Recorded while they were in high school, The Fourth World is a set of surprisingly well played power pop. These kids have chops, and musically, the songs are very well written. Lyrically...well, they were still in high school. But this was a band with a lot in front of them, young, talented, a record deal, huge energy, and lots of room for growth. This is a very promising debut album, but...
The album sold nada, and the band almost broke up. A couple of them went to college, and when they made their comeback, they were molded into something completely different. Squeeky clean, overproduced, mega pop with none of the emotion of their debut and sounding nothing like the band they started out to be. Once their second album took off, they became huge stars, winning Grammys and selling millions of albums.
The Fourth World is a rocking, fine debut album, and the only one recorded under the name Kara's Flowers. They have since become Maroon 5 and have introduced the world to their own brand of pop. But there was a moment in time...
This is album #83 in an ongoing series.