Sorry for the delayed posting of this week's COIM, I had a bit of a mishap yesterday involving my leg and a sharp object, and had to tend to my wound. Never a dull moment around here. :) Anyway, on with the festivities:
I first heard Out Out on the first Coldwave Breaks compilation from 21st Circuitry (which was an excellent comp). The track that appeared there was "E & E", which was from a later album, Nisus, but I got this one first, for reasons I don't remember (though it may have been because it's also the first Out Out album). This album had quite a different sound from what I expected from that introduction, but I loved it (and still do) nonetheless. I ended up becoming a huge fan of Out Out, and diversity of sound is kind of a trademark of the project. Some of the big reasons that I really admire Out Out are the production and sound design, and it makes sense that Mark Alan Miller, the man behind the helm of this project, also runs a studio (Sonelab, in Massachusetts, US). Even though this is an early endeavor, that great production and sound already shows up here. There's also some just plain awesome tracks here.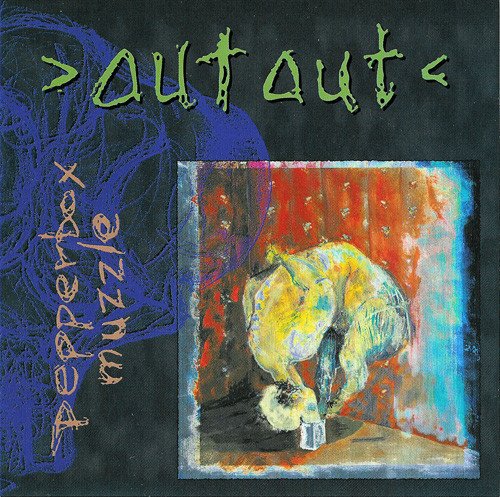 Out Out is one of those acts that's really hard to put a finger on, as far as describing the sound. This is partly due to Mr. Miller's ever-changing focus... one album might be purely-electronic and techno-flavored, while another might break out the guitars and go for more of a post-punk-infused sound, or even harsher. This isn't entirely it though, as it's just as hard to pin down single albums as it is the project as a whole. This is not to say that Out Out is amatuerish or directionless, and like most bands, there are certain elements of any given track or release that one may recognise from one to another. It's just that this is one of those rare acts that manages to carve out their own niche in whatever style they go for. This album is a perfect example.
Out Out's entire catalog, including this album, is available on bandcamp: https://outout.bandcamp.com/
Pepperbox Muzzle is another of the albums that would be at the top of the list if I had to pick favorites. The whole thing is a great listen, though of course I like some tracks a little more than others. The album opens with "Ingrates", which is still one of those favorites. This song, and most of this album, falls somewhere between the heavier, more rock-influenced Out Out stuff, and the more electronica-based stuff. This is also kind of an example of what I was talking about above,in that it contains some of the elements that I believe are hallmarks of Out Out's "sound": a relatively simple (but very effective) bassline, unique and interesting synth work, raspy and effected vocals, and solid drum programming that is obviously electronic but also not cookie-cutter four-on-the-floor X0X stuff. While there are parts of this album that do sound a little dated, I think this track and several others are much less so. The second track, "Defiance!", is perhaps an example of one of the more dated tracks, though it's still excellent. I'd still be into it if it came out today, some of the sounds would just seem a little throwback-ish, which is hardly unheard of. The excellence continues with "Truth", "Antidote (Serum)", and "Resurrection", which all have fantastic synth work, drum programming, and vocals/lyrics, followed by another favorite, "Agony". Something about that opening synth line just really grabs me right off the bat, and the lyrics I find especially cool as well. The rest of the album is similarly fantastic, though "Admire The Question" is another one that stands out for me in the lyrics department.
In 2007, Out Out released a limited-run (about 100, hand-numbered and signed) CD-R box set on Mark Alan Miller's own Radio Valkyrie Records imprint called Pepperbox Muzzle: Demobox which included early or alternate versions of most of the songs from the album, plus a bunch of other demos and stuff. I'm the proud owner of #16. :) While I do prefer the final album versions of the songs, it's definitely interesting to hear the early versions, and some of the other demos are really cool too.
As you might guess from my glowing talk so far, I would recommend all of Out Out's releases, but to narrow it down, this one is definitely a favorite. Also high on my list would be Finched and Voiceprint, as well as the more recent Red Lily EP, which is also more experimental.