Hello steemers! I got a lot of positive feedback on my introduction blog (thank you!), on how it is to run a YouTube channel, so hopefully it's a good idea to share a little bit more about it, now when things are starting to go well for my channel :)
Here it is, if you are interested.
https://steemit.com/introduceyourself/@gamemusic/hello-steemit-this-is-my-first-blog-post-and-introduction-how-it-is-to-run-a-youtube-channel-the-struggle-good-times-points
I put a lot of effort into each video I make, often over 50 hours each, so it's incredibly satisfying now when I'm starting to get fruit from what I have been doing over the last two years. When my channel was new I only got about 1-3 views each day, with the same amount of work as I do now.
One of my first music mix videos that I made about 2 years ago have recently got a very big boost from YouTube.
(here is the "baby viral" video I'm talking about)

This video have been one of my best ones from the day I started my channel, with about a steady 100 dayly views for a long time, but around 2 months ago I started to gain a lot more views from this video, as you can see here.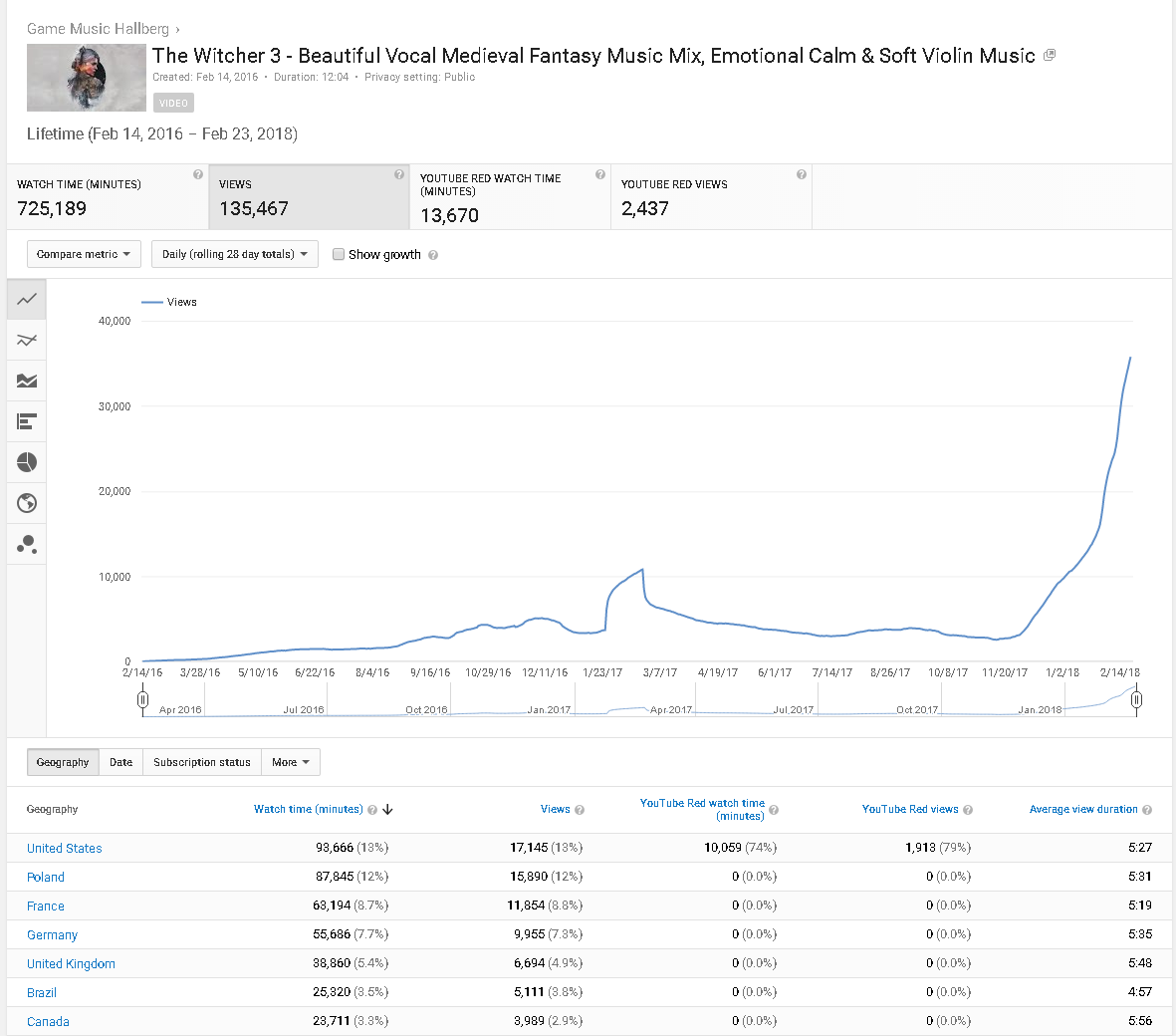 Right now my Witcher 3 music video is getting about 1,500 views each day, instead of 100 as before.
It all started 2 months ago when my Witcher 3 video got into the "suggested videos" on one very popular video with over 1 million views on YouTube. (here it is if you are interested)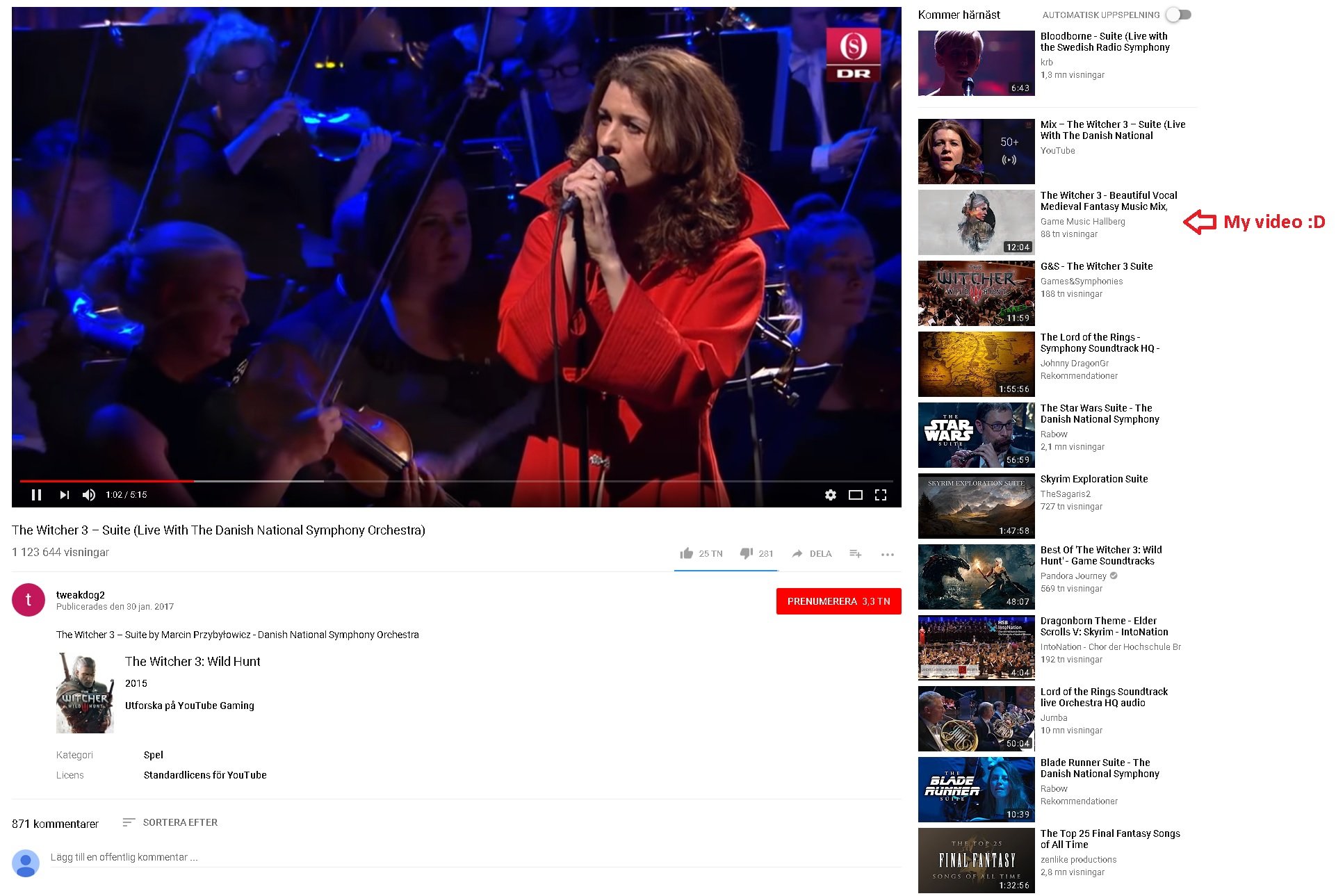 YouTube is a strange place, they change the rules and many hidden algorithms a lot of times that they never fully share the information about, so you are always on a guessing game on what kind of content, tags and information that YouTube likes. I can understand them a little bit, if they tell everyone exactly what they are doing, many will try to game the system. So overall they just want people to make good content, and they will take care of the rest. My job is to make good content, and their job is to figure out what is good, and what's not so good, and to guide the traffic to the good stuffs. And also to read what kind of content that each YouTube user usually likes, so they can match the right kind of content for the right type of person.
YouTube does a lot of stuffs wrong, but I think this is what YouTube does best, compared to pretty much all other sites and platforms.
So right now Youtubes new algorithm really like this video, maybe I just got lucky, that it's a perfect match just temporary, and that it will go back down again as soon as they change a little bit more on their "precious" algorithm.
Only time will tell! :) It's hard to figure out exactly how everything is working together and what's important for the future, but it's easy to see what have happening in the past. Let me share some interesting data for you.
As you can see here, my entire channel have got a great boost, on pretty much all my other videos, exactly the same time my Witcher 3 video started to grow. I guess that YouTube is giving my entire channel a better chance to grow, now when I have proved that I'm capable on making content that is appreciated.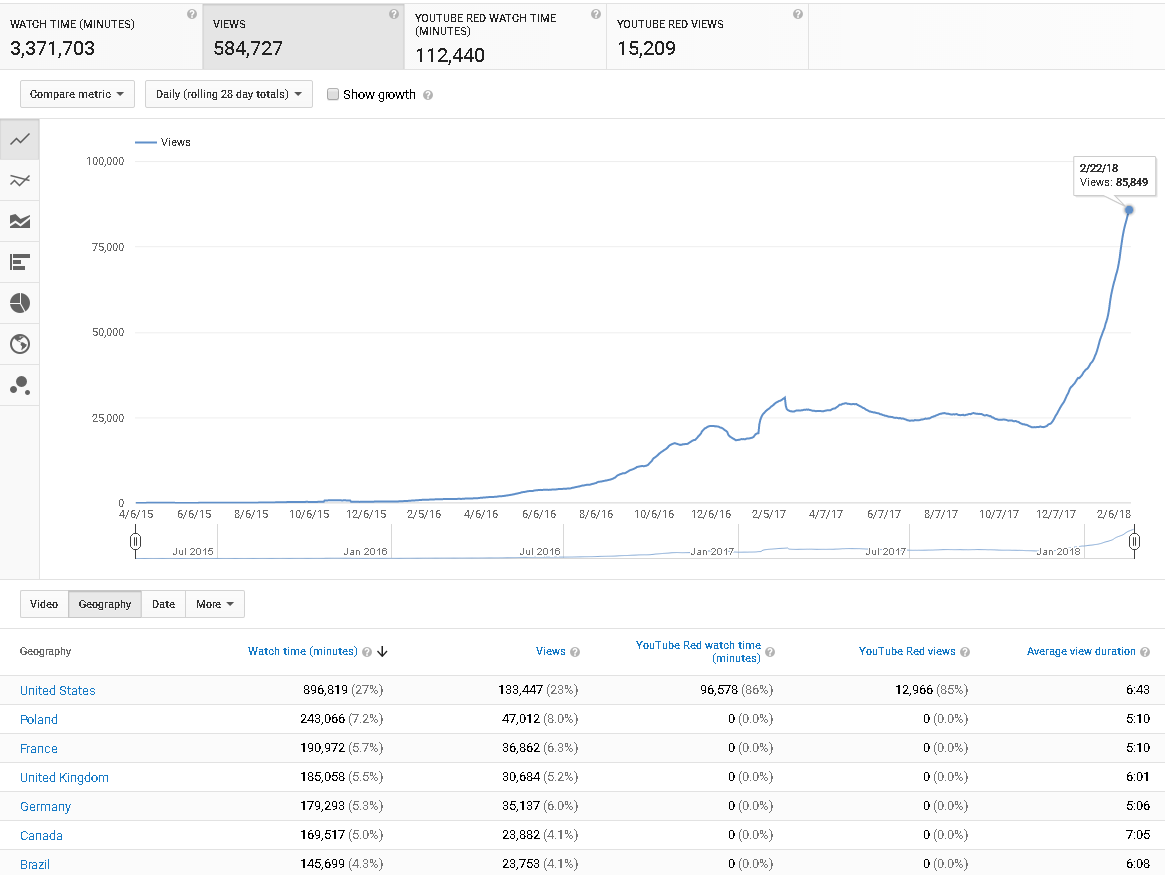 Here is the "Audience retention" watch time for my Witcher 3 video. (I usually have about 40%, this is one of my best ones)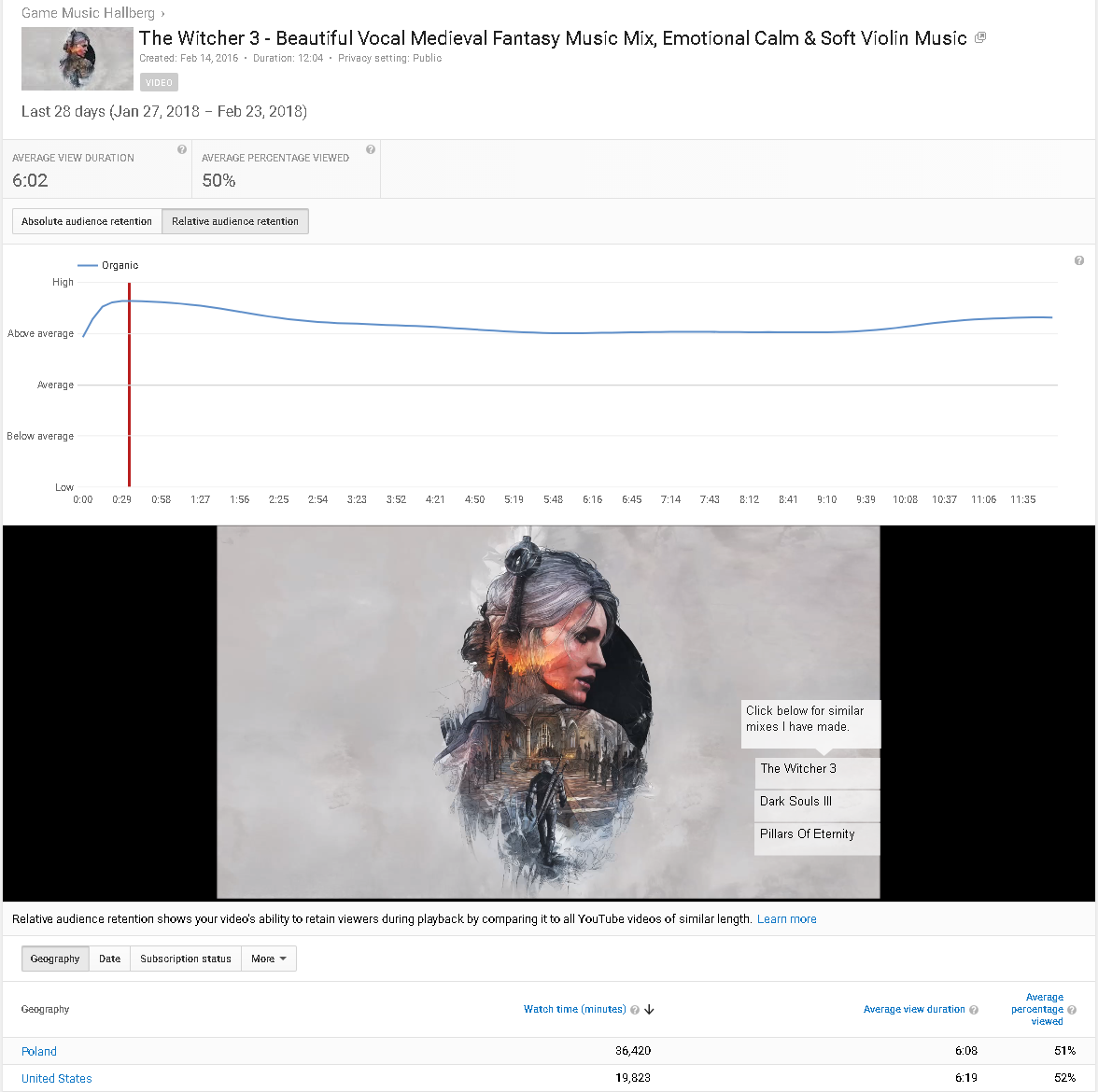 And here is where all my traffic is coming from for this video, as you can see, most of my extra views is from the YouTube start page "Browse features, brown color" and "Suggested videos, blue color"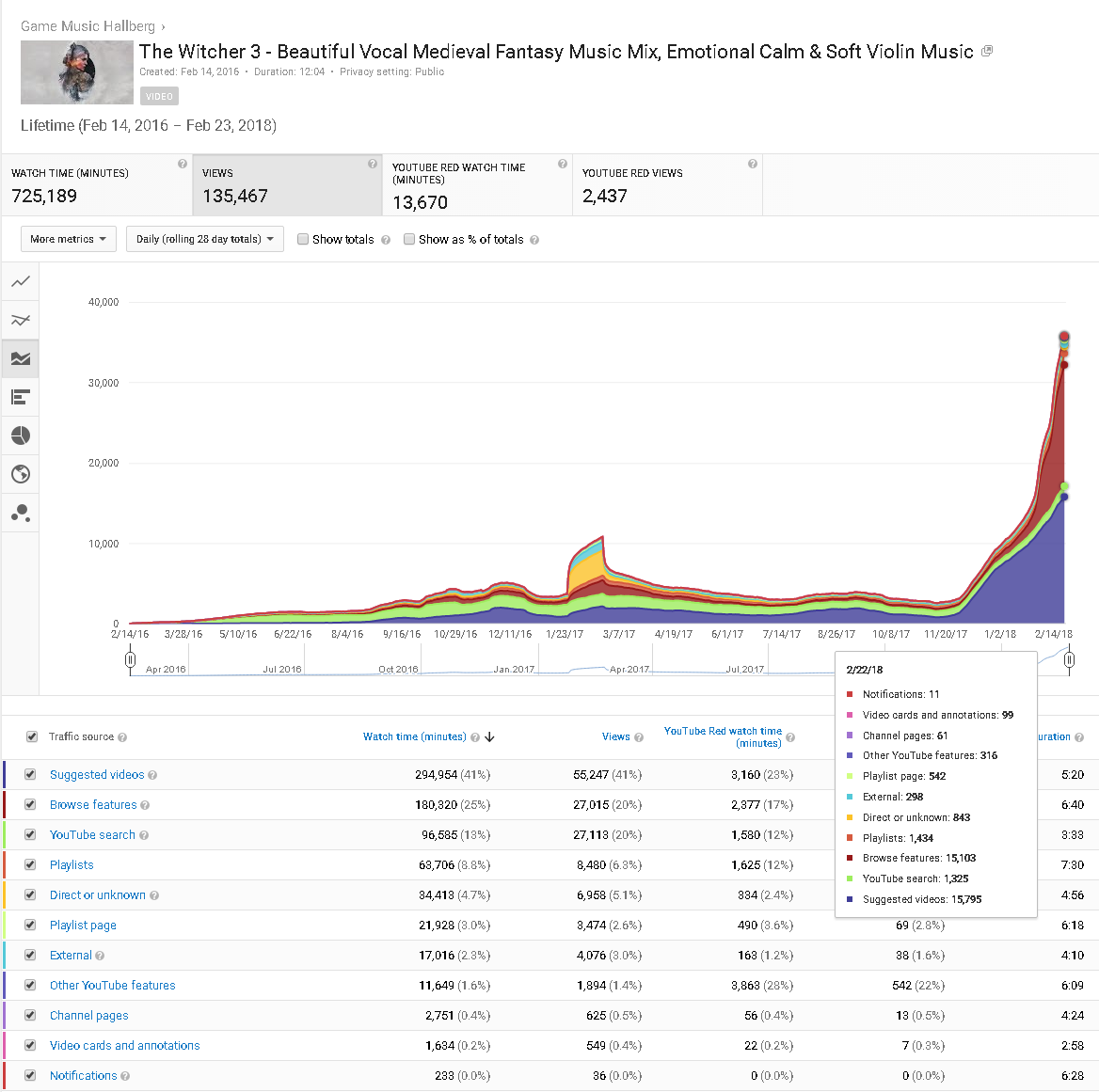 Most big youtubers are getting most of their traffic from those two sources, so I'm very happy that I have been growing a lot on those two important spots.
Here are two more big suggested videos that my Witcher 3 music mix have recently been attached to :)
I hope you found this information interesting, this post is starting to get pretty big, so I better stop now :D
I'm very happy at the moment, it feels like finally things are starting to go well for me, I just want to share my moment, I hope it does not come out as bragging, I'm just being proud at the moment :D
If you believe in something, keep on doing it! And the more you struggle, the better the reward will feel when things turn around :)