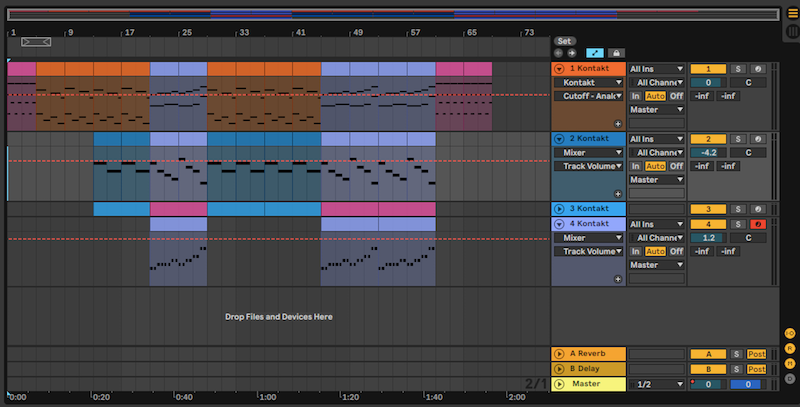 So, first off, this song
is nowhere near finished, and may or may not be entirely rewritten before the end, haha. I wanted to write something that had a retro/arcade/80s videogame sort of vibe, and the sounds I used think work. A couple of them sound a bit more modern, but that's cool. I wanted it to be dark, sort of like a Bowser boss fight, or the final dungeon in some text based adventure, haha, so harmonically, there are some really intense dissonances, and a weird key change, which actually turned out pretty cool. Stay tuned cause I'll be added/removing all kinds of stuff before this is over!
Track 1 provides the basic
chords, which as of now, are divided up into 3 parts, Pink, Orange, and Blue. The Pink section just vamps an A5, which establishes our initial key of A(minor). The Orange section begins with an Aminor, then a Gminor/Eb, then a borrowed chord from our parallel major, an Amajor, and finally a Gmaj/Eb. The Blue section changes keys to Dminor (at least at first), but by the end, we resolve to a Cminor, then hit the final chord, a G7, which takes us back into Aminor in the orange part. Tracks 2, 3 and 4 all provide additional harmonizing, along with a melody line of sorts over the Orange section. Not sure if these will change or not, we'll see what happens as I add percussion.

Track 1, Orange section.

Track 1, Blue Section.
So keep in mind, this is just the very beginning of a tune, with very little editing or mixing done, just trying to establish some harmonic themes, and a general retro timbre. Stay tuned and we'll see where this song goes!
---
---
---