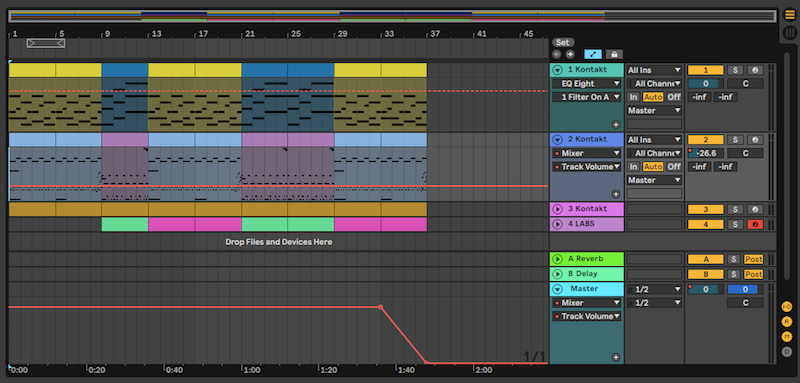 So this is definitely not
a complete song, but I thought it'd be fun to start out with something really rough, with a lot of kinks that need to be ironed out, and slowly work through it, and hopefully create a cool finalized song by the end. I'll update as I work on this, and showcase changes, ideas I don't like, things I add, etc. The instrumentation here is similar to a series of tracks I shared a while back, e-piano, bass, drums, and some synths, in an odd meter.
Track 1 is the electric piano
which divides the track into two parts, the A section in Yellow, and B in Blue. The A (Yellow) section uses an Fsus4, to a Db, then an Ebsus4, to an Fmaj6, and finally another Ebsus4. The B (Blue) section begins on a Db, to an Eb, and finally an Fmajor, which is held over two bars. There is actually a synth in Track 1 too, using one from the 'Analog Dreams' set. Track 2 uses the 'pop-kit' for our drums, which combines a mapped out beat, with some pre-set beats, to create an interesting hi-hat groove.

Track 1, Yellow (A) and Blue (B) sections.

Track 3, bass, B section.
Track 3 is the bass,
which uses the 'classic bass', also from the Band collection. It doesn't do anything too complex, but does stray from root notes to give it more motion, and add a little dissonance underneath everything. I think the bass needs to be a little more groovin', so I'll definitely be working on that more. Finally, we have Track 4, which uses the 'Ghost Bells' from Spitfire Audio LABS. I'm not sure if I love the timbre, but the progression is kind of cool, so I'll try and incorporate in future edits, maybe using other instruments.
Hope you like the basic idea, I know it needs some serious work, so stay tuned and let's see if this random idea can become a real song!
---
---
---