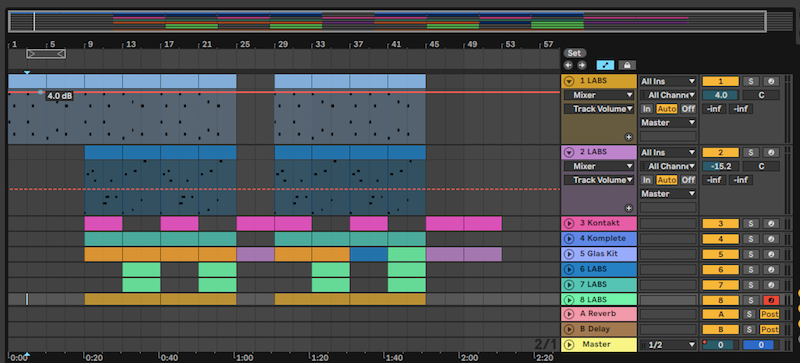 I wanted to write a song
about the new Untamed card, the Headhunter, and this is the first attempt! I wanted it to be dark and creepy in some ways, as the Headhunter is scary, but also to have a cartoony element, as his giant head is kind of fun and silly. I decided to go entirely electronic, building it out of synths instead of 'real' instrument VSTs, and was happily surprised in the end. The way the kick and bass synth work together wound up being really heavy, sort of modern trap-beat-esque. Let's get into it!
Track 1 provides our basic
chords, which swell in. First, we move from a B5 to a G#5 2x around, then a Gmaj7, A5 and finally a G#5 again, before we repeat. Track 2 provides a little line which harmonizes with Track 1, and also fills in the gaps a bit. Track 3 was originally going to be the bass, which fulfilled the 'silly' sort of vibe I also wanted, but after adding the heavier, constant bass in Track 4, I realized that Track 3 worked better as just a little addition. It is played solo in the breaks, and slightly off-beat of the up-beats, which gives it a wonky feeling, perfect for a big-headed, off balance murderous battle monster, lol.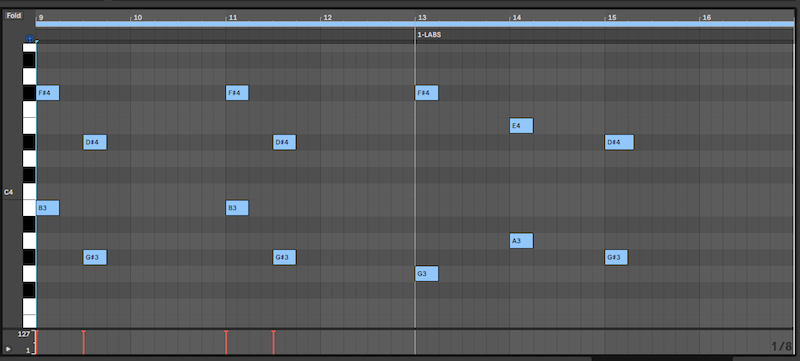 Track 1, main chords.

Tracks 6 and 7, creepy melody.
Track 5 is our drums,
which stick to the same basic beat for most of the song, subtracting the claps/snare in the breaks/outro, and adding in an additional open-hihat sound in the Blue/Teal sections towards the end. Tracks 6 and 7 are pictured above, and are, without a doubt, my favorite part of the song. They come in over the Gmaj7, A5, G#5 portion, and provide some really awesome dissonances, which add a lot of tension before we resolve back to the B-G# move. Finally, we have Track 8, using the hand bells from Spitfire Audio, which just helps to tie everything together, and add a nice high-end texture.
Hope you dig the song thus far! I will DEFINITELY be working on this more, so stay tuned!
---
---
---