Hallo steemian..
i want to share some Pure Talent in Guitar Fingerstyle i hope your enjoy
Alief Gustakhiyat or better known as Alip_Ba_Ta is a Fingerstyle Guitarist who often covers songs on YouTube.
Alief's job is not a Musician or someone who works in the field of Music, he plays the fingerstyle guitar only for hobbies and releases Tired after work. While his job is just a Forklift Operator.
In an interview with a local newspaper, Alip said that "he learned fingerstyle just by accident, at first he did not know there was a flow of fingerstyle."
Even one of the videos uploaded on YouTube (Queen - Bohemian Rhapsody) received direct praise from Brian May on his official Facebook account https://web.facebook.com/BrianMayCom/posts/2754918551188058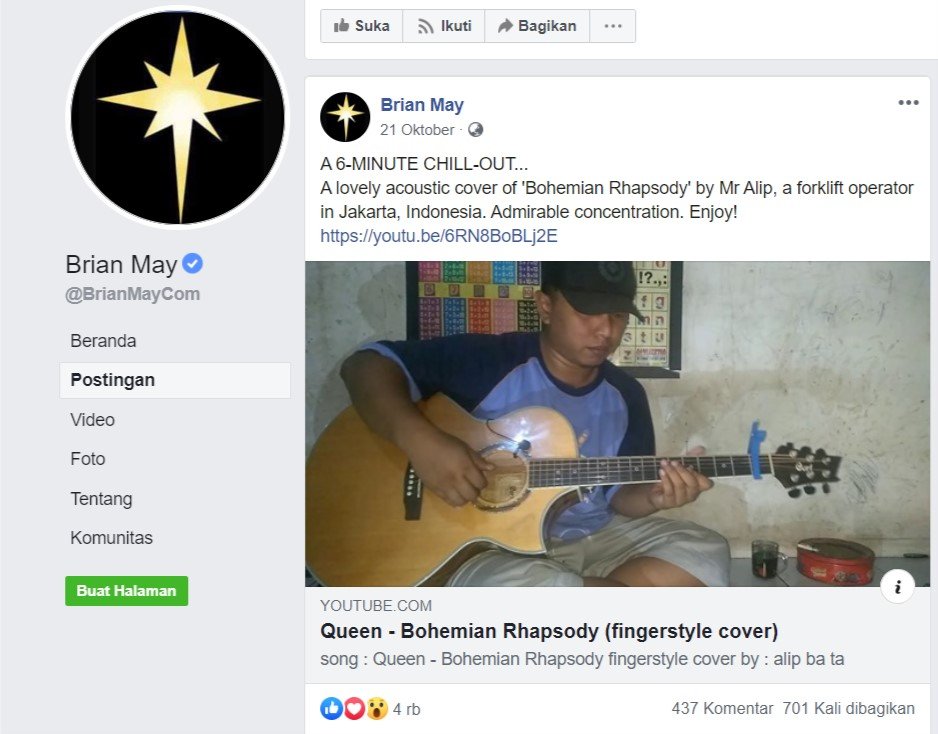 And this some video cover from alip_ba_ta
and if you want to subscribe or you want watch more video this link to the channel https://www.youtube.com/channel/UCcHGALtfZtBRU_lzMaBm9Wg
Donate me to buy some coffe in black friday
Bitcoin : 17djbryWoz4B7cCKgc8xJtR7sWdQ5tV374
Bitcoincash : qql0nxzr6q4ws5kvpvqp50trwdlgx6xhrgy259j9gz
Zclassic : t1YaRsgWpYhXygSGsiZN7E7ArFgQr9fLiGn
Litecoin : LchFfyJWfuZfTdVg4YuY6EkXhkd7sim6Be
Tron :  TTsZvpTEMwKQHGgmZxEVPX9dzPMEkVZgqw