Moondog Moondog(1969)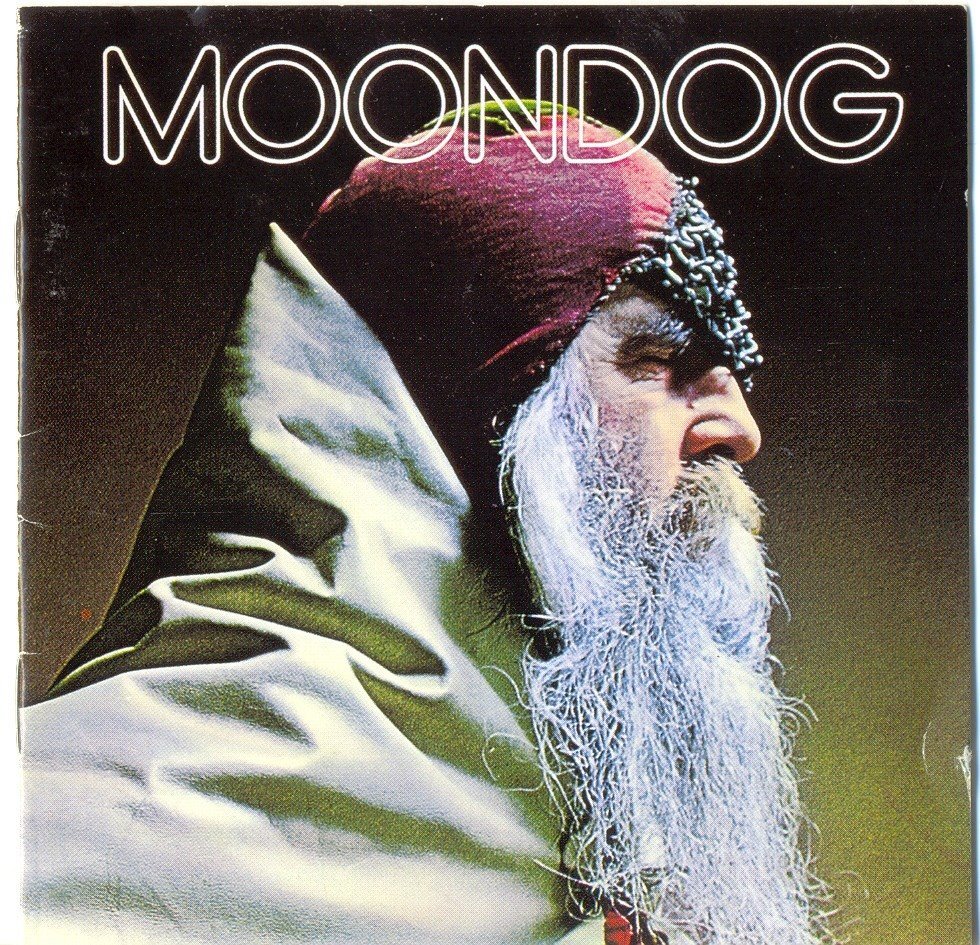 Source
I've been waiting to do this one for awhile. I actually started writing another post on the band El Polen and something wasn't sitting right. When I went back and checked, it turned out the very first post I made in the series was about then. I felt really stupid but also realized that I hadn't written jack shit about them way back then and that's why I didn't remember it. It was a time when I envisioned this series would be a song or something similar posted with a paragraph or so of text and then move on. This seemed lazy, however, and I took it in another direction.
I try to share with you guys lesser known and weirder stuff. I have what I guess you'd call an affinity for abnormality. While to music geeks he is certainly not unknown, but he certainly is an interesting individual. In fact, many residents of New York City knew him for years as "The Viking of 6th Avenue"; a tall, blind homeless man dressed as a viking who crawled the streets day and night selling poetry and sharing stories. Little did many of the people who encountered him on the streets know that he was in fact a world-renowned classical composer.
Louis Thomas Hardin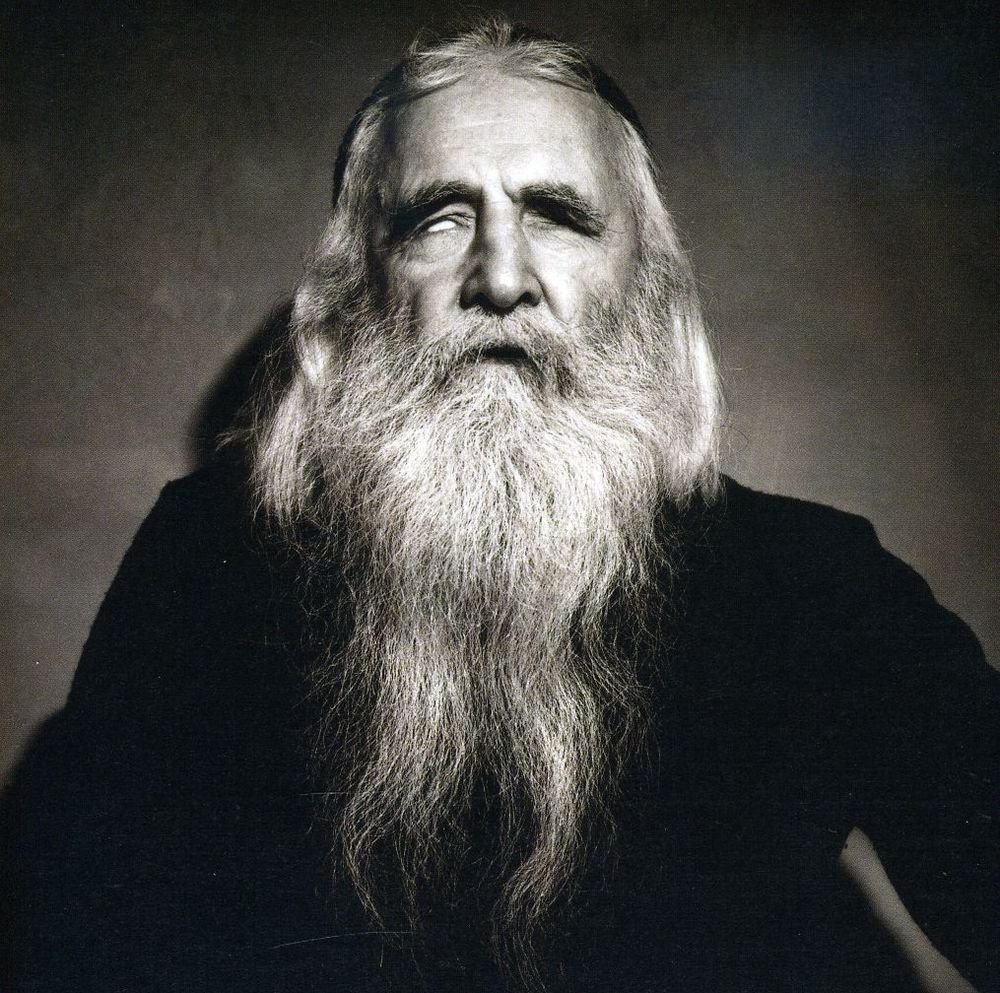 Source
Louis Thomas Hardin, Jr. was born in Kansas in May of 1916 to a loving couple that encouraged the arts from birth. Although his parents mostly encouraged the literary arts, which also stuck with him, Louis was immediately taken to music; and more uniquely, crafting his own instruments. At the age of 5, he had fashioned his first drum set out of a series of boxes. His father, particularly, took quick notice of his son's talents and did what he could to encourage him.
After his father lost his job as a minister, the family began to move frequently as he took on new jobs. Whilst the family was living in Wyoming, Louis' father would take him to the Arapaho Sun Dances and the boy would receive percussion lessons from the tribesman. Eventually, it got to the point where he was playing key parts in their ceremonies.
The family continued to move around and in 1932, when Louis was at the age of 16, an incident occurred that would change his life forever. Louis found a strange object in the fields on the fourth of July and started to play with it. While he was tampering with it, the object exploded and left him blind. It ended up being an old dynamite cap.
After that, Louis was blind for the rest of his life. After some struggles coping with the loss of his sight, learning Braille, the divorce of his parents, etc., he fell into a deep state of depression. However, it wasn't long before his sister read him a story that would inspire him to get back in touch with his musical roots.
Louis was raised Christian, and after a period of battling with his new challenges, he abandoned his faith and vowed to devote his efforts entirely to music composition and other art forms. He briefly thereafter moved to Memphis to pursue his music career, had minor success, got married, got divorced 6 months later, and got on a bus to New York City with $60 in his pocket and no plans.
New York // The Viking of 6th Avenue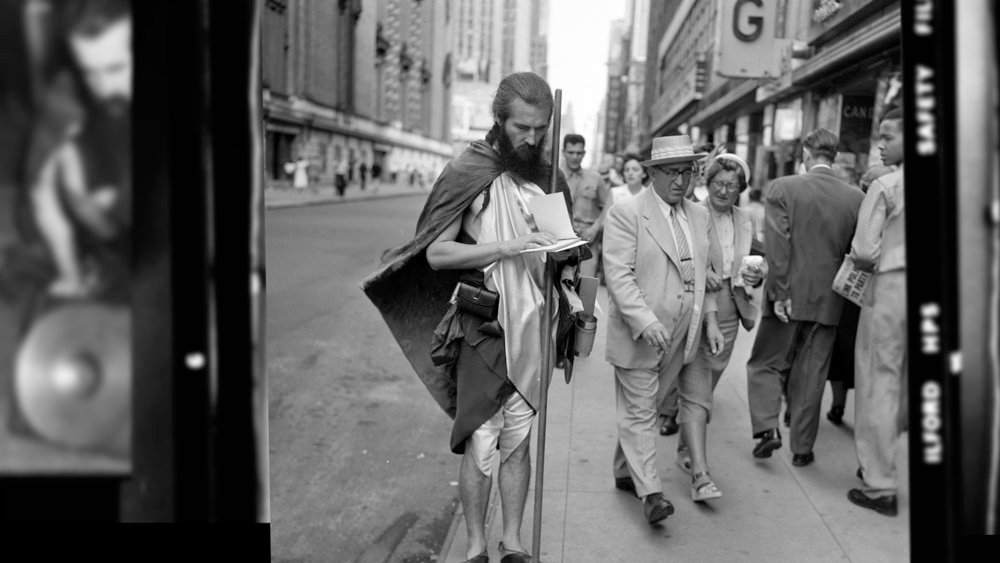 Source
In 1943 Hardin showed up on the streets of New York City. Upon arriving, his first goal was to make connections with some of the city's artists and musicians. So, he posted up in front of Carnegie Hall and began befriending various musicians. It was also during this time that he began to sell his poetry and other written works.
Hardin was what you could call a "panhandler by choice". He strived to be in the midst of the overwhelming concrete jungle, despite his inability to see, making friends and spreading his words. After being told many times by passer-bys and potential customers that he beared a strong resemblance to Jesus Christ, Hardin eventually had had enough. Having abandoned his Christian faith years earlier, he decided that he needed to put a stop to the comparisons. He was also extremely interested in Norse mythology and in making his own clothes, so he slowly began to develop an appearance resembling the Norse god Odin; even toting a spear.
He began to gain some attention from some of the composers at Carnegie Hall. He was allowed to sit in on rehearsals and made some very strong industry connections during that time. However, after ownership of Carnegie turned over, Hardin was more or less told to "dress appropriately or get out". He got out.
He was discouraged after this incident and decided to abandon New York to live with the Navajo tribe. Unfortunately, however, despite Hardin's eccentricity he was still a "white man" and not welcomed with open arms.
Moondog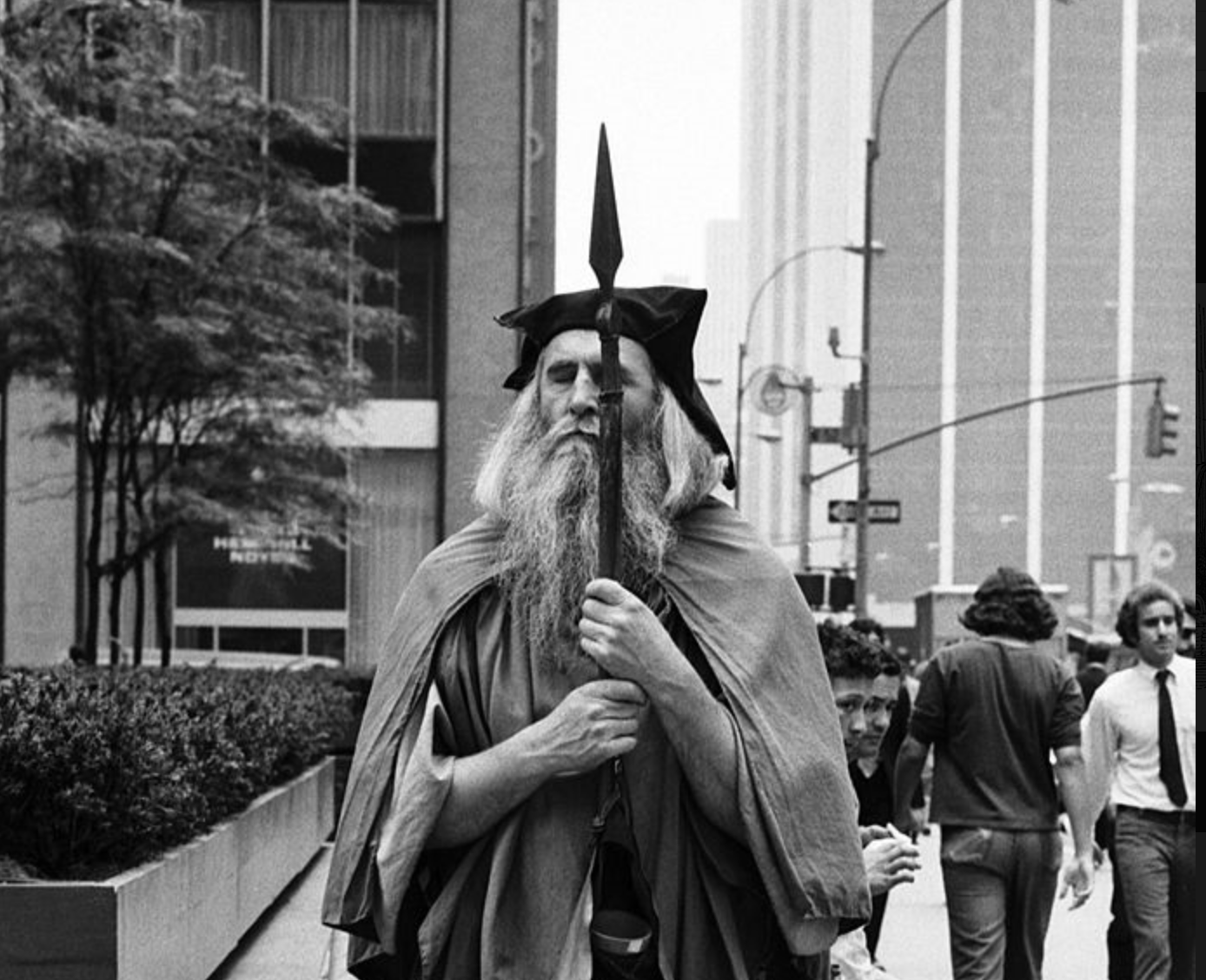 Source
In 1947 Hardin returned to New York. He quickly adopted the name "Moondog", which he conceptualized from a childhood memory of a dog who would howl at the moon like no other. He took to living under roofs and porches around the city, sometimes using the very places he called home at night as his stages during the day. Crowds of tourists would gather to listen to him play his homemade, original instruments whilst reciting his poetry. Renowned jazz musicians would make it a point to go see Moondog after getting out of their own gigs.
He was becoming a centerpiece of New York. And to those who knew, he was a genius; a cultural icon of resistance, persistence, and talent. But to most residents and tourists, he was a landmark. Moondog began to be mentioned in guide books and bus benches. In my research, I even found a story where a man apparently got out of a cab from the airport and said "take me to Moondog!" Of course, the cab driver knew exactly where to go.
But to the music world, Moondog was gaining notoriety. Musicians were traveling to the streets to meet the man and make propositions. Many times, he was told he would be allowed musical freedom on a record label if he fit the mold a little more. He obviously refused all of those advances. During this time, he made friends with some members of the Philharmonic orchestra. They told him that if he were to write an appropriate piece, he would be allowed to conduct it. The challenge was that he had to write and produce it himself. However, he began to have fallings-out with those relationships as his demeanor got increasingly stranger.
I had a lot of offers from people who said that they would help me but that I had to dress conventionally- but I valued my freedom of dress more than I cared to advance my career as a composer. I just wanted to do my own thing, and no matter how much it cost me in terms of my career, I did it.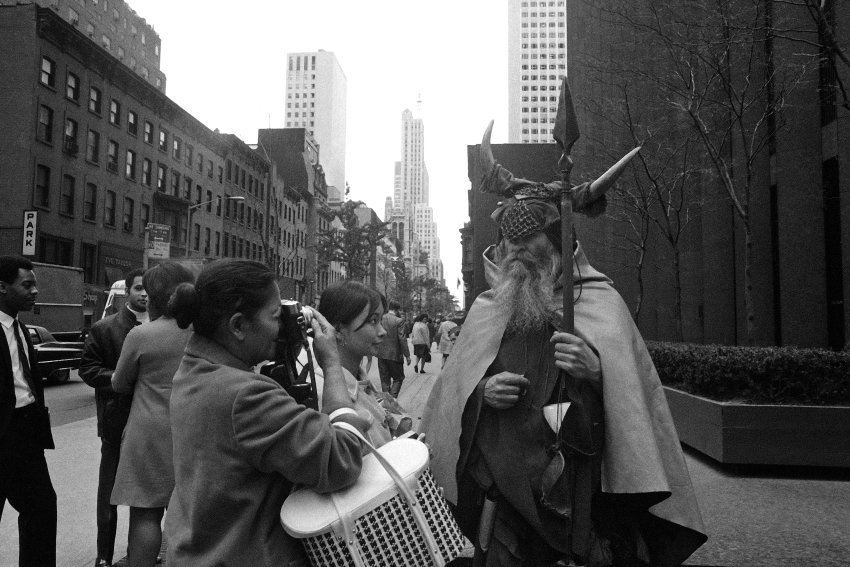 Source
As you would expect, Moondog faced many troubles during his times on the streets. He was arrested more than once by the members of the police force not so keen about his antics. In the early 50's, a famous radio show host tried to steal Moondog's name for his broadcasting show. The DJ, Alan Freed, upon becoming obsessed with a piece of Moondog's music, seemed to think that he could openly steal the title and the homeless viking wouldn't care enough/ have the resources to do anything about it. He was almost right, until some higher ups in the business convinced Hardin to sue with them supporting him. Hardin won, and the DJ ceased his overuse of Moondog's name. Instead, Freed changed the name of the show to "rock and roll"- the first time the phrase had been used.
Throughout the 50's and 60's Moondog continued to stroll the streets of New York selling his hand written poetry and playing music for change. He argued the morality of begging and refused any sort of conventional constructs. He invented several instruments and would crouch over them from place to place, as the police got increasingly weary of Hardin's antics. He even found himself a wife and although he kept an apartment with her, continued to live on the streets to work on his art and persona.
It was during this time that Moondog recorded some of his most amazing work, including his self-titled album recorded with the Philharmonic that I have included at the bottom of this article. You can really hear Moondog's disdain for stereotypes in the water he breaks down genre barriers and utilizes his poetry and homemade instruments. He often records in 5/4 time, once saying that
The human race is going to die in 4/4 time
Europe // "A Composer's Paradise"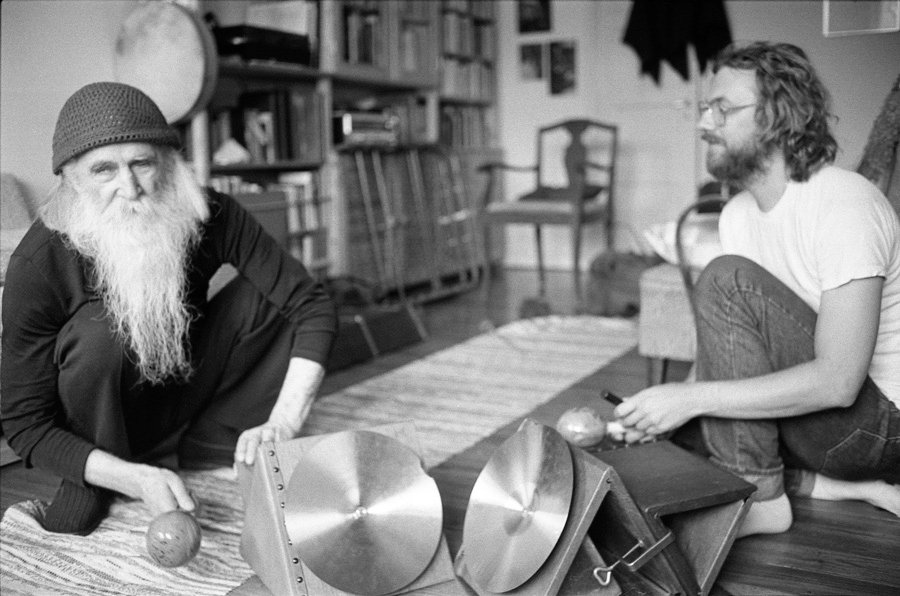 Source
In 1974 Hardin left for Europe after being offered a spot on a German radio show. Although his time spent in New York was arguably more interesting in terms of history, his time in Europe was his most productive. After arriving in Europe he continued to wander the streets just like he had in New York- although this time in a foreign land where no one knew him and he did not speak the local language. He had become such a staple in New York that the residents were writing into local papers to ask if the Viking of 6th Avenue had passed away. Instead, he was wandering Germany, meeting local musicians and keeping up with his regular routine until what he found what he called a "composer's paradise".
In 1976 a young girl by the name of Ilona Sommer convinced her family to take Hardin under their wing after becoming fascinated with the man. It wasn't long before Sommer had left all of her other obligations to scribe, produce, translate, promote, etc. for Hardin. It was during this time that Moondog produced most of his catalogue, being brought hot meals while he was allowed to slave away on his passion.
He produced a number of albums during that time and traveled a decent amount to play his compositions for the world. In 1989 he found himself traveling across the world to stand in the spotlight of Carnegie hall and conduct his own work in the very place he had been thrown out of decades before. However, on September 8, 1999, Moondog proved to the world that no one is invincible, and succumbed to the diabetes he had been diagnosed with some half-decade earlier.
Moondog left a stamp on this world that is unmatchable and downright beautiful. So many who passed him thought of him as a crazy drug addict- when instead they were passing one of the most respected musicians of the 20th century. His work has been covered by musicians such as Janis Joplin and Charles Mingus, has been used in many a film, and hangs on the walls of some of the most prolific music collector's in the world.
Below is the first song from his 1969 self-titled album. Here is a link to a playlist for the full album. Give it a listen- it's incredible. Thanks for stopping by I love y'all <3
"I am an observer of life, a non-participant who takes no sides. I am in the regimented society, but not of it." - Louis Thomas Hardin; Moondog
[ER} is a music exploration as I dive through notebooks, libraries, bookmarks etc. for the amazing music I've discovered over the years. If you like what you see here and have an open mind when it comes to weird shit, expect to see more <3
Stuff
Universal Basic Income(UBI)
MannaBase
SwiftDemand
Faucets
Moon DASH
Moon DOGE
Moon LTC
Moon BTC
Moon BCH
BitFun
BonusBitcoin