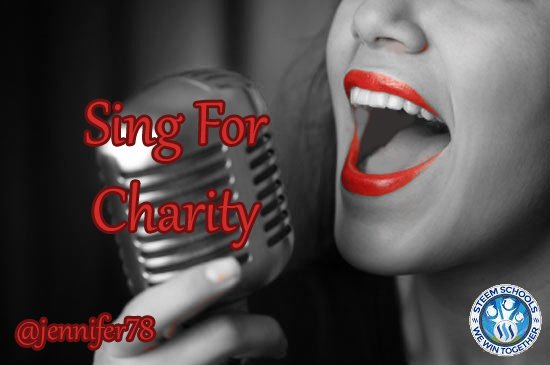 Recently, I resteemed a post from @flysky called Donation with your song 9 sbd challenge Goal is 110 sbd grand total in Donation Mission, 1.1 Million Songs , 1,100,000 Song journey across Humanity
The goal is to have a combined number of 1.1 million songs sang by everyone participating in order to provide those in need of giving them some SBD in order to get what they may need to get on Steemit to help them make some money to provide for basic needs or whatever they need.
For every song that is sang, @flysky is putting aside 0.001 SBD toward this fund. The maximum amount of SBD to a qualifying person is 9 SBD and it can go toward helping that person with a cellphone, tablet, or whatever they need to get on Steemit. This is a huge humanitarian charity on his part and I am proud to be part of it. You can also be a part of this and participate by joining us on discord at https://discord.gg/TaZFW5r
Today, I sang 21 songs toward the charity bringing my total to 42 songs. Here are the songs I have sang for the charity event so far!
| Song Title/Singer | Song Title/Singer | Song Title/Singer |
| --- | --- | --- |
| 001. Mon Coeur Survivra Pour Toi (Celine Dion) | 002. Thinking Out Loud (Ed Sheeran) | 003. Feeling Good (Nina Simone) |
| 004. What's Up? (4 Non-Blondes) | 005. Perfect (P!nk) | 006. This Used To Be My Playground (Madonna) |
| 007. A Hard Day's Night (The Beatles) | 008. Just Like Heaven (Cover by Katie Melua) | 009. Patience (Guns 'N Roses) |
| 010. Stay (Lisa Loeb & Nine Stories) | 011. Name (Goo Goo Dolls) | 012. Mil Años Mas (Christina Perri) |
| 013. Sola Otra Vez (Celine Dion) | 014. Bidi Bidi Bom Bom (Selena) | 015. Perfect (in French) (Sara'h Cover) |
| 016. Perfect (Ed Sheeran) | 017. We Are Young (Fun) | 018. Take Me Home, County Roads (John Denver) |
| 019. The Gambler (Kenny Rogers) | 020. The Glory of Love (Peter Cetera) | 021. Stuck On You (Lionel Richie) |
| 022. Truly, Madly, Deeply (Savage Garden) | 023. That's The Way It Is (Celine Dion) | 024. Heaven Is A Place On Earth (Belinda Carlisle) |
| 025. Take My Breath Away (Berlin) | 026. Crazy for You (Madonna) | 027. Love Is A Battlefield (Pat Benatar) |
| 028. Just Give Me A Reason (P!nk) | 029. You And I Both (Jason Mraz) | 030. Black Hole Sun (Soundgarden) |
| 031. Sorry (Buckcherry) | 032. What It Takes (Aerosmith) | 033. Insensitive (Jann Arden) |
| 034. Foolish Games (Jewel) | 035. Numb (Linkin Park) | 036. Kryptonite (3 Doors Down) |
| 037. The Way (Fastball) | 038. If You Could Only See (Tonic) | 039. The Reason (Hoobastank) |
| 040. Need You Now (Lady Antebellum) | 041. Faithfully (Journey) | 042. The Pretender (Foo Fighters) |
Today, I sang with @chiquibencomo, @flysky, @oscargabat, @johntkd, @jasielyb, @filnette, @sam0014
Much love,
@jennifer78
Join me and many others on discord for #steemschools where you can earn as you learn how to navigate steemit! https://discord.gg/TaZFW5r