| Interviews From the Grave | 
 | Mekrokiev |

Mekrokiev is a Mexican Gothic Rock band from Mexico, they have been in the scene since the end of 2004 like an acoustic solo-project, experimenting with covers of The Sisters of Mercy and Sanguis et Cinis.
They have been evolving ever since, and have played with other mexican bands like  Nietzsche's Bitch, Acid Bats, Evilmoon Project, La voz de tus Ausentes among others. Theyalso have opened concerts to bands like Cinema Strange and She Past Away.
Mekrokiev Line-up is:
Pavel MkV - Voice, Programming and bad jokes.
Gonzo Esquizoide - Bass (ocasionally, Live events)
We contacted PaVel MkV, Voice, programming and front man of the band for the interview, Without further ado, lets get right into it:
How did you get to be the band you guys are today?
Can you tell us something about your origins? 
Pavel: 'Cause we're foolish, stuborn and we have nothing better to do with our lifes... for the moment.
Everything began with this:
2006 - Demo

Continued like this:
2008 - Saint Stra
2011 - Miradas a la distancia (EP)
2012 - Esfera
2012 - Mimetismo Vol. 1
2015 - After all (Maxi-single)
2015 - Tired (Maxi-single)
And the New stuff is: 
2016 - BefoRe
That together with a lot of concerts in the span of a little bit more of 10 years.
(From their work "Miradas a la Distancia (EP)")
Where does the name of the band come from? What was the inspiration for your name?
Pavel: In the need of a name for the project, we resorted to a neologism, something that didn't exist and were unique. The meaning that we give to it is Libertad (Freedom). 
Tell us about the Dark scene in Mexico, some say the goth/dark scene in general is dying in some countries, do you think the same is happening in Mexico? or the other way arround?
Pavel: Not dying. The sound is simply changing, and the personal taste of the people too. If before you used to see "Mohawks", now you see top hats and so. What it is actually happening is that there hasn't been a massive reach.
From all the material you have recorded with the band, which has been your favourite?
Pavel:
Since the first album to the most recent there are different songs that have put a mark in us or that because of them we have had diverse new opportunities, like: The Face is Vanishing, Distante, Ojos Invisibles, Una vez más, La Reina Roja, After all and Tired.
Whats you opinion about the internet on the music industry?
Pavel:
Today, it is a basic and indispensable tool to publicize our work. Without this medium we wouldn't be able to present our work outside where we live at, or even talk to you (to mention a few examples).
Which are your favorite bands? Have you discovered a new band that you love?
Pavel:
Lately I listen to Sigur Rós, Peter Heppner, Widowspeak, No Joy, M83 or movie OSTs.
Something that is "recent", well... Cigarrettes After Sex, Hibou and  Angels of Liberty
What are your plans for the future?
Pavel:
In april its 10 years after our first album came out and we are looking for a way to re-launch it. Later, at the end of 2018, we will be presenting new songs filled with angst, desolation, pain, rage and dark stuff.
With whom would you like to share stage in a concert?
Pavel: With Aves a Veces and Non Mortis! it has happened before but is really fun to play with them... They are party animals! and with Los Esquizitos, it would be a good and different experience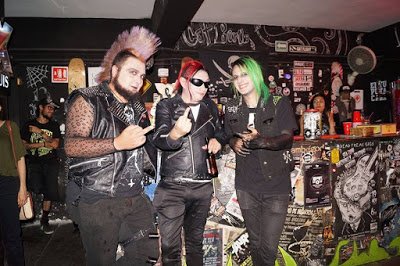 What's the strangest thing you have seen in your gigs?
Pavel:
When people do a "Slam" with chill out songs or that we think they lend themselves to something like that (like Distante or Tired). The truth is that it is really nice to see that happening.
How would you guys define your band? do you label it in a specific genre?
Pavel:
Gothic Rock... with a lot of variants.
Any new material you would like to share or promote?
Listen to our most recent material, titled "BefoRe"