Happy New Years!!! 2020 here we come.
It has been quite a year for me this end.  I have learned so much about life and myself this year that is almost feels completely overwhelming.  I have had a long journey with this life as a Singer-Songwriter.   Many years went by with a lot of people really not getting what I was trying to accomplish and with a fair play shout I might say I wasn't always sure myself.   I think the biggest pain of the years came in with the question of me as a mother.   I had a lot of people who felt because I did music it ment that I no longer cared about my children and that I was putting them last.   Even though these thoughts and opinions absolutely killed me I continued to push on my journey continuing to not only make music but also to love and support and nurture my children to the absolute best of my ability.   I am proud of myself for holding on so long and for pushing so hard because I see that glow in my childrens eyes, that glow of hope and dreams.   My children know with all that they are that they are loved and seen, that they are the true light and inspiration in my world.   I wanted to build something that would leave behind a legacy for my children and even if that doesn't equate to millions of dollars or any type of great fortune, I know whole heartedly that it exists in a feeling I have given to my children that anything they want to do and want to be they can be, and whatever it is that they discover that they are, they can be.   I have shown my children how to dream, and how to love and how to believe.      The thing is I definitely could not have done that and wouldn't be here over a dozen albums deep, hundreds of songs in if it wasn't for all those out there who did believe in me, those who saw my heart my talents my mind and pushed and believed with me.   All those out there who have collaborated music with me over the years I literally shed tears for you in this moment of complete and utter gratitude.   You have fueled and pushed me beyond my wildest dreams, and because of you all I have seen and touched things I would have never thought possible for myself many years ago.       
At the start of this new year I sit here and reflect on all that has happened and I find myself in a place where people are starting to get it.   They are starting to see that over all this time and through all these ups and downs, I have kept going and kept pushing and kept believing, they have heard the various sounds and feelings I express in my musical art and people are starting to respond in ways that are truly humbling.   I cry with tears of joy to hear words of encouragement and blessings and hope and faith from people whom I thought I had lost for good.     This journey was never a selfish one, it has been a journey of great sacrifice and I am blessed today in the start of a fresh year with hope, real hope.    
Thank you very very much for believing in me and for listening to my music and sharing in my journey.  Thank you with all of my heart.    I will continue to push and believe and dream and make music and love my family my friends and my children with all I am.   
Thank you wav-Dr. for coming through in a big way this year and really helping me to just unleash. :) :) :) You have been golden rays of sunlight my friend. 
Shavon Bonnie Legion 
I am soo beyond proud to present my 5th album with the very incredibly talented and inspiring and motivating wav-Dr.   Ladies and gentleman please come and honor me and wav-Dr. with your listen to 
Wav-Legion Acoustic Full Album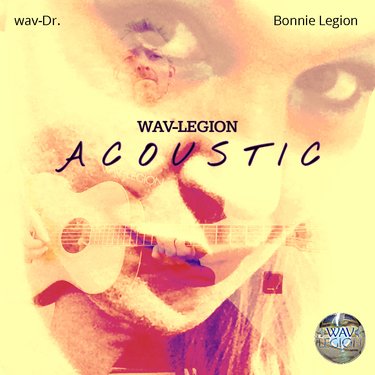 Buy Today
Stream the album on 
I am gonna share my top 3 favorite tracks off this album.   Here are the official music videos and many more on YouTube
To all those I lost
To all those who are lost
www.wav-legion.com