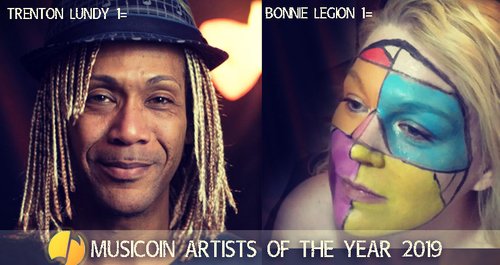 Thanks to all my great fans out there and supporters who voted for me in the 2019 Musicoin Artist of the year Contest brought to us all officially from Musicoin, the worlds #1 Blockchain Music Streaming site.   I am super honored to share this spot with the very talented Funky Music Genius Trenton Lundy.  
I have been uploading my music to Musicoin ever since I first joined Steemit in 2016.  Since that time I have been featured artist on the site several times.    In Mid December 2019 Musicoin announced a selection of 16 top featured artists on the site to be up for Musicoin Artist of the year.  The contest was to be put to a fan vote on both facebook and twitter.    The first round was on Facebook where fans voted and I was moved into the top 8 selections for vote on Twitter.   Fans voted again and thanks to you all I found myself in the final top 4 with super talented artists like Jibba The Gent, Trenton Lundy and Luna Rae.   Voting started Jan 5th for the top spot and was pretty neck and neck there with myself and Trenton Lundy till about the last day of voting where a Super Fan decided to throw in some paid for bot votes and the contest went blitz.    With no way to figure out the exact number of real votes that came through in the contest Musicoin had no choice but to the votes in before the bot hit and Tie  both 1st place and 2nd place in the contest.    To be in the contest at all let alone the top 4 for musicoin is a huge huge honor I was totally fine with this decision.  Trenton Lundy WOO rock funky grooves mate, a total cheers moment a total joy to share with ya.   
Trenton Lundy and I have spoken a couple times since the contest and think a collaboration is in order.    I have quite a busy January on my hands this end, lots of travel and family stuff going on that has me on spin.  This is the reason for my late post write up and probly a lot of silence outside my normal these last weeks.    I expect to be back in heavy early to mid Feb. and a Trenton Collab possibly with the Wav-Legion project will be high on the list of 2020 projects.   
There is no way I could have created so much music over the years and achieved all I have in this life of sound without the talented producers, musicians and artists I work with.    A massive shout needs to go to Sven Qrittix Driesen, my brother in Sound Legion creation and root partner to some real exploration sounds in contemporary and dance music.    A huge bless up to my current partner in audio crime @wav-dr wav-Dr.  for everything he has brough into my world this last year with the Wav-Legion music project.  www.wav-legion.com   I also need to send out some love to MB Sak, Chrisville, Bruno Motta, Yozo, Simon Kraemer, Uedra, Laurent Lavergne, Luca Grignaffini, Markus Gitarre, Therese  Lefebvre and all the Wav-Legion #audiowarriors Bufinjer, Psionic Tremors, Nicky Havey, Electrostatic Nightmare Disco, Jantzen, David Far, Tyger Tyger, D-Vine, Robert P. Kreitz, Metropolis Music, Amphlux, DJMF, Miss eFeMBy, Ethanol Addiktz, Billy Korg and Flip my Beatz.
Huge Shouts to Luna Rae and Jibba The Gent for coming in 2nd place.  Muiscoin Artist of the year 2019.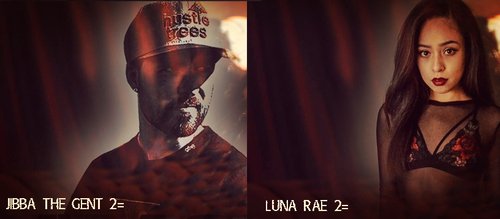 Listen on Musicoin
On January 1st of this brand new year.  wav-Dr. and I released our 5th full length album.  Wav-Legion Acoustic.   Tracks from this album can be heard on Musicoin and also
Spotify  -  Amazon  -  iTunes / apple music 
Preview the album here
Thank you big to everyone out there listening and helping support these sounds.   This music means the world to me.  It has been a serious honor to meet so many different talented people over the wires and through travel in this 21st century music scene.  The internet has opened a world of opportunities where it feels like the sky is the limit with sound exploration.   I enjoy very much collaborating and expressing myself and my unique perspectives through music art.   It has been a long road with many hard lessons learned and what seems like endless rejections and failures, yet I would say the enrichment it has brought into my life is incredibly tremendous for not only myself but for those around me and most importantly my children.  Bless you all as I hope you continue on this journey with me as I keep on keeping on this music creation in exploritory multi-color, multi-genre sound fashion.   
Thank you to Stevee and all those at Musicoin for this incredible honor and opportunity with Blockchains best music streaming site where artists get paid crypto per play.   
Shavon Bonnie Legion
www.wav-legion.com