A cordial greeting to all!

I love music and even more if it is classical, which is full of stories, anecdotes, sacrifices and controversies but that nevertheless marked a legacy, a guide and where those great musicians came from who marked their stories and their names for the eternity, in which they were inspiration for others.
Speaking of great characters it is difficult to leave aside the one who left his mark in the story to the point of not only being a great rock star, but also a legend for his musical legacy, his voice, his aesthetics and his glamor:
FREDDIE MERCURY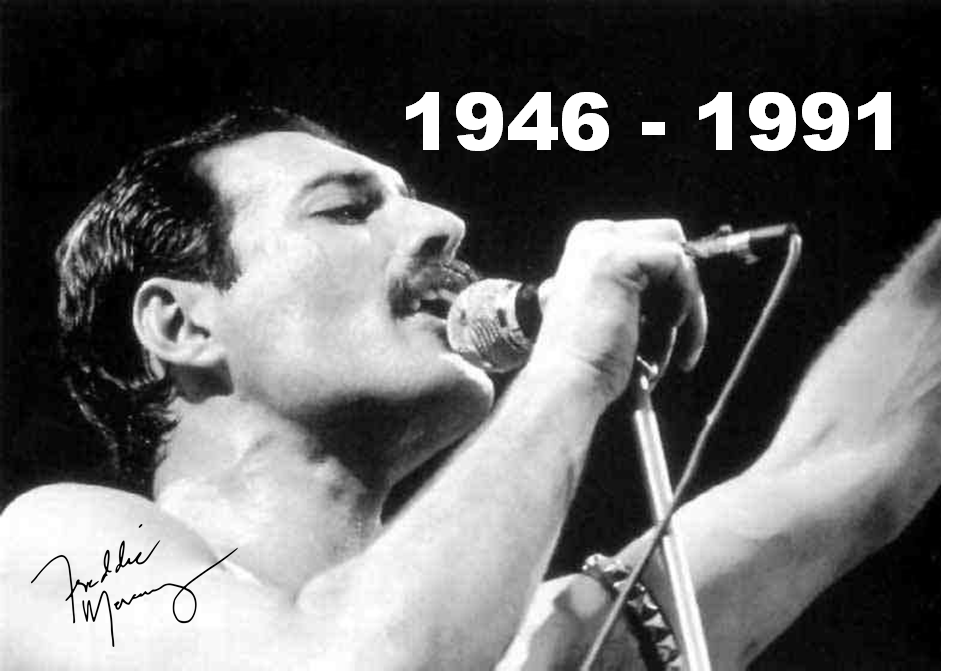 Source
His real name is Farrokh Bulsara was born on September 5, 1946 in Stone Town, Sultanate of Zanzibar (currently part of Tanzania), from a very young age he was in the middle of music and acting, at eight year old was sent to study at St. Peter's School, which is a British-style boarding school only for children
He began to call himself "Freddie" when he was still studying at the boarding school and it is said that it was because of the impossibility of his schoolmates to pronounce the name of Farrokh.
It is in the boarding school where at the age of 12 years (in the year 1958) he forms his first school musical band The Hectics, where they integrated several characters, that later also became known for their part in the middle of rock and roll style music (Cliff Richard and Little Richard).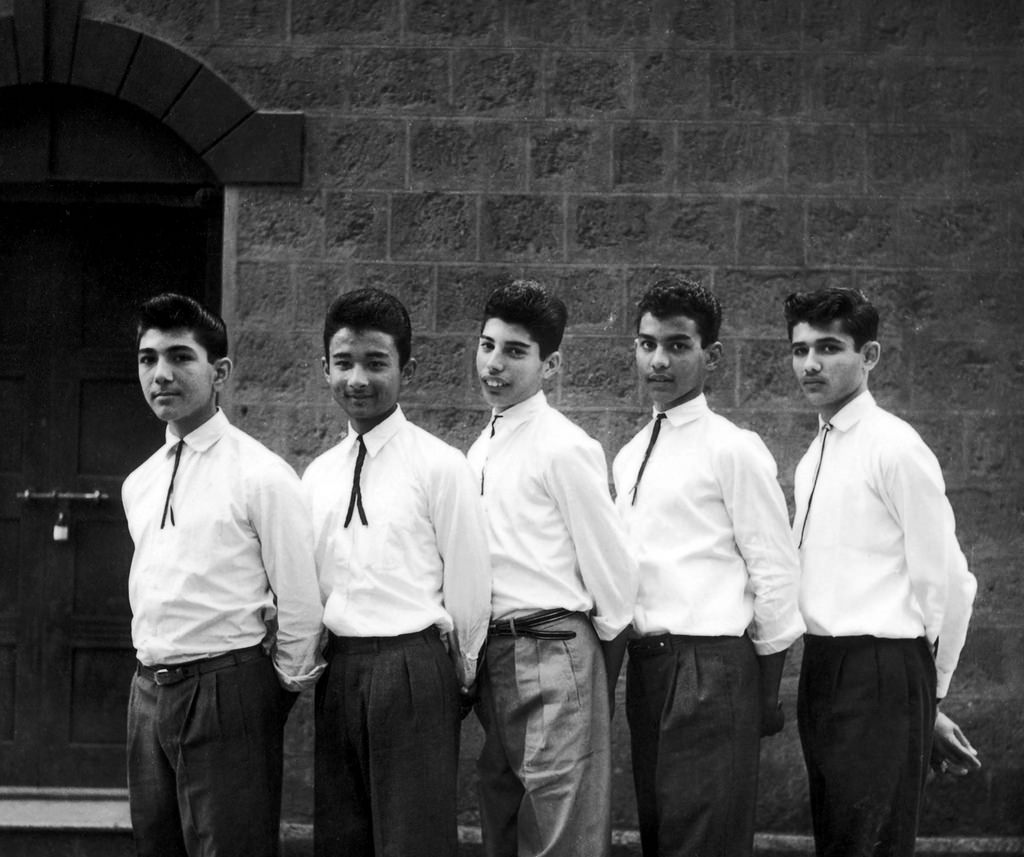 The Hectics The five boys ─ Farang Irani, Bruce Murray, Freddie Bulsara(Mercury), Derrick Branche y Victory Rana Source
This band was interrupted in 1964 because Mercury along with his family had to flee from Zanzibar for security reasons, due to the Zanzibar Revolution where many Arabs and Indians died.
However, he obtained a diploma in Art and Graphic Design at Ealing Art College, and even sold second hand clothes in the Kensington market but his vision was beyond, his passion was music, so he returned to be leader of bands , one of them was Sour Milk Sea or Ibex (Wreckage). in the year 1970 where it did not last long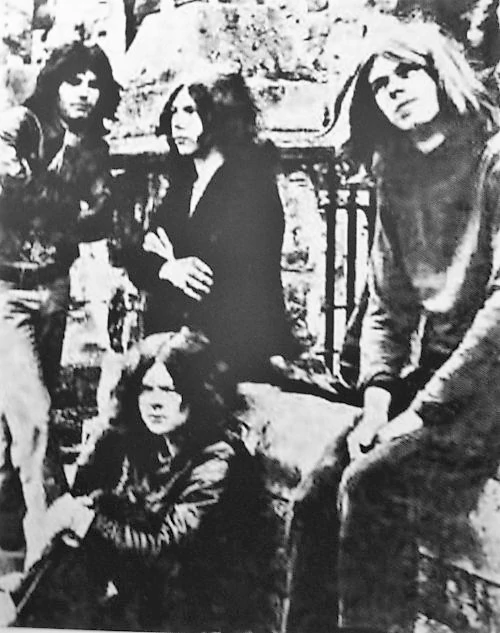 Sour Milk Sea,a rock-blues band that integrated Freddie where he was accompanied by Roger Taylor and John HarrisSource
Finally it is in April of the year 1970, Mercury was united with the guitarist Brian May, the drummer Roger Taylor and in 1971 they were joined by the bassist John Deacon, they were the ones who initially They formed the band and it was Mercury himself who chose the name "Queen" for the new band. His words about the origin of the name of the band were:
I thought the name "Queen". It's just a name, but obviously it's very real and it sounds splendid. It is a strong name, very universal and immediate. Visually he had a lot of potential and was open to all kinds of interpretations. I was aware of the gay connotations, but it was just one of its facets. [Source] (https://es.wikipedia.org/wiki/Queen).
He decided to change his own surname Bulsara to Mercury, it can be said by inspiration as it was after writing a song called My Fairy King which was from the band's debut album where he inscribed the phrase "Mother Mercury, look what they've done to me "(in Spanish: Mother Mercury, look what they have done to me. From there, the name Freddie Mercury became universal.
Queen - My Fairy King

Single Voice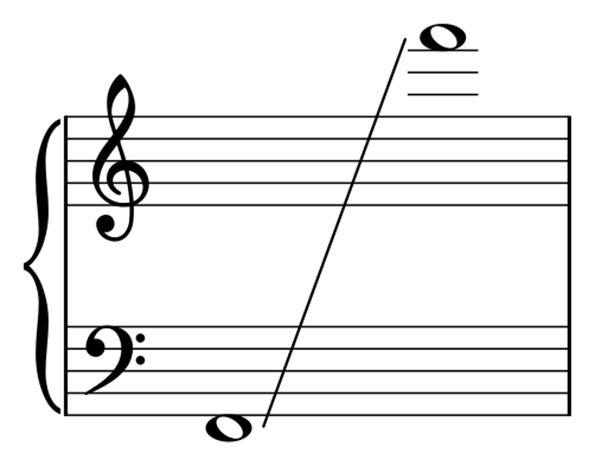 SourceFreddie Mercury vocal range
Mercury was born with a unique gift for music, could sing anything with any style, it is so much so that several artists and specialists in the field qualified him as "the best singer of rock and roll of all time", his voice was considered an art since he could change his style from line to line without clashing (go to the highest to the lowest without difficulty). His technique was amazing had no problem or tempo or rhythm, was adapted and adapted very well to each tone very naturally. A talent that very few have and know how to handle.

Instrumentalist

He received formal piano training until he was nine years old and later in London he began to learn to play guitar, although his strength was to be a Vocalist.
He received formal piano training until he was nine years old and later in London he began to learn to play guitar, although his strength was to be a Vocalist.

Live Interpretations

Each one of his presentations stood out in a great way that became remarkably theatrical style, was delivered on stage, in which he provoked a great participation of the crowd. Many of the artists tried to imitate their styles, in a tribute concert the singer David Bowie imitated his theatrical style which expressed admiration since the performance took him beyond what he had done previously, in this way it is demonstrated, the total scene.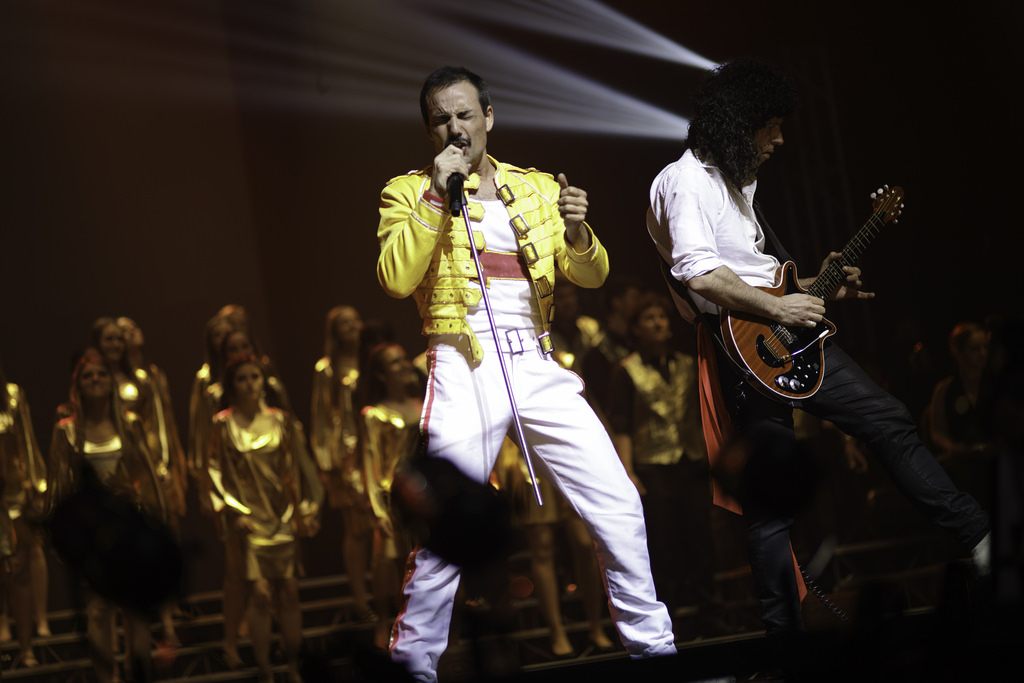 Source
---
One of its participations that happened to the history next to Queen was of Live Aid in the year 1985, where the powerful and sustained note of Freddie Mercury was demonstrated during the a cappella that came to be known as "The Note Heard Around of the world". Throughout his career, Mercury made approximately 700 concerts in countries around the world with the group Queen.

Discography

These are the songs that were credited to Freddie Mercury as author:
Great King Rat
My Fairy King
Liar
Jesus
Seven Seas Of Rhye
Ogre Battle
The Fairy Fellers Master Stroke
Nevermore
The March Of The Black Queen
Funny How Love Is
Killer Queen
Flick Of The Wrist
Lily Of The Valley
In The Lap Of The Gods
Bring Back That Leroy Brown
In The Lap Of The Gods...Revisited
Death On Two Legs
Lazing On A Sunday Afternoon
Seaside Rendezvous
Love Of My Life
Bohemian Rhapsody
You Take My Breath Away
The Millionaire Waltz
Somebody To Love
Good Old-Fashioned Lover Boy
We Are The Champions
Get Down, Make Love
Melancholy Blues
Mustapha
Jealousy
Bicycle Race
Let Me Entertain You
Don't Stop Me Now
Play The Game
Crazy Little Thing Called Love
Don't Try Suicide
Ming's Theme
The Ring
Football Fight
The Kiss
Vultan's Theme
Staying Power
Body Language
Life Is Real (Song For Lennon)
Cool Cat (with John)
It's a Hard Life
Man On The Prowl
Keep Passing The Open Windows
Is This The World We Created? (with Brian)
Pain Is So Close To Pleasure (with John)
Friends Will Be Friends (with John)
Princes Of The Universe
Made In Heaven
Mother Love (with Brian)
I Was Born To Love You
Songs credited to Queen but believed to have been composed by Freddie:
My Baby Does Me (with John)
I'm Going Slightly Mad
All God's People
Delilah
A Winter's Tale
Listening to a Queen theme is talking about Freddie Mercury and songs that were recorded for history. These are just some topics:
---
I Want To Break Free
---
This song although it was not written by Freddie Mercury was a resounding success for Queen and was written in the mid-80s and belongs to the album The Works, will always be remembered for its controversial video where everyone makes a parody of a soap opera and all personalized as women, no doubt will always be remembered.
I Want To Break Free- Queen
---
We are the Champions
---
Ballad song that belongs to the album News Of The World composed by Mercury and in the late 70's. This song became a hymn in the sporting victories making it one of the most celebrated themes of Queen. It was of so much inspiration that it was used in the Soccer World Cup of the year 1994
We Are The Champions - Queen
---
We Will Rock You
---
Another theme marked for history, this song is composed of rhythms that are marked only with clapping, kicks and a guitar solo, a very emblematic theme in rock belongs to the album News of the World in 1977.
We Will Rock You - Queen

Illness and Death
---
A life full of debauchery, parties and promiscuity led Freddie Mercury to a sad and lamentable unexpected end and in full moment of fame. He died of pulmonary complications due to HIV, on November 24, 1991. Only hours after he publicly announced this terrible disease. It was so sad and so moving that a group of musicians and fans from around the world presented a Tribute Concert to this extravagant being that marked an era of rock music, was held at the Wembley Stadium on April 20 of 1992 giving birth to The Mercury Phoenix Trust, a charity against HIV / AIDS that was founded in memory of Freddie.

Freddie Mercury will always be one of my favorite singers, his voice and extrovert personality were unique, thus leaving a legacy in music - more than a Rock star is a Legend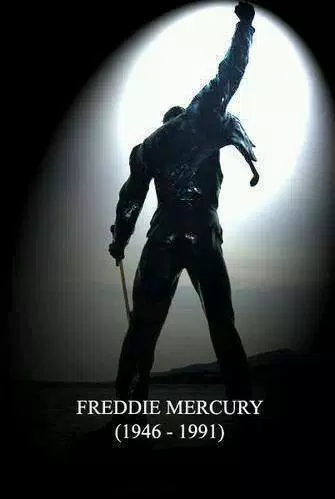 Source
The following was used: