Today, I would like to post about a room for GYM.
This incident was in last May which was so tough experience for us.
We had to get a room for GYM in Myanmar.
But had never experienced to look for the business rooms also in Japan.
Furthermore, never worked in relation to the fitness industry.
Am I okay? Maybe yes.
Taking a first step is the most important.
What conditions we hope are...
Area : 50ft*25ft
Floor : Grand floor, 1F, 2F
Fee : Less than 400USD
I promise some guys would think its area is so small but what GYM we want to open is the completely Myanmar style. It's enough because a member fee would be expensive if area is spacious.
What I was surprised is the culture of the way of pointing the floor. There is no Grand floor and it is called 1st floor in Japan. It had been always confusing me.
At that time, a female staff who can speak Japanese in a real estate company helped me because I can't speak Myanmar. Her Japanese was so very good, I thought her Japanese is a little bit less than me or almost same. But she can't eat the Myanmar traditional fish sauce in contrast to me. I love it. This is the only one thing I was able to win against her.
Anyway, we went to Downtown. There are a lot of people.
Here was a room we saw.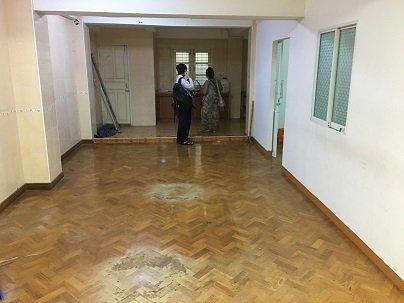 Space is small than I thought but some GYMs in Yangon is like this.
500USD monthly fee is more expensive than our budget.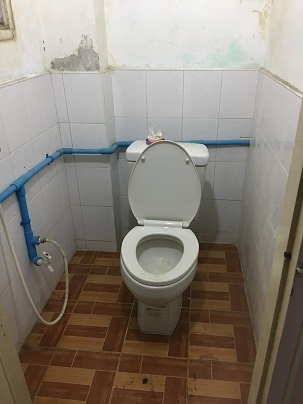 The worst thing was a rest room.
From a Japanese point of view, it is so dirty. But this way of thinking was ended soon because we Japanese live in foreign country have to be used to the style of it and what we have to note is the beautiful and functional toilet is only thing what we can be proud to the world. "Japan as No.1" is an old fairy tale.
*************************************
Come to workout all Steemians living in Yangon!!
Address:No.994,5th Floor, Thu mingalar Street, (16/1)wand,Thingangyun Township
(You can search on Google map "Revolution GYM")
*************************************
This was a first try to look for rooms. This activity would be long...