😍After a long time, I got some free time this week, So I went 🚶‍♀️🚶‍♀️nearby library to spend my free time with a book.
Look what I found, 🤩🤩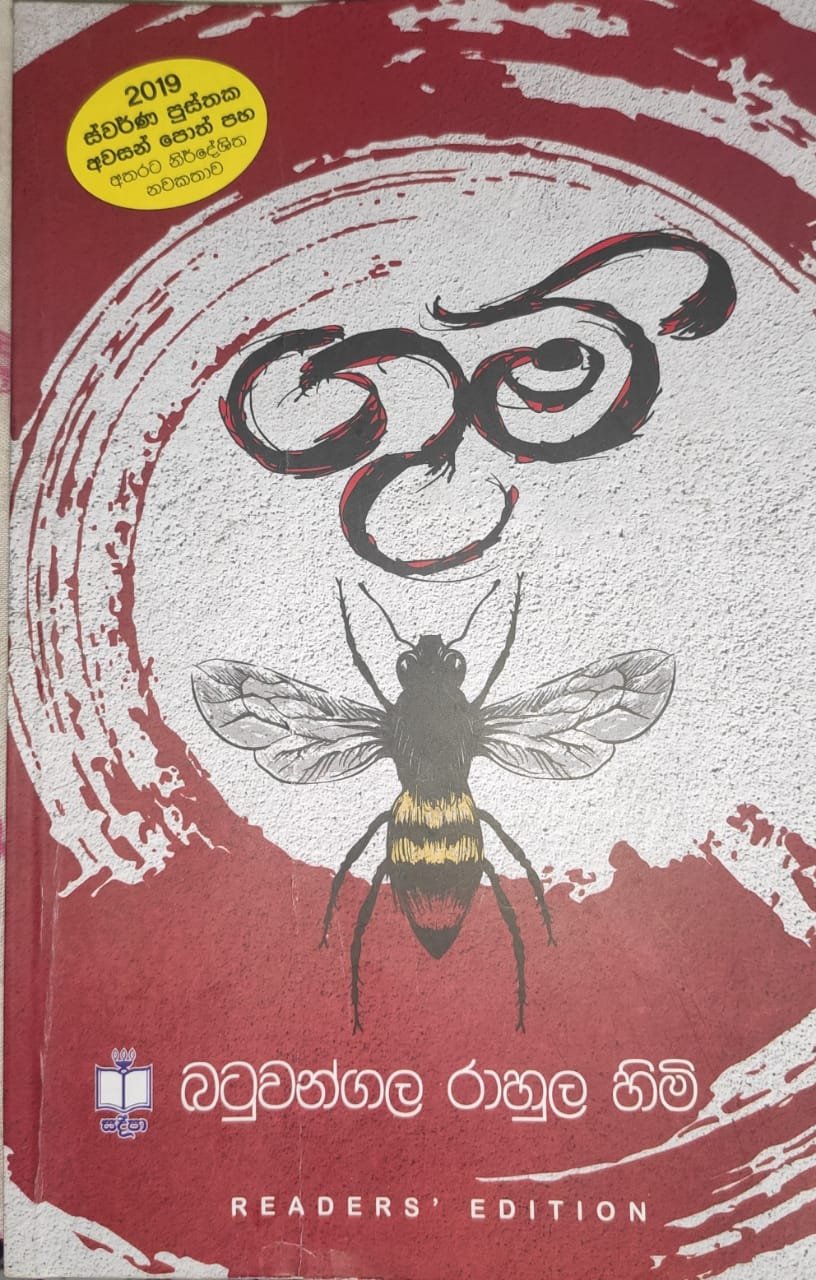 Cover Page of the book - "ගුම්"
A very interesting novel called "GUM". Written By "Batuwangala Rahula Himi"
There is a unique storyline that flows around an uneducated boy. I mean he is well educated by nature but uneducated by an education system. He can't read letters but can read nature. He doesn't know music but he can play the flute.
His job is to protect a bee colony from monkeys. for that, he uses a stick named " Gataritaa". The tone of the book expresses huge loneliness and gives insight into life and understanding of the feelings. Let me quote an interesting part. (As far as I know, there is no English translation of this book so I quote it in Sinhala.)
"ක්‍රිෂ්ණා, ඔයා මේ පාවිච්චි කරන ගැට ඉන්නෙ ගැට තියන තැන් අනික් තැන් වලට වඩා හයිය බව දන්නවද? ඔයා මේ ඉන්නෙ අල්ලන්නෙ මේ හයිය ගැට තියන තැන් වලින් නෙමෙයි. ඔයා මේ ඉන්න අල්ලන්නෙ ගැට නැති හරියෙන්.. ක්‍රිෂ්ණා, ගැට හරියෙන් ඇල්ලුවාම ඒක ඔයාගෙ අතට අපහසුයි. අපි හැමෝගෙම ජීවිතත් ඔයා අතේ තියන ගැට ඉන්න වගේ.. ක්‍රිෂ්ණා.. කවුරුවත් අපේ ජීවිත වල ගැට තියන හරියෙන් අල්ලන්න කැමති නෑ, සිනිඳු මටසිලිටි තැන් වලින් විතරයි අල්ලගන්න කමති. ...... ඒත් ක්‍රිෂ්ණා මේ ඉන්න කවදා හරි කැඩෙන්නෙ මේ ගැටයක් ළඟින්මයි...... ක්‍රිෂ්ණා මේ ඉන්න දවසක ගැටයක් ලඟින්ම දිරන්න පටන්ගනීවි. ගැටේ ළගින් දිරුවට ගැටේ මැදින් නෙමෙයි ඉන්න කැඩෙන්නෙ ඊට පහළීන් හරි ඉහළින් හරි.. ජීවිතෙත් එහෙමයි ක්‍රිෂ්ණා.. ඇතුළට කිඳාබැහපු, පිටට නෙරා ආපු ගැට තියන අපේ ජීවිතවල ඇතුළට කිඳා බැහපු වේදනාව තරහක්, වෛරයක් විදියට මගේ ඇස්වලින් එළියට පනිනව ඇති...."
I guess I make you interested on the book "GUM".
Find it and read it. That book was nominated and listed in finals at the "Golden book awards - 2019".
I'll leave a link where you can buy it, if you want. or find it in your nearest library. 😀
https://bookrack.lk/product/gum/