I have been trying this new N26 debit card for the last 5 moths and I feel it came time to write a review.
Disclaimer: this post is not supported by N26
What is N26?
N26 is a mobile bank founded in 2013 in Germany. Their growth has exploded since 2016 as people look for better and alternative ways to do their banking, cheaper interest or no annual fees. N26 offers a digital-only current account with a modern banking app that gives you spending insights and lets you control your finances, all on your iPhone or Android smartphone.
N26 is already operating in Ireland, France, Germany, Italy, Spain, Austria, Belgium and a wide range of other European countries. It has more than 2 million customers and has plans to establish itself in the US, too.
You open your account online in a straightforward short registration process. Then, everything is managed from an app on your phone. Fees are practically non-existent, the only fee is applied in making foreign cash withdrawals where you'll be charged 1.7% of the amount taken out. One cool thing is that you'll get an IBAN number, so it's like you have a legit bank account in Europe that people can pay money into, and it's even covered by Germany's government deposit guarantee.
How does it work?
When you sign up with N26 you will be sent a contactless Mastercard for free (without delivery expenses).
N26 offers a free basic current account, plus two premium upgrades: N26 Black and N26 Metal.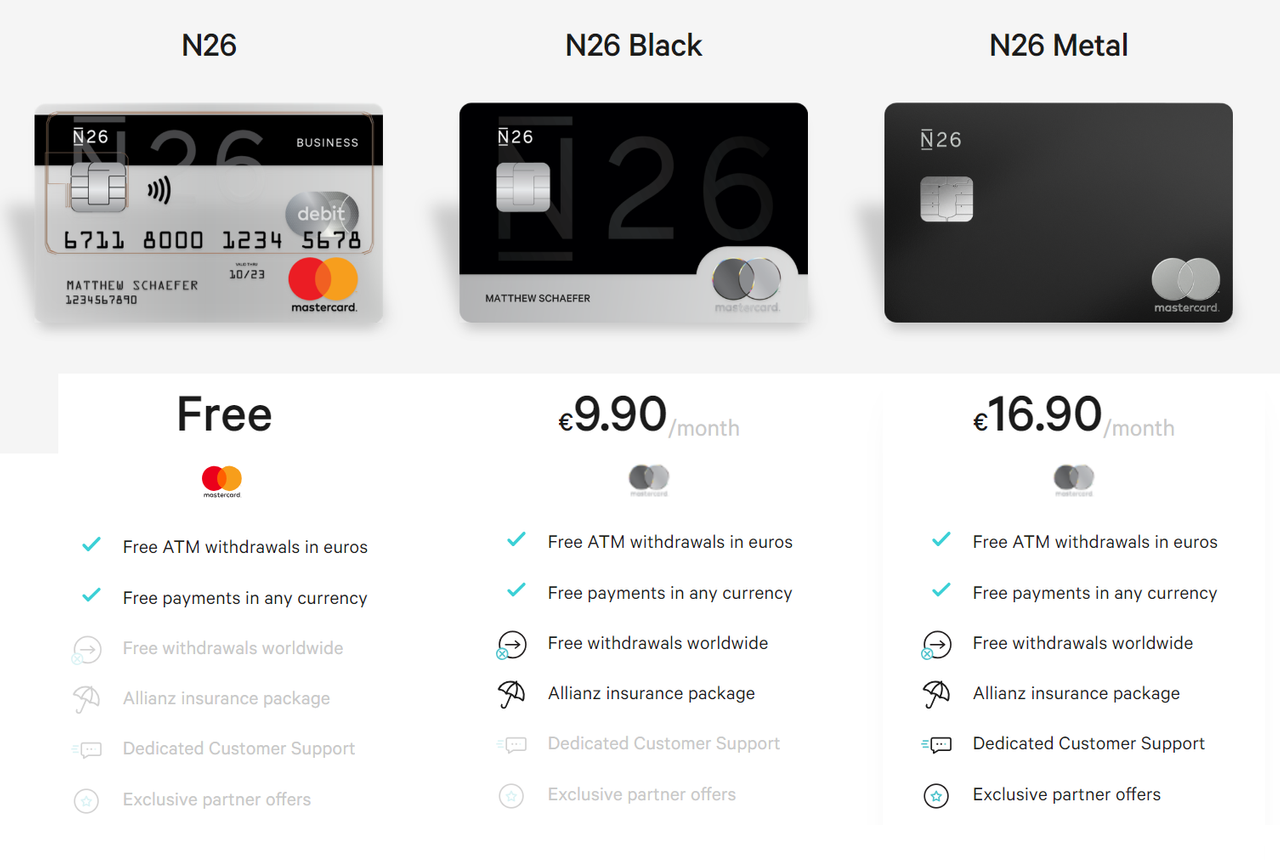 Source https://images.app.goo.gl/BKCJrhM5WtFTZSG57
I personally have tried the free plan for now, so I will explain the main benefits and features of it:
Make transfers - Send, receive and request money instantly from the app.
Free cash withdrawals - in your local currency, only if you live in Europe.
Google Pay and Apple Pay - both of the most common stores are supported so no matter if you're the iOS or the Android type, you can use your phone to make payments in stores.
In-app security - Set and change daily spend/withdrawal limits, lock or unlock your card, enable or disable online or foreign payments, reset your PIN, access your app with Face ID/Touch ID/Password.
Spending statistics - Get automatic categorisation and breakdowns of your purchases.
Spaces - Place some of your money into small sub-accounts away from your main spending "space". This will help you save-up some money for a future goal or plan.
MoneyBeam - Lets you send money to smartphone contacts, without even knowing their bank account details. Money is sent to fellow N26 users instantly, or within two days if they're not with N26.
What about notifications? You get a notification on your phone when money goes in or out of your account. If you notice unexpected transactions you can immediately block it.
Another neat feature is the Cash Map, which shows you ATMs in the vicinity. On iOS, you can reach it from the home screen with force touch. It's easier than to type "atm" in Google Maps, and shows more or less the same results.
You can also set recurring payments. This allows me to pay my rent on time every month without even thinking about it. I get an email and a notification that confirm the payment went through.
There are other services available through the app (insurance, investments, etc.), but I have not tried them.
How do I Sign up?
N26 is for EU residents, so to sign up for an account you need to have access to an EU mailing address and mobile phone.
Thee registration process takes around 8 minutes, you can do it from their website or from my invitation link: https://app.n26.com/referral/ricardog2319
The only difference is that you may get a Signup bonus when using an invitation... at least that's what happened for me, I got 10 euro for free into my account.
Once you're signed up, you'll get called by an agent to verify your identity, which doesn't take more than five minutes. They'll ask to see your passport to make sure all your details match, and then you're done.
After that, you'll get your N26 Mastercard in the mail. Simply follow the instructions in the N26 app to pair your card with your smartphone and you're done! It's that easy. If you followed this steps you should have payed nothing. In fact, claiming your card should never be a cost, even if you loose it or somebody steals it, you get a new one for free.
Conclusion
I consider N26 one of the best picks for young population who are just starting out in the financial world, and don't have many assets. If you don't have a mortgage or other major debts, an account at N26 gives you practical features with near-zero risk. The second way to use N26's services is as an add-on to a traditional bank account. If you need a way to track your personal spending, or are tired of all the fees associated with using the big banks, N26 is a real contender for your business.
The only issue for N26 is their short track record. The company has come onto the global banking scene a short time ago. It is hard to know how they will react to rough times in the financial market and what are their future plans.
Banks like N26 are a clear contender for deposits from people who don't have tens of thousands of euros to keep safe, and just need normal banking services.
Posted using Partiko iOS