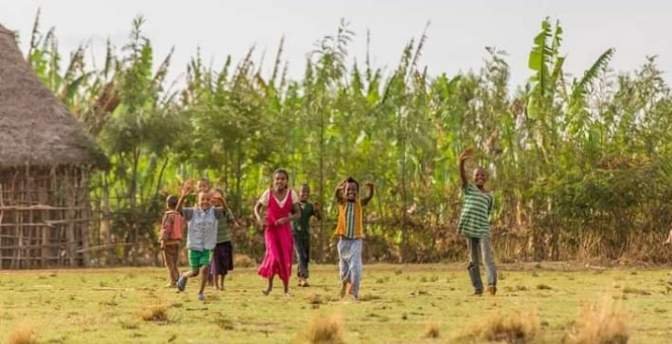 Anonymous,' what did you see?.
I see the broken dry bones of Nigeria.
Anonymous,' can this bones live?.
Starting with words like `Hope' will make it sound more like another garbage of the flooding irrelevant motivation swimming across the country.
We have reached our brink and limit point of how broken and corrupt we can ever be,
after all we are considered intercontinental and internationally as most corrupt and unwanted individuals,
We have come to the brim of how rejected and evil we can look in the eyes of other nations
after all we are being chased out and killed like insect in foreign land and nothing is said about it because we don't matter, what happened to us doesn't count, affects or concern every others persons, WE ARE ON OUR OWN,
The race of our country its on its own.
Of course talking about hopes sounds more unhelpful,
convincing someone about a better Nigerian sounds less childish, unnecessary and unimportant.
The situation of Nigeria is beyond repair to many aspects of life that can ever speak of redemption. Whether politically, religiously or culturally we have lost all hope
Our problems are beyond beliefs and whatever spirituality can do as long as Faith in political and cultural progress is concerned.
*BUT YET
WE HAVE LOST NOTHING *
hence our dry bones are in place, hence the grave where the world buried Nigeria still exists
Then we have hope for a new start.
EVEN RELIGION WONT HELP US BREATH.
From a religious views the World has lost its hopes, Nigeria emphatically has lost it place for revival and hope,
Islam and Christianity addressed the world/Nigeria situation seemly from the chaos and great corruption of the World by her believes in eschatology regarding the stagnation and lack of advancements in UNITY AND ONENESS as occurrence of ends time leaving no path for better days and giving us no hope.
IS THERE An END TIME or RELIGIOUS FUGITIVE?
Religiously we are ruined, nothing can ever be better anymore because we're in the end time, everything must be ruined as long as end time in our religion is concerned despite the human efforts to make it better.
But one good question we should ask is
Is there an end time?, are we really going to face a sudden collapse of the earth, or termination of the human race.
From these religious perspective it's a one man race now, running to save his souls from the incoming elimination following him so closely behind and grabbing whatever resources his hands can reach not minding what has fallen behind, what need repair or whom need help,
Like a temple runner whatever that's happening behind should happen, whoever is suffering behinds should go ahead as long as I'm here running, as long as what I have for myself remains for me only,
It is the condition we have found ourselves that even religion despite its beliefs on super beings and super mysterious powers can't help anymore, can't give us reasons to strive for the betterment of all, but has indirectly make us to endeavor only for our survival, for the progress of our own career, business, life, leaving us in state of selfishness, that we only see the word (MY, MY, MY,) in almost everything good life can offer.
But certainly
Its a tragedy to do something and put the blame on nothing not even ourselves that did it, saying nothing cause it, calling it a natural phenomenon and willingly doing nothing to change it by calling it a fate.
For because we have view every act of annihilation around as evidence of the end time we no longer care to fix it, we live blaming nothing and claiming its the end of time, taking no responsibility for our mistakes, escaping its consequences by proclaiming sinned but forgiven.
AND NOW ANOTHER QUESTION COMES UP ASKING
How were we?
How good have we been and what are we reviving to if called to revive.
Do we have history so admiring to look over and mourn ? Or have we memories to remember and regret,
Have we been better?
For surly we have no past, we have no memories, we have no good or righteous history, nothing have been good about us, we haven't been outstanding, we haven't been remarkable.
WE HAVE JUST BEEN NOTHING.
BREATHING, LIVING AND EXISTING WITHOUT NAME OR IDENTITY.
BUT NOW WE ARE SOMETHING,
WE ARE CRIMINALS!
A good way to start.
A warm welcome to be recognised.
This a remarkably way to begin, outstanding and breaking records to start breathing not just air but name,
Not just existing but living with an aim,
BACK TO HISTORY/
ADMIRING WHOM WE ARE.
Looking briefly to those we admire they current state today.
AMERICAN in 1971 to 1996 just my yesterday
Was a bunch of shit, flooded with streams of propaganda and dehumanisation, inequality and injustice.
Inhuman activities was no stranger mostly to the black folks, cruel and bestial treatment was implied by the white Americans, degradation based on tribe/race was being practice and all sorts of worst ways of survival was being applied just for the breath of air, just to keep alive and speak to their dry bones, and
Now American has survived it and are living out of survival in to prosperity. That was their starting point, none of them gave up, with unity they struggle for one goal, a common goal to achieved, though individual have their dreams in heart but yet they was still having their Country in mind.
Nigeria can start over
Embracing ourselves, who we are and what we have come to be
Nigeria can start over, putting outside tribalism and religious differences to have one common goal, to achieve one common aim.
As difficult as it might sound like a good sermons of pastors preaching on repentance enticing and making every one emotional yet listeners can't live it, can't put it to practice
So it sounds now because just saying or writing all this makes no sense but good, difficult or long post.
But yet its of great importance, we look to ourselves and ask
Who are we? Where are we heading as a nation
What difference do we what to give and show the World, what aim do we have in common as blacks or should we keep running hysterically for survival yet dying at our own struggle for safety,
Nigeria is a better nation, the greatest gift the black has ever received from our maker, the greatest opportunity ever had.
If we can see our differences and still embrace each other
If we will set a goal to achieve with the abilities of our differences
I guarantee Nigeria will be the best of State the World will ever know.
Live a life now
For our history.
Posted using Partiko Android