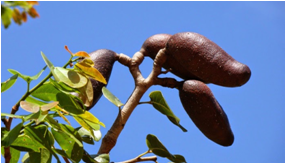 Source
Esteem community of steemians. On this occasion, I want to tell you about a tree that can be used in its entirety: leaves, roots, bark, fruits and even its resin. In this post I talk about the benefits and properties of Algarrobo (Hymenaea courbaril L.) for health.
Algarrobo (Hymenaea courbaril L.)
The carob tree is a fruit that is used to lower cholesterol and treat urinary tract infections. It belongs to the family of the Fabaceae. It is known as pecueca, guapinal, algarrobillo, jatobá, San Juan bread, garrofo, garrover or carat.
Origin:
This plant is native to the Mediterranean basin. In ancient times the seeds of the fruit were the canon for the unit of weight used in carat jewelry, it was used to weigh jewels due to the size and uniform weight of the seeds.
Cultive: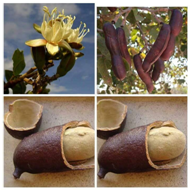 Source
It is a long-lived tree. In general, it reaches about 40 m in height. It is a strong plant that tolerates compact soils, strong winds, only needs shade when it is growing. Its cultivation comes from the seed, of slow germination, lasts about 20 or 30 days in doing it.
This plant is widely used to shade coffee crops.
Climate: The carob tree grows in warm or temperate climates and can grow between 0 and 1,500 meters above sea level.
Fruits: Although their fruits can be consumed by humans, most of all they feed mammals and wild birds.
Collection: The fruits are harvested directly from the soil, from there the seeds and the pulp are extracted. The seeds are placed in paper bags or cardboard boxes so they do not get wet
Active principles
Contains vegetable proteins, mucilage, tannins and others.
Applications:
The bark of the trunk, pulp of the fruit and its seeds are used from the carob tree. Of this tree almost everything is used, here I describe to you several of its uses:
Medical uses:
-.This fruit is used to lower cholesterol.
-.For some types of joint ailments.
-.Relieves stomach upsets
-.It is used for diarrhea.
-.It improves diseases of the kidney and the urinary tract.
-.It is antifungal.
-.Prevents arteriosclerosis
-.Treats diabetes
Culinary uses:
The fruit has an edible pulp and is used to prepare sweets and drinks. In addition, the pulp is used to make a flour that is very required for its great nutritional power. With this fruit you can prepare a kind of chocolate called Carob that is widely used in dietetic foods.
The so-called locust bean gum is extracted from the seed and used to thicken and stabilize products such as ice cream, sauces, dairy products and others.
Other uses:
In some countries the resin that is extracted from the trunk and the roots of this tree is very appreciated to make incense, due to its pleasant smell and as a material in the production of handicrafts and varnishes.
Consumption
In infusion the carob tree is swallowed for upset stomach or to treat cholesterol.
Preparation of Tea:
In a saucepan, heat 1 cup of water and add 1 tbsp. Of chopped carob bark.
The water is left to boil for 10 or 15 minutes. Let stand and then ingest.
PRECAUTIONS:
Diabetic people should consume it under medical supervision.
---
---
Curious fact:
The carob tree contains a resin that when fossilized produces the only precious gem of vegetable origin. This plant is in danger of extinction.
---
---