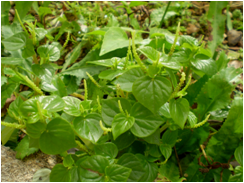 Source
The Peperomia pellucida (L.) Kunth is an herb that belongs to the Piperaceae family and is made up of five genera: Piper, Peperomia, Verhuellia, Zeppelia and Manekia, these in turn have more than 3500 species.
In Venezuela, the Peperomia pellucida, in different parts is known by its inhabitants as Berro de Sapo or Hierba de Sapo and has a number of health benefits.
This herb can be used as an essence, food and medicines, since it can be used to treat various diseases such as asthma, wounds, joint pain, fever, kidney infection, stomach problems, hemorrhoids, hypertension, diarrhea, besides being an excellent antibiotic.
DESCRIPTION
This plant is of American origin and the indigenous people already knew its medicinal properties. In Asia this is well known for its various medicinal uses.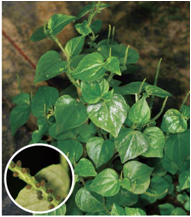 Source
The Peperomia pellucida (L.) Kunth is a plant that can measure approximately between 30 and 40 cm high, its heart-shaped leaves are fleshy and small, its stem is light green, in addition to being succulent and bright, its roots are few deep.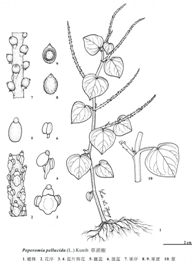 Source
The leaves of this herb contain: 92.2% water, 0.50 proteins, 0.3 fat, 5.9 carbohydrates, 1 fiber, 1.1 ashes, Calcium 124 mg / 100 g, phosphorus 3.4, iron 3.2, sodium 8.0, potassium 277.0. Essential oil with esquiterpenos (apiol) caryophyllene, trimethoxystyrene.
CULTIVE
This herb grows in the garden or in crops in a wild way, especially in humid environments and when there is overpopulation it is considered a bad weed so it is weeded.
USES, PROPERTIES AND APPLICATIONS OF LA PEPEROMIA PELLUCIDA (L.) KUNTH
The Peperomia pellucida (L.) Kunth contains: alkaloids, flavonoids, saponins, terpenoids, steroids and glycosides that benefit health.
One of its main components is the dill apiole that makes it an excellent digestive.
In addition, it contains phytol, stigmasterol, sitosterol, secolignanos, tetrahydrofuran lignans, peperominas, sesamina and other components.
Scientists have studied this plant and have found that it has excellent pharmacological properties such as: antimicrobial, anti-inflammatory, analgesic, antioxidant, antiangiogenic, antipyretic, anticancer, neuropharmacological, it is an excellent inhibitor of enzymes, antiulcer, immunostimulant, hypotensive, Your poultices can help cure certain types of fractures and is anti-diabetic.
Other benefits and properties that this herb gives to health:
• This species is used as an emollient, diuretic and to fight cough and sore throat.
• The whole plant, stems and leaves, can be used to prepare salads.
• This plant offers analgesic and anti-inflammatory properties.
• It is a potent broad spectrum antibiotic, as demonstrated in the tests against Staphylococcus aureus, Bacillus subtilis, Pseudomonas aeruginosa and Escherichia coli.
• Its dried leaves, in extract, have proved to be an antifungal against Trichophyton mentagrophytes.
CONTRAINDICATIONS
If you are allergic or present any type of hypersensitivity to the components of this plant you should take certain precautions.