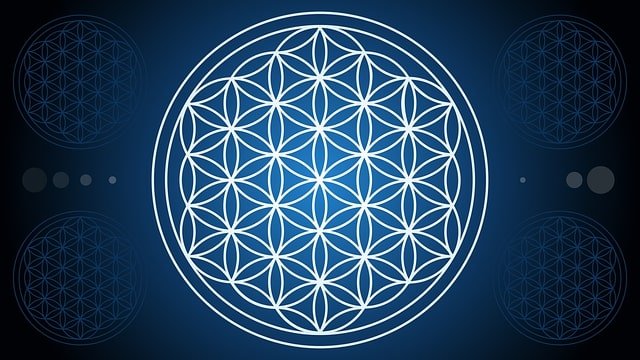 Image by Rafael Javier from Pixabay
It was Taita Richard's second ceremony. We got to the house around 9pm since we knew we wouldn't take the yagé until around midnight. Tonight the sky was clear. I went and sat on the driveway with the guy whose house we were at. He'd just taken a hit of strong rapé and was sitting there feeling very centred, observing the sky. I wanted some strong rapé too!
Tonight one of my shaman friends was helping facilitate the ceremony. He blew some of the strongest rapé available up my nose and it was like a hurricane in my head. I instantly felt sick and couldn't move off my mat for about 40 minutes. I dry retched the whole time since I had nothing in my stomach to vomit from fasting most of the day. Eventually I felt well enough to move and I could go outside and sit on the ground. My shaman friend came out and asked how I was. I told him "not good" and he said he'd been there on this rapé and it would last an hour tops. Luckily I'd given myself enough time between the rapé and the yagé to recover. He also told me that the tobacco was teaching me something and I should try to find the lesson. I'm not sure I did.
When I felt better I went back inside. However, not only did the rapé make me super tired it also cleaned out my insides. Yagé is good at making you shit, but it's the first time I've had it from rapé. I then fell asleep until the first cup of yagé was called.
I took my first cup and lay down until I took the second cup. This was a stronger medicine than the first cup, and different to what we got last night. With this cup came the message "If you don't feel anything after this one, well, that's pretty strange".

Image by Reimund Bertrams from Pixabay
It wasn't long until the second cup kicked in and the visions started. I found myself heading towards another planet. It was really bright. At first I thought it was the sun but it wasn't. I arrived and saw it was inhabited by beings when faces flashed up in front of me. Obviously they were curious about who I was and what I was doing there so they came to see me. I responded by saying hello to each of them. I assumed they were benevolent since I trust Mama Aya and I didn't feel scared. After the hellos, the aliens―although technically I was the alien―showed me their technology. They showed me a box where you could put radioactive material in and it would neutralise the radioactivity. Then they took me to a room with a model of a very futuristic looking city in it. They wanted to see if I could power it using my skills as an energy channeller. I could. In fact I started powering the room.
A few days later I did a shamanic journey and found out a little more about this planet. It is in the Orion constellation and I visited one of my past/ other lives. Also, this technology I saw was something I worked on, and the faces I saw were my colleagues coming to say hello. The test they gave me was to see what my human self could do with these energy channelling abilities I have. (At this point I'm just going to assume you are comfortable reading this stuff. In my truth, we are immortal spiritual beings living temporary existences in these human bodies (i.e. our spacesuits that allow us to live on Earth), that we are not alone in the universe, that we have had many other lives on various planets, and that humans are far from the most advanced species in existence. If you're not ok with all this that's fine. It's not my job to convince you. That said, I would encourage you to listen to this Joe Rogan podcast on aliens, try psychedelics at least once, and then find your own truth.)
I came out of my space visit because I felt nauseous. I vomited but when I asked what it was, it was nothing. I was not purging anything tonight. Between this and the rapé cleanse, my stomach was now completely empty and I felt good. I also remember from my vomit on Night 6 on Mother's Day, when I asked what it was, she said "nothing, you just need to get rid of this for the work you need to do next". That makes a lot more sense now that I've experienced it again. It's like I need to be an empty vessel to channel and transmute energy.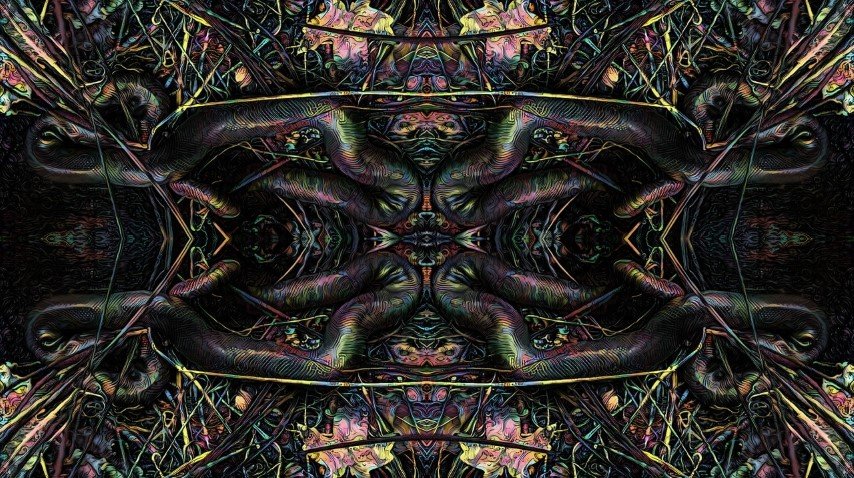 Image by @carlgnash, with permission
I lay down again and went into another vision. I was in a garden this time and I saw a lot of animals, including the Ayahuasca snake for the first time. One of the shaman guys told me that when you see this, it means your DNA is changing. I also saw a lot of bugs and a giant spider, however, none of these things were scaring me. Not a lot scares me in ayahuasca/yagé these days it seems.
I had a third vision but I can't remember what it was. In the meantime, Taita Richard was building the energy like last night, but on steroids. Unlike last night, I was having a lot of problems grounding myself from my mat and I had to go outside. I lay down on the grass so that as much of my body as possible was in contact with Mother Earth.
Similar to Mother's Day―where I spent most of the night outside―the grass was wet. But, even though I was in a t-shirt and leggings I was perfectly dry and warm. I lay out there for hours. It's weird. It's like Mother Earth knows what I need to do and regulates my body temperature so that I can keep doing it for as long as necessary. Long story short, I spent the next few hours pulling energy from other ceremony participants and grounding it to the earth. There were no visions; just me lying on the grass. Assistants would come over and check on me periodically, but I was fine. I only felt the energy, not the emotion or "dark entities". It's like electricity; you can make it from coal, nuclear or renewables, but it's all the same when it gets to your house. It's just electricity.
Just before dawn, the energy in the house dissipated and I could go back to my mat. It started to get light around 6am so I decided to start coming out of the medicine by drinking some water. However, this is when the group cleanses started. Taita Richard and the assistant shamans gathered around six people at a time and the cleanses lasted around 30 mins.
Interestingly the group cleanses took place directly in front of me. It was like the universe positioned me there so I could see exactly what was happening. I continued working with people in the chairs by pulling stuff out of them. However, the cleanses tend to work on everyone in some way, so you'd see people walking around and coming out of the medicine only to be back on their mats and purging again five minutes later. This is the power of Taita Richard. Just when you think you're done, he pulls you back in with his music and icaros. Since I was getting sucked back in, that half bottle of water I'd drunk earlier was not sitting well and started I feeling nauseous again.
I went out to the side of the house and vomited up all the water. Once it was out I felt much better. However, Taita Richard and all the other shaman-y guys were doing something in this cleanse and really raising the frequency again. I had to stay out there to ground the energy I was pulling from the participants until they stopped.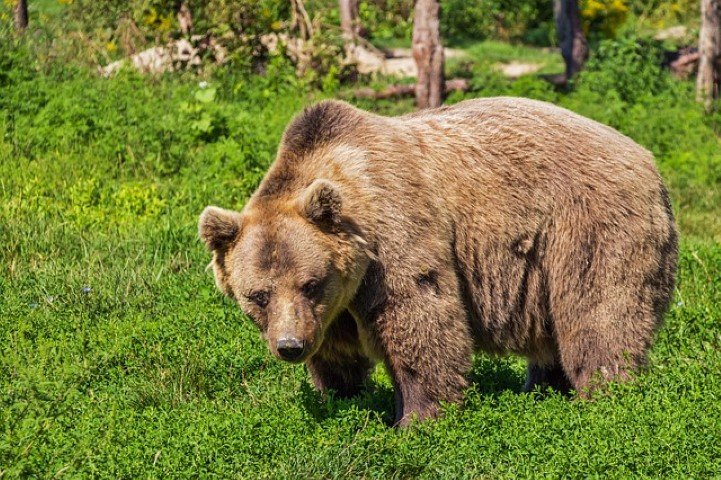 Image by Robert Balog from Pixabay
While I was outside in my yogi squat with my feet and hands touching the ground, I could see animals in my peripheral vision. There were quite a lot but I only distinctly remember seeing a bear. However, when I turned I wouldn't see anything. In a shamanic journey I did later, I found out they were the power animals of the people in ceremony I energetically connected to. So while I can see other power animals now, I don't know which animal belongs to which person and I can't interact with them. I also remember there was one point in the night when my shaman friend was playing a song by himself and I saw a kangaroo bouncing around him. I asked about this in my shamanic journey. I saw the kangaroo because I feel very safe around my friend. He and I have met in several past lives to perform shamanistic/ healing work, so he reminds me of home. The kangaroo also symbolises my Australian home in this life. I love that.
Then it was my turn for the cleanse. I really wanted to stop the channelling and come out of the medicine so I set that as my intention. I couldn't turn off the channelling by myself since it comes through my feet and is outside of my control. As I sat on the chair I realised at some point only my tippy toes were touching the ground. Since they were grounding me to floor they couldn't move. I was also pushing down on my knees a little so my lower legs couldn't move. This is how I got the channelling to stop. Once the cleanse was over I was able to drink water and have some breakfast.
My friend Eva and I then left while Taita Richard was on a break, before he could draw us back into the ceremony with the next group cleanse. All up it was a very intense weekend but I felt amazing. My abilities to help people heal accelerated significantly and a lot of things that I'd asked for in previous ceremonies but didn't get came to me. I was super stoked I finally got my aliens since I'd been asking for them since Rythmia. However, I feel this marked a turning point in my ayahuasca journey. This was not something I knew at the time but became apparent in the next two ceremonies two weeks later.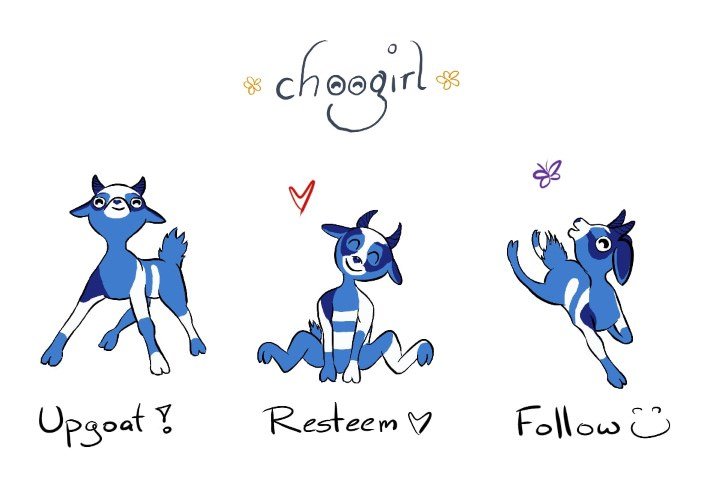 Footer by @ryivhnn