When I saw this challenge, I immediately knew I had to give my Basil its 5 minutes 30 seconds of fame. After all it is the first and only herb growing in my backyard. I live in a high rise, which means my planting escapades are limited by space and soil. So when these fellas popped their heads out, I was ecstatic.
To give credit where it's due, it is actually The Hubs who is the gardener here. I am the Official Finger Pointer... I want this, that, those and I want it here, there and how about.....
Oh, Aren't they gorgeous?
My love for Basil came about when I was introduced to Thai cuisine many moons ago. My go to one dish meal is always the Spicy Basil Chicken/Prawn/Beef Rice. Yumzzzzz. In another part of the world, it is common in Italian food.
But today, it is not the Basil I want to highlight but what is sometimes referred to as the Holy Basil. Perhaps because they are both from the Lamiaceae family and look similar but Tulsi is not Basil.
I remember my grandmother would pluck a couple of these Tulsi leaves and pop them into her mouth first thing in the morning. She would urge us all to do the same saying it was good for us. Of course that argument never wins with a kid.
Growing these plants are quite common with the Indians. They are used for religious and traditional medicines and is popular in Ayurveda. Even kids are named after them. It means the "incomparable one".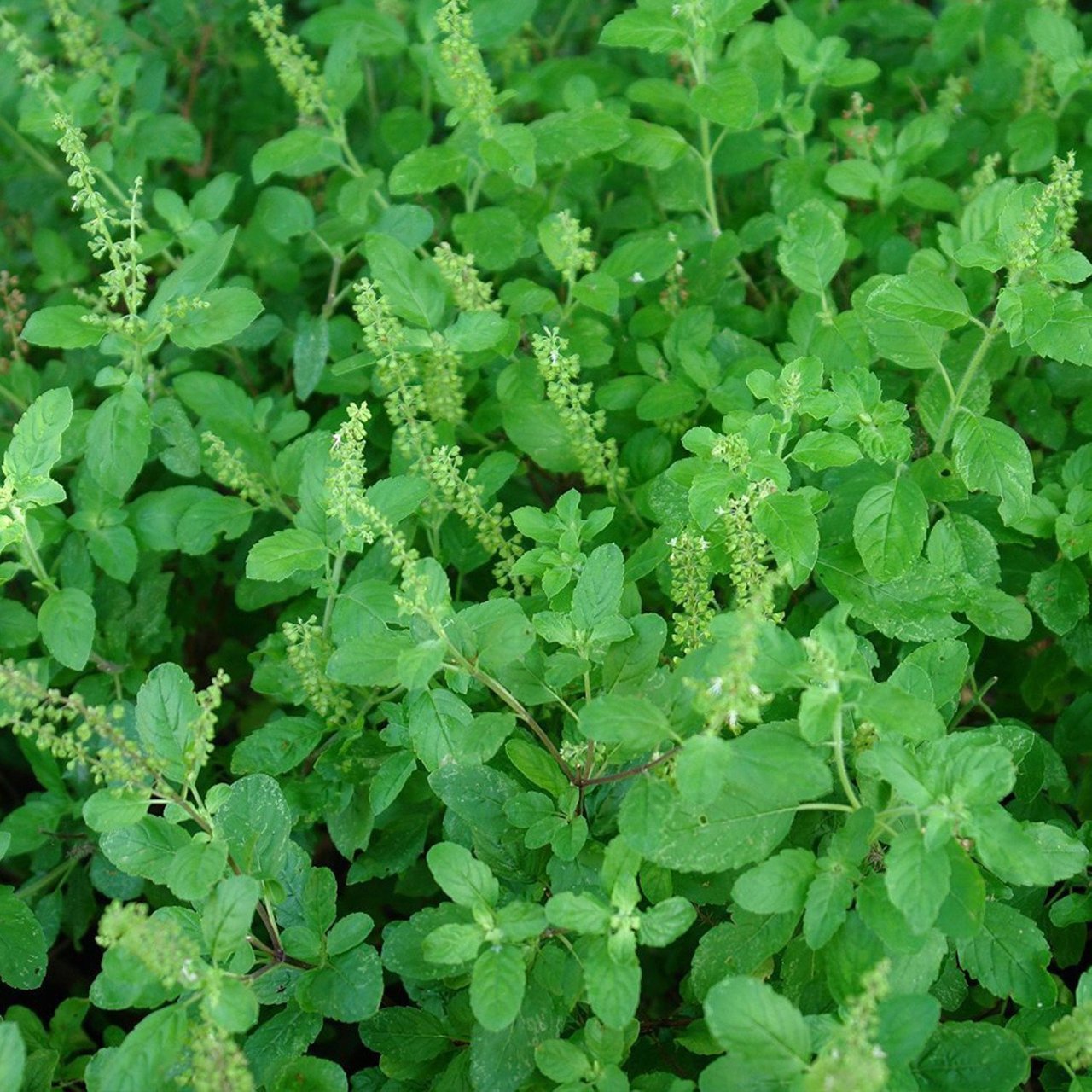 That flower that sticks out is the way I identify the Tulsi plant
Image Source
So now why did my Grandmother and then my mother have these around?
Here is what I found surfing on the net. Article after article spewing the benefits of the Tulsi. Their medicinal properties are used to help with these ailments:
👉🏿 Bronchitis, Asthma, Sinusitis
👉🏿 Colds, Coughs, Flu, Sore Throats
👉🏿 High Blood Pressure
👉🏿 High Cholesterol
👉🏿 Malaria
👉🏿 Headaches, Earaches and Eye Disorders
👉🏿 Diarrhoea
👉🏿 Nausea and Vomiting
👉🏿 Eczema & Skin Diseases
👉🏿 Stomach ulcers, Gastric Disorders, Intestinal Parasites
👉🏿 Kidney Stones
👉🏿 Cancer
👉🏿 Joint Pain and Rheumatoid Arthritis
👉🏿 Insect bites
👉🏿 Headaches, Earaches and Eye Disorders
👉🏿 Diabetes and Blood Sugar Imbalances
👉🏿 Emotional and Physical Stress
👉🏿 Thyroid and Metabolism
The list goes on and on and on. There are also side effects especially if they are taken with your prescribed meds for Heart and Sugar Levels and may cause Infertility in men. Here are three sites I went to that covered most of what the Tulsi can do for you.
healthline.com
thespruceeats.com
emedicinehealth.com
Reading all of this and more, I am now going to go look for the seeds to plant them and I believe my bestie has some growing in her garden. My son has had this cough for months now, and I have tried so many different things for him. Even though I know he is probably going to fight me on this (as we already know "it's good for you" is not convincing), I am now hoping this could be the answer.
This is my entry for @naturalmedicine's "Herb" Challenge. Thank you @naturalmedicine for this opportunity that led me find out more than just the Tulsi, "It's Good For You" :D
Cheers,
sh33la