There is a correlation between the Myers-Briggs Type Indicator (MBTI) and the 16 Court cards of the Tarot.
---
The other day, Team Lotus was meeting to get some admin work done, when @alchemage shared with us a link to something he was doing with his course-work. It was a link to a Myers-Briggs Type Indicator questionnaire.
Here's what I got: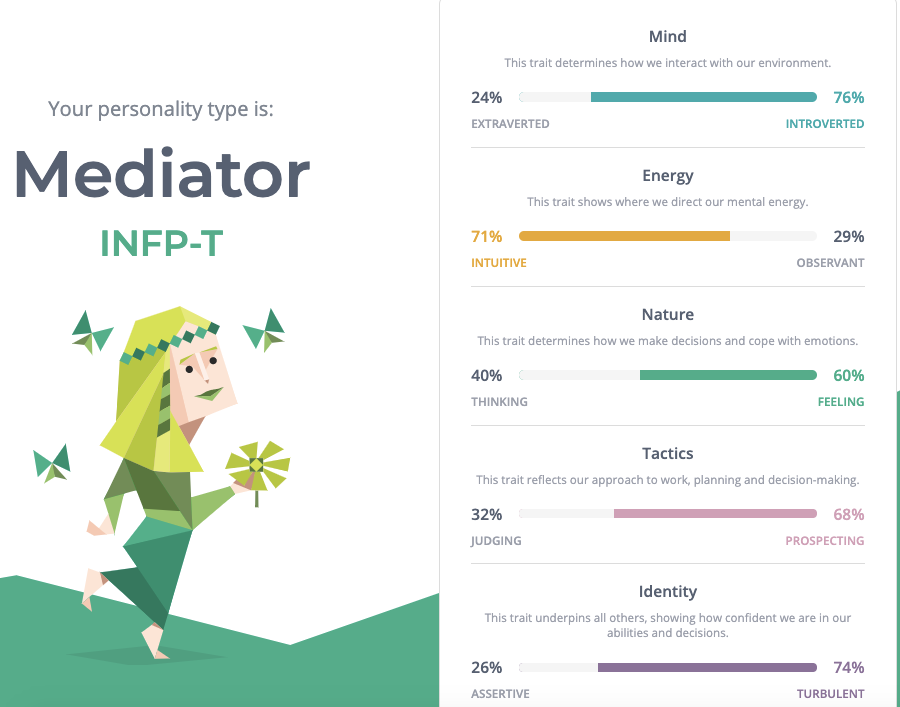 To be honest, I wasn't surprised too much by the result; although I seem to remember in the past I was maybe an INTJ or an INTP?
Anyway, it's all rather interesting. I take this kind of thing with a grain of salt, only because I believe we constantly change our 'personalities' depending on the context. This was the basis of Milton Erickson's ground-breaking work with hypnotherapy, because he always presupposed that we are constantly 'altering states' to suit our needs in any given moment.
At the very least, things like this can be useful for reflection.
"...To summon back the fire witch..."
 
The link between these two very different areas are of course Carl Jung. Jung was fascinated with all aspects of the Occult (including the Tarot) in his exploration of the human psyche and the collective consciousness (and unconsciousness). The MBTI of course is based heavily on Jungian psychotherapy (amongst other things).
 
I learned this interpretation of the Tarot court from one of my mentors from the Tarot Guild of Australia, Anne Shotter. She had some pretty ground-breaking theories and ideas, and this was one of them.
There are 3 main categories the types can be broken into:
Approach to life — Introvert (I) or Extrovert (E)
Attitude — Judging (J) or Perceptive (P)
Function — Intuitive (N), Feeling (F), Thinking (T), or Sensate (S)
Jung had postulated that these four functions were linked to the four elements often referred to in Occult literature. They were said to signify the way we perceive the world ('projection'):
Intuitive = Fire
Feeling = Water
Thinking = Air
Sensate = Earth
These four elements/functions were represented in the Tarot's Minor Arcana as each of the four suits: Wands, Cups, Swords, and Coins/Disks/Pentacles.
As well as having ten 'pip' cards (numbered Ace to 10), each of the suits also had four Court cards:
Pages: learning their element
Knights: using their element
Queens: nurturing their element
Kings: possessing/mastering their element
The correspondences between the two systems is thus:
Page of Wands — INFJ
Page of Cups — INFP
Page of Swords — INTP
Page of Coins — ISFJ
 
Knight of Wands — ENFP
Knight of Cups — ENFJ
Knight of Swords — ENTJ
Knight of Coins — ESFP
 
Queen of Wands — INTJ
Queen of Cups — ISFP
Queen of Swords — ISTP
Queen of Coins — ISTJ
 
King of Wands — ENTP
King of Cups — ESFJ
King of Swords — ESTJ
King of Coins — ESTP
These correspondences really only work with the Court cards as presented by Arthur Edward Waite (1857-1942), which are the images that most people would be familiar with. Waite was presenting a fairly standard interpretation based on the teachings of the Order of the Golden Dawn, which he was part of.
This system doesn't correlate when you look at the Book of Thoth Tarot by Waite's rival Aleister Crowley, who re-interpreted the Court cards based on Grail-lore and the mythology of Parsifal.
Tarot & Self-healing
The Tarot in general can be used to help unlock answers in our unconscious mind, through the construction of meanings garnered from the symbols and patterns on the cards. The Court cards in particular can be quite helpful in helping the Reader understand their true nature.
Because we embody all the personality types, we may use the cards to help discover a specific personality type that will assist us to move through a problem and find the most generative solution.
The following spread is one I've used quite a lot, using only the 16 Court cards. It is a little different to most other Tarot spreads, in that once you pick a card, you put it back in the deck and re-shuffle. Thus, the same card can appear more than once.
There are 7 positions:
"You" (past)
"You" (present)
"You" (future)
Your ally (what you need most from others, not just one person)
What you most need to develop
Your "nemesis" (fears)
Ideal "partner"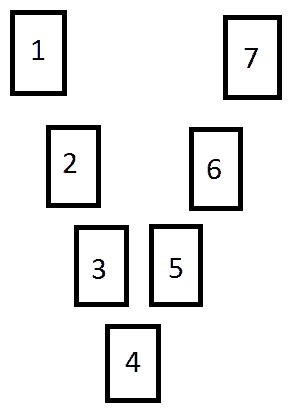 7 Card Court Spread
By looking at the MBTI of each card, you may find you can get high-grade information about how to proceed in any given situation. We can use this information to make changes in how we 'project' onto the world, how we behave in different contexts, and how to have greater choice for ourselves and how we choose to interact and participate in the world.
 
The first 3 cards provide context, an understanding of who you are and where you have come from (and thus where you are most likely going, all things being equal).
 
The 4th and 5th provide insight into what you may need for the current situation.
The 6th card is your 'shadow', the part of your Self you are currently denying and repressing. The 7th signifies the 'Other' that you are missing, but is buried deep within your psyche somewhere.
On soft grey mornings widows cry
The wise men share a joke;
I run to grasp divining signs
To satisfy the hoax
— King Crimson
---