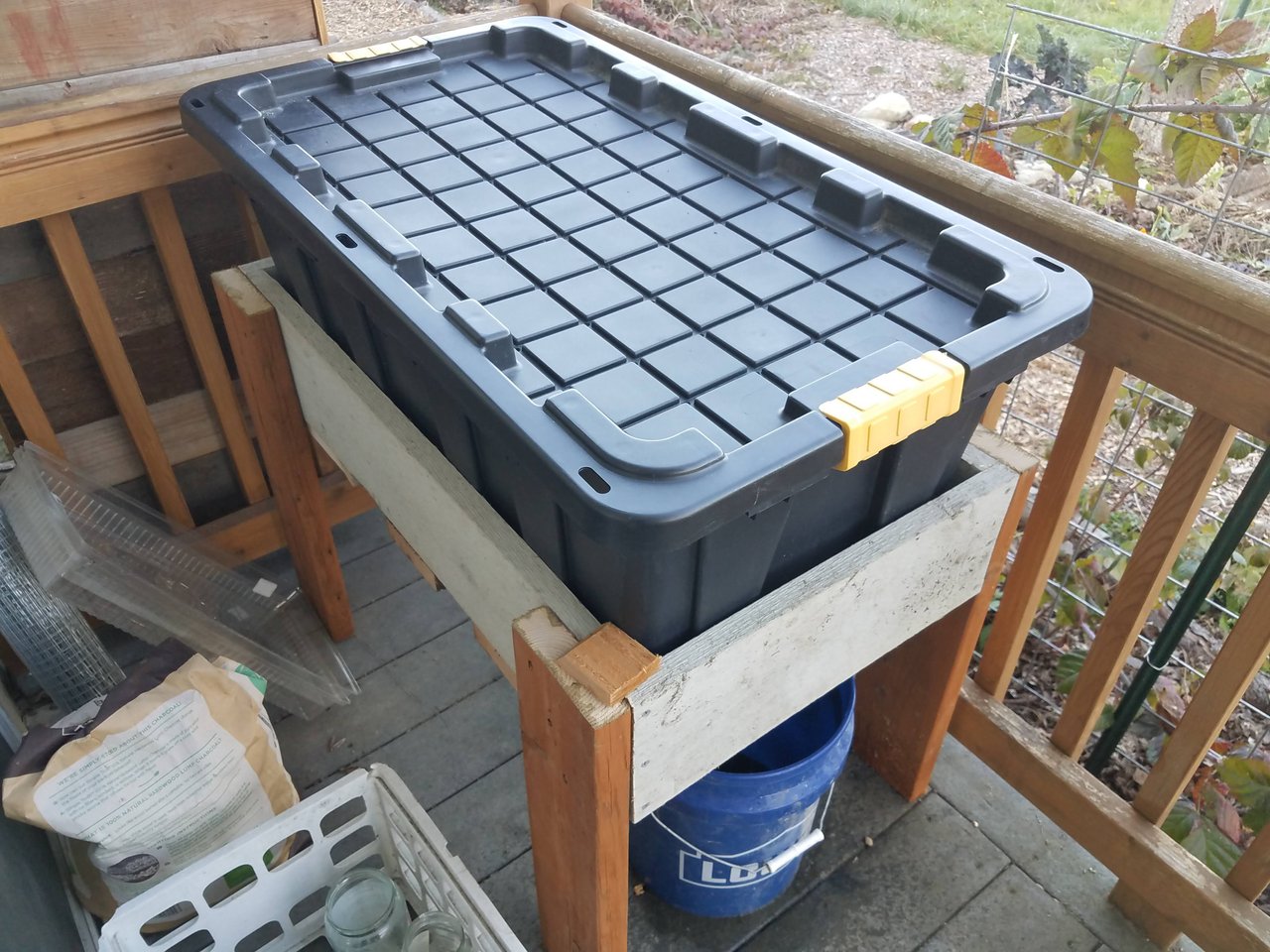 Have you ever wanted an easy way to reduce your food waste and boost your garden at the same time? Building your own worm bin is a great option! With this simple structure you can turn a lot of your food scraps into black gold--aka worm castings.
I just built my new worm bin this last weekend and I have a bunch of red wrigglers coming in a day or 2. As soon as I have some time to work with the worms I will share how that is working out. But really raising worms is fairly straight forward.
My bins are based on 2 very easy to build designs--1 from James over at @gardeningchannel and 1 from Geoff Lawton. I basically combined the 2 to get my own design. Instead of a bathtub I used a large plastic bin like James did but I set it up to mimic Geoff's by raising it up and having a bucket under it to catch the liquid that runs out.
Both are great ways to easily build your own worm bin--I setup mine in a way that works for me using the materials I had on hand.
Here is Jame's great video showing how he made his:
And here is Geoff's great video showing the bathtub setup:
I may need to add more holes in the side of mine for air flow but I set mine up so I can easily prop the lid up for extra air flow. This will likely be needed during the summer but I also put the bin in a fairly sheltered area that won't get too much direct sunlight even in the summer.
I did drill a lot of holes in the lid so that will help with air flow too. Luckily, it's fairly easy to modify the bin and I figured I can always add more holes--it's harder to close up the holes if I have too many!
So how does a worm bin boost your garden? Well the videos both do a good job covering this but here is the gist of it.
Worm Castings: As the worms eat up the food waste they produce what is called worm castings. Castings are black gold for your garden. These castings will help you improve your soil and help your plants grow. I will be harvesting these from my worm bin every 2-3 months and then add it to my garden around my vegetables.

Worm Tea: This is the liquid that comes out of the worm bin. Basically, this liquid is filled with nutrients and beneficial bacteria that can help your plants grow. It won't burn your plants but you can dilute it to make it go further. I will be adding diluted worm tea to my garden fairly often--perhaps every other week.
Both materials are really a great way to add beneficial soil life to your garden. This really is the key to building dark, rich soil that your plants will thrive in. You can't have healthy soil without a diverse amount of beneficial soil life and worm castings and worm tea are a great way to add soil life to your garden.
That is the main reason I built a worm bin but of course it also lets me reduce my food waste which is great and really feels good. I'm even going to be collecting food scraps from my work which will let me support more worms and in turn generate more worm castings and worm tea.
So what about you? Do you have a worm bin? Please leave a comment with your thoughts--I would love to hear from you!
---

Follow me for more posts all about working with nature to grow your own food and build a natural life: @wildhomesteading
And check out my blog - www.wildhomesteading.com for weekly in-depth posts on how to work with nature, grow your own food, and build a wild homestead. When you work with nature, nature works with you.