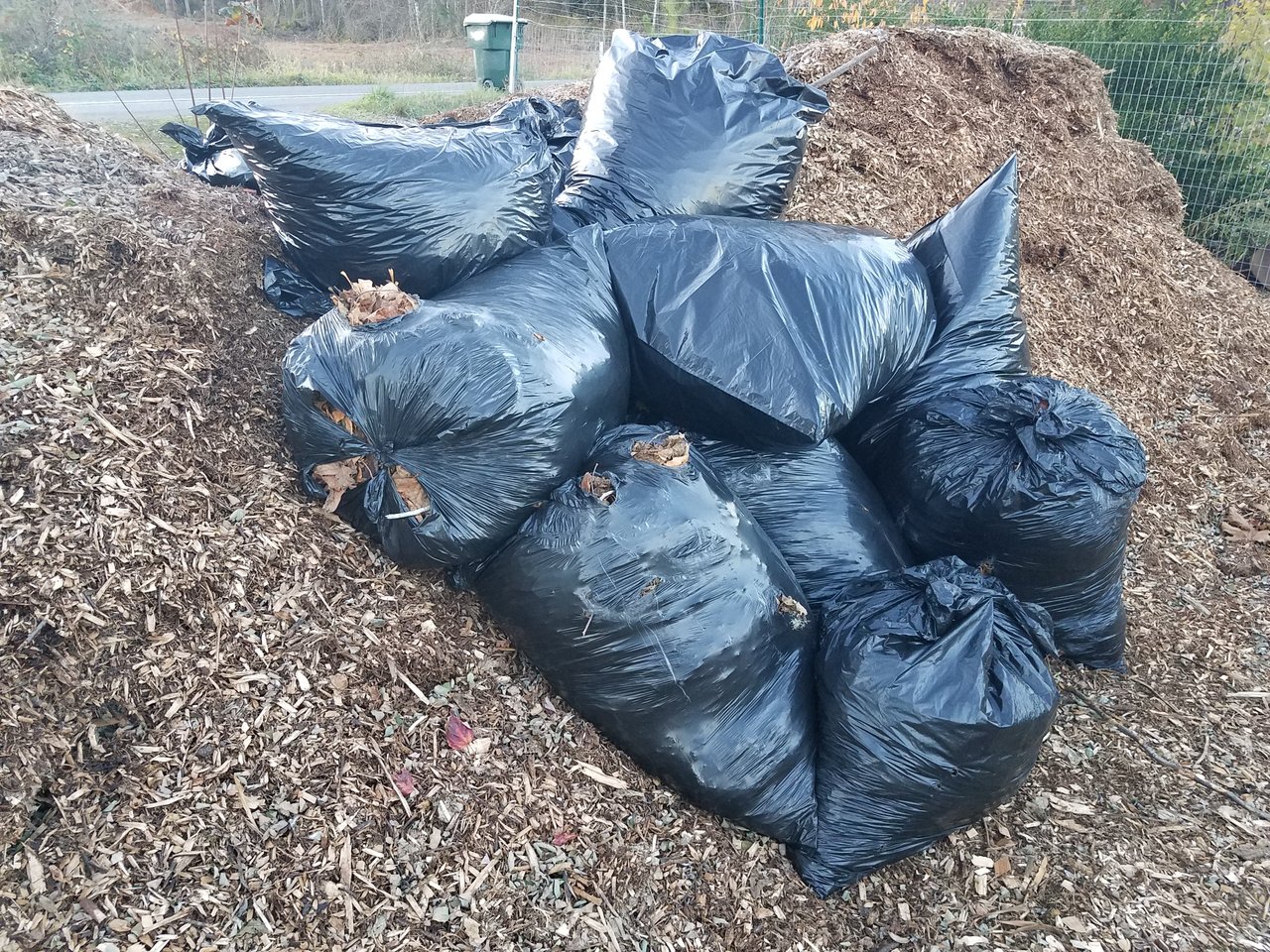 This is the time of year to get fall leaves! The leaves have finally started to fall enough that I'm able to get bags of leaves from people in my community. I have written several posts in the past about why fall leaves are awesome but this time I wanted to share some tips on how to get more fall leaves if you don't have enough on your own wild homestead.
If you do want to learn more about why fall leaves are awesome then check out the links at the end of this post.
When you're on the hunt for fall leaves the first place to look is your neighbors. My closest neighbor each year gives me a good 12 to 20 bags of leaves from the big leaf maple growing in their backyard. Ask around--I'm sure there are some people in your general neighborhood that are getting rid of their leaves.
Some places people will put bags of leaves out on the curb. You can drive around and just pickup these bags. People don't do this in my area but in some areas this is a very easy way to get bags of leaves. Just grab them on your way to and from work or school or going to the store!
Next I would reach out to any churches, granges, or other community based organizations. Often they will want to get rid of their leaves and will happily give them to you. Schools could work too but often the large organizations like schools will hire companies to take care of their grounds which can make it hard to work with these groups.
Yard service companies are a great next option. Look for the companies that provide regular lawn care for their clients. These companies are likely getting rid of tons of leaves and as long as you can take a large amount (potentially not bagged) this can be a great option.
The way I get most of my leaves is through the site Nextdoor--I just post on there asking for bagged fall leaves and this tends to result in hundreds of bags of leaves being offered by people in my broader community. It takes a bit of driving but it works and I have built up some regular "customers" who give me their leaves each year.
I'm not sure if Nextdoor exists outside of the United States but there are likely other similar sites in your country or even Facebook groups could be a good option.
My final tip is to build relationships with people who give you their leaves. I have cultivated relationships with a number of people who are happy to give me their leaves year after year. I don't do a lot but I'm very polite with them and when I tell them I will be out to get the leaves I always make sure to show up at the time I said and I'm careful to drive slowly through their neighborhood and respect their property.
These simple steps have resulted in a number of people happily giving me their leaves each year.
What about you? Do you have any tips for getting extra leaves? Please leave a comment with your experience leaf hunting!
Interested in learning more about why fall leaves are awesome? Then check out these 2 blog posts and start using fall leaves on your wild homestead to work with nature and cultivate abundance!
---

Follow me for more posts all about working with nature to grow your own food and build a natural life: @wildhomesteading
And check out my blog - www.wildhomesteading.com for weekly in-depth posts on how to work with nature, grow your own food, and build a wild homestead. When you work with nature, nature works with you.