It is fall in the North, which means it is time for the annual salmon run in Canada. Watching the fish jump up the Ganny is quite an amazing natural event and something I saw when I was recently in Canada. It is exciting to see them succeed especially when failure is quite common. Go Fish Go!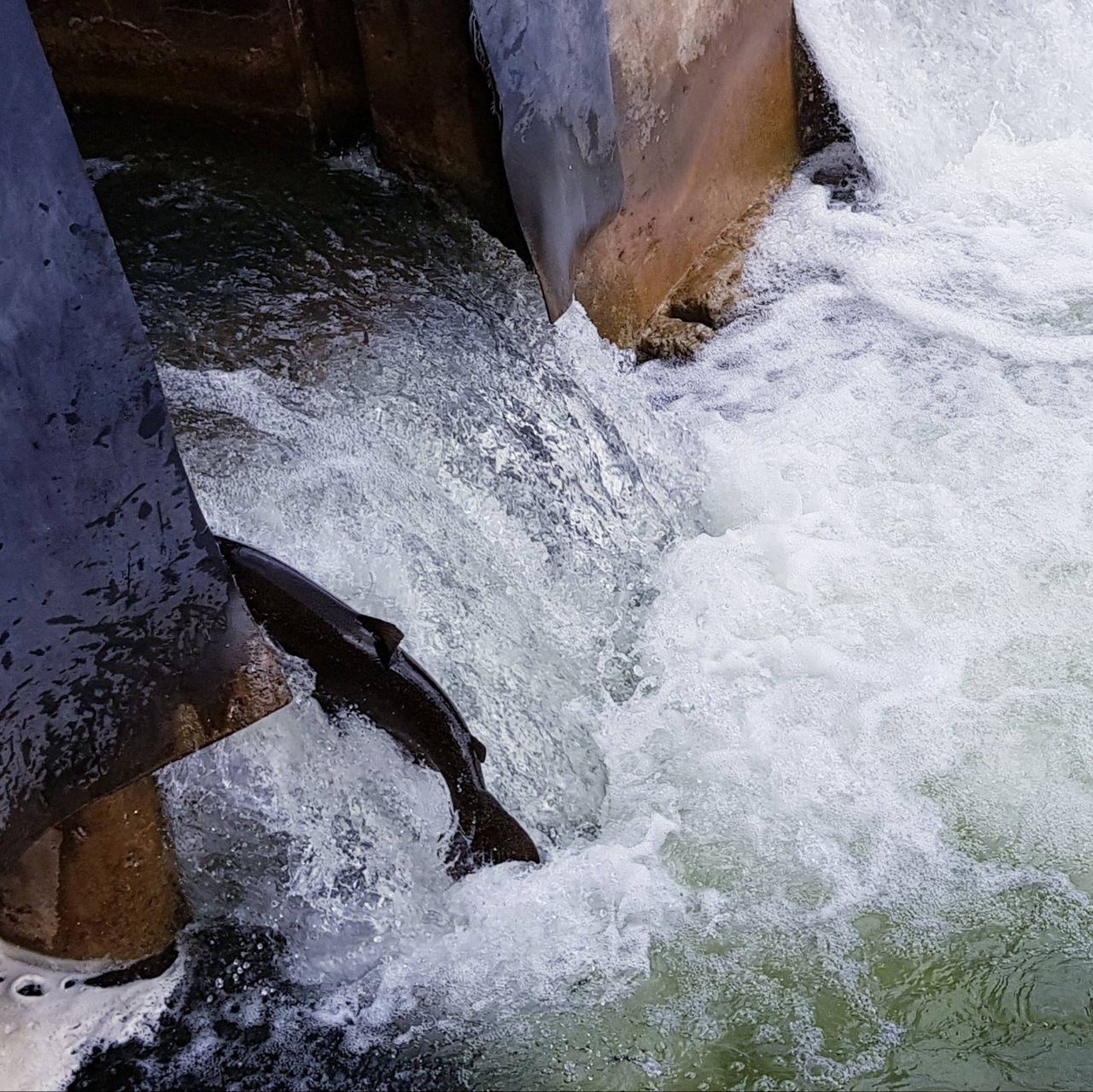 In Port Hope, Ontario there is a river called the Ganaraska River or just the Ganny. This river flows from the Oak Ridges Moraine into the North end of Lake Ontario. It gains elevation quite quickly and has a series of small waterfalls and rapids up its length. Here is a website with information on the specific location: https://www.grca.on.ca/conservation-areas-port-hope/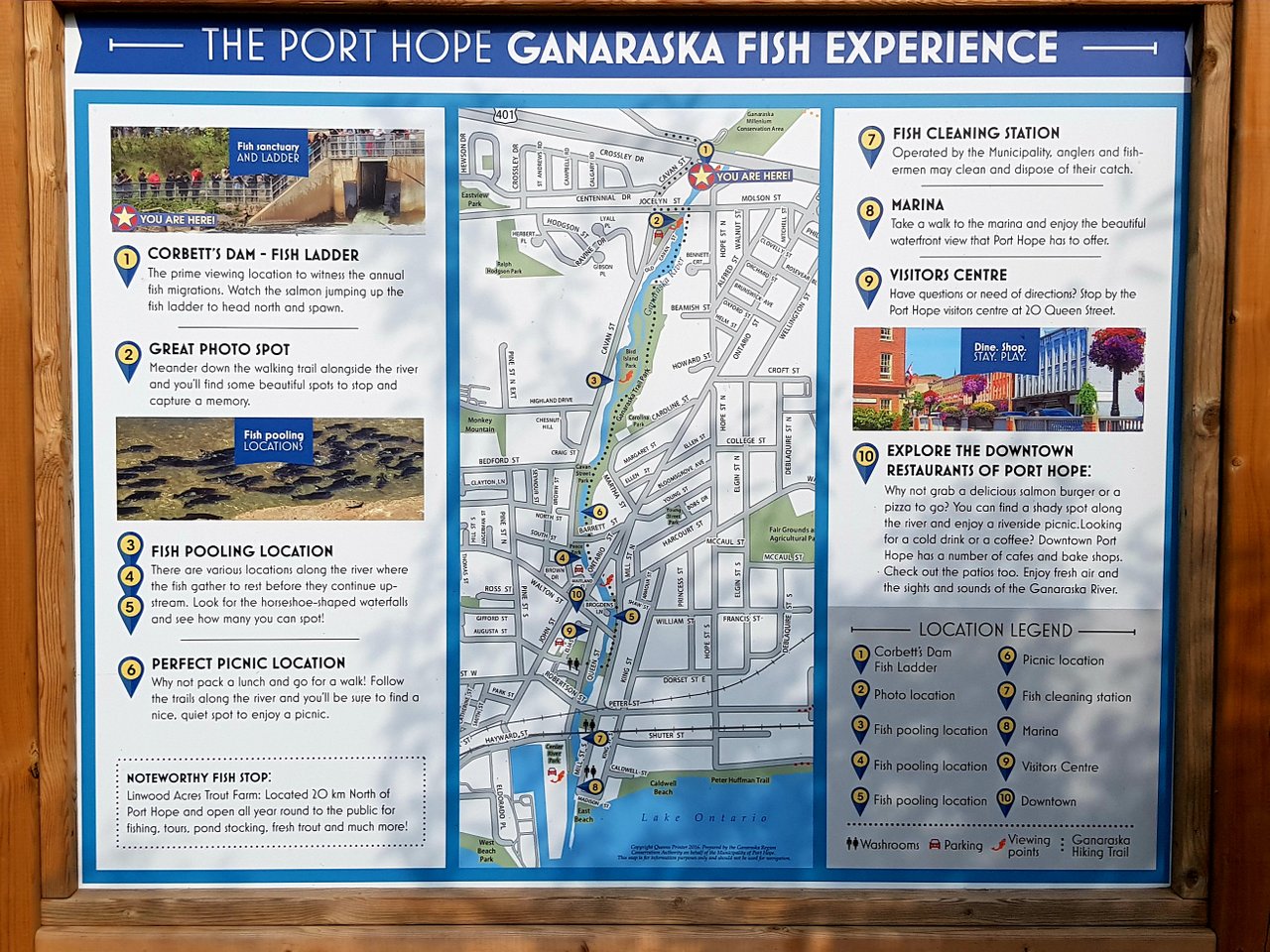 At the Corbett's Dam, around 3km from the mouth of the river, there is a fish ladder. This is a small series of waterfalls to help fish swim up the river. Without the ladder, the dam is too high for fish to jump up in one go.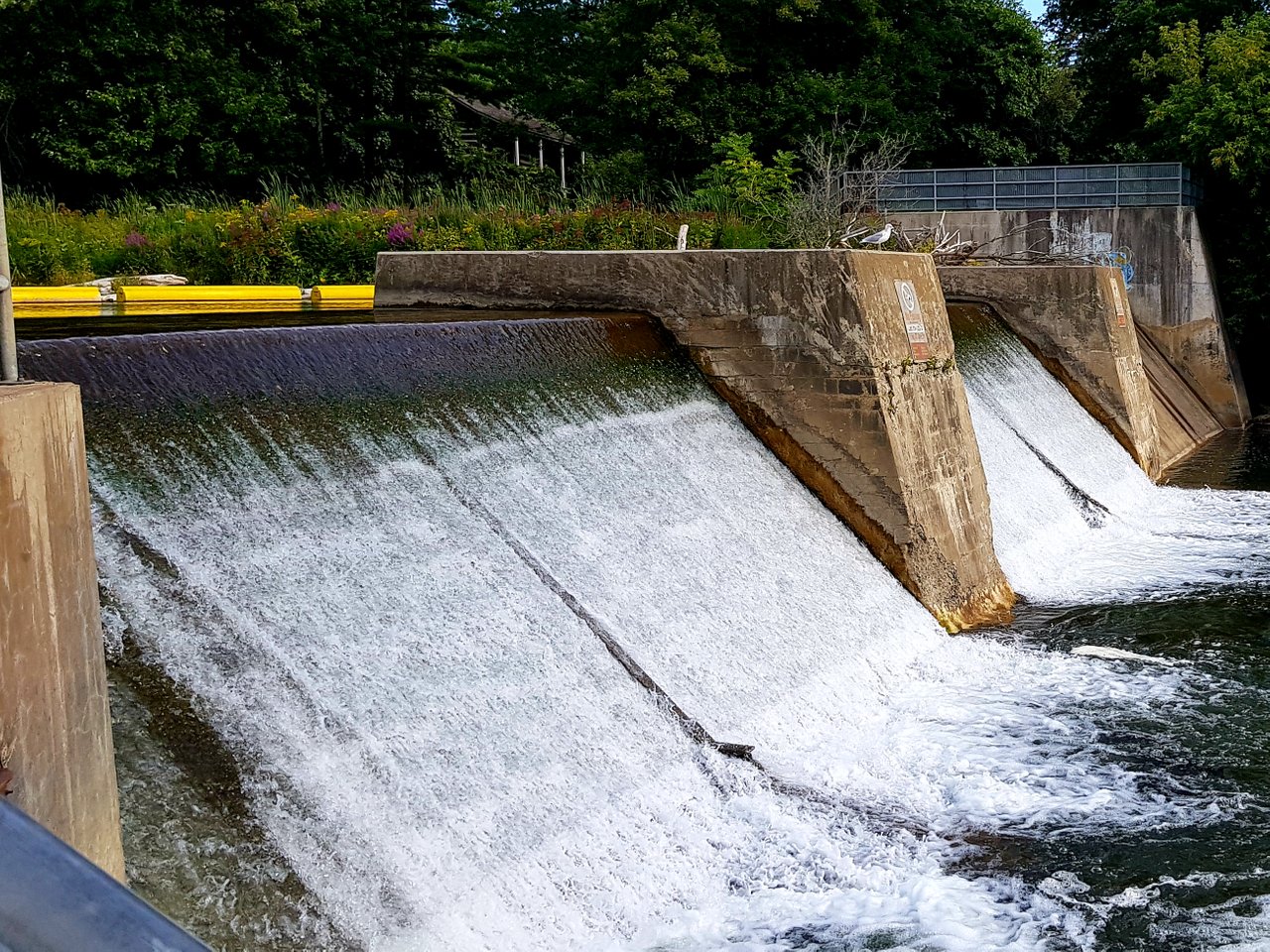 There are several different kinds of fish that use this ladder, primarily they are trout and salmon. Trout swim up in the spring and salmon swim up in the fall. Since it is fall, I was watching the salmon swim up as it would be quite unnatural for a trout to swim up at this time of year.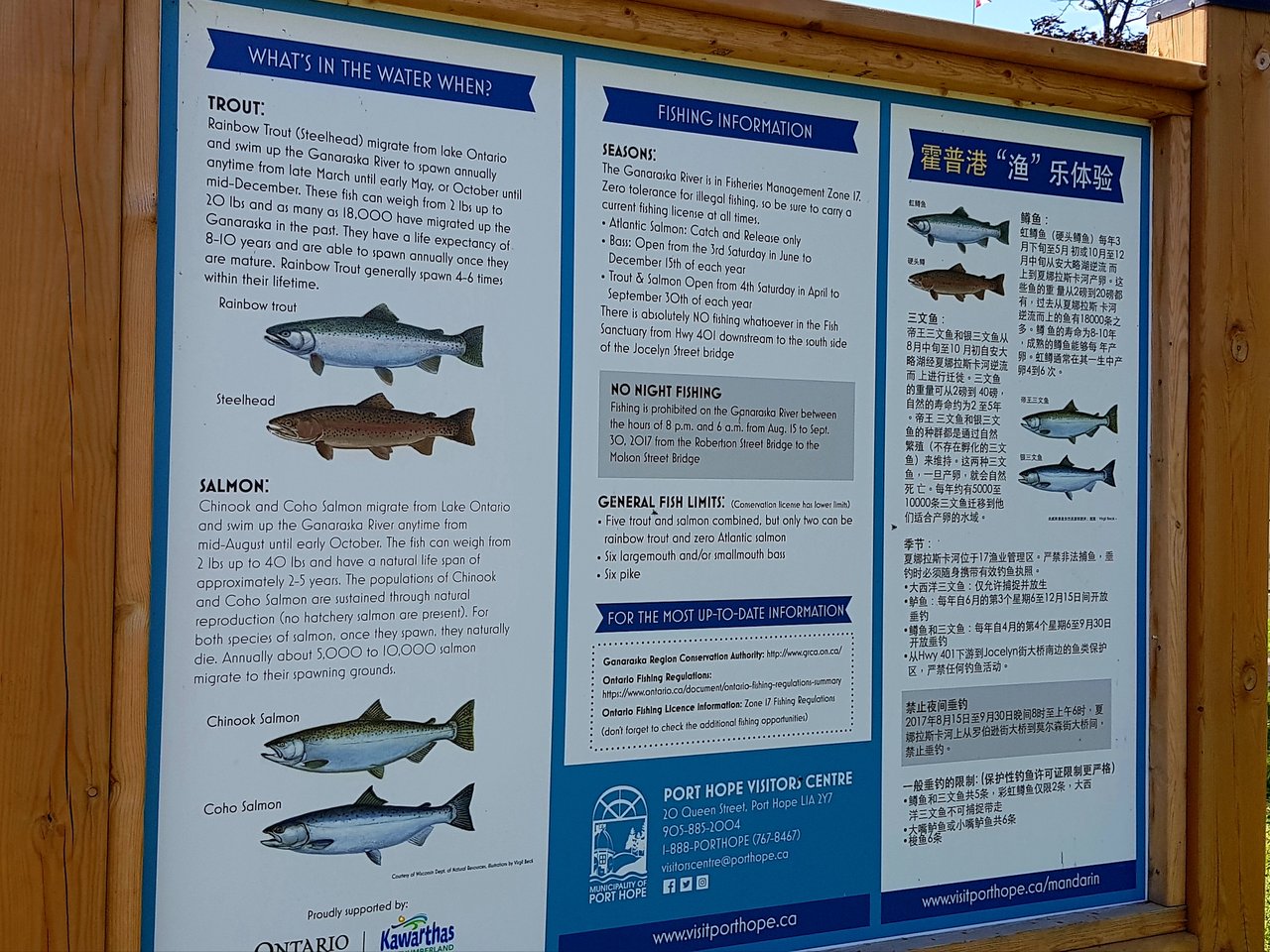 The specific type of fish I saw is the Pacific Salmon. I would guess they were the Chinook, but there could have been some Coho. It's hard to tell unless you catch them and have a good look. Fortunate the sign helps tell the difference in both Chinese and English. However, this is mostly for legal reasons and lists specific fishing regulations as you can't just fish for whatever you want wherever you want whenever you want in Ontario, Canada. The idea is conservation and it works.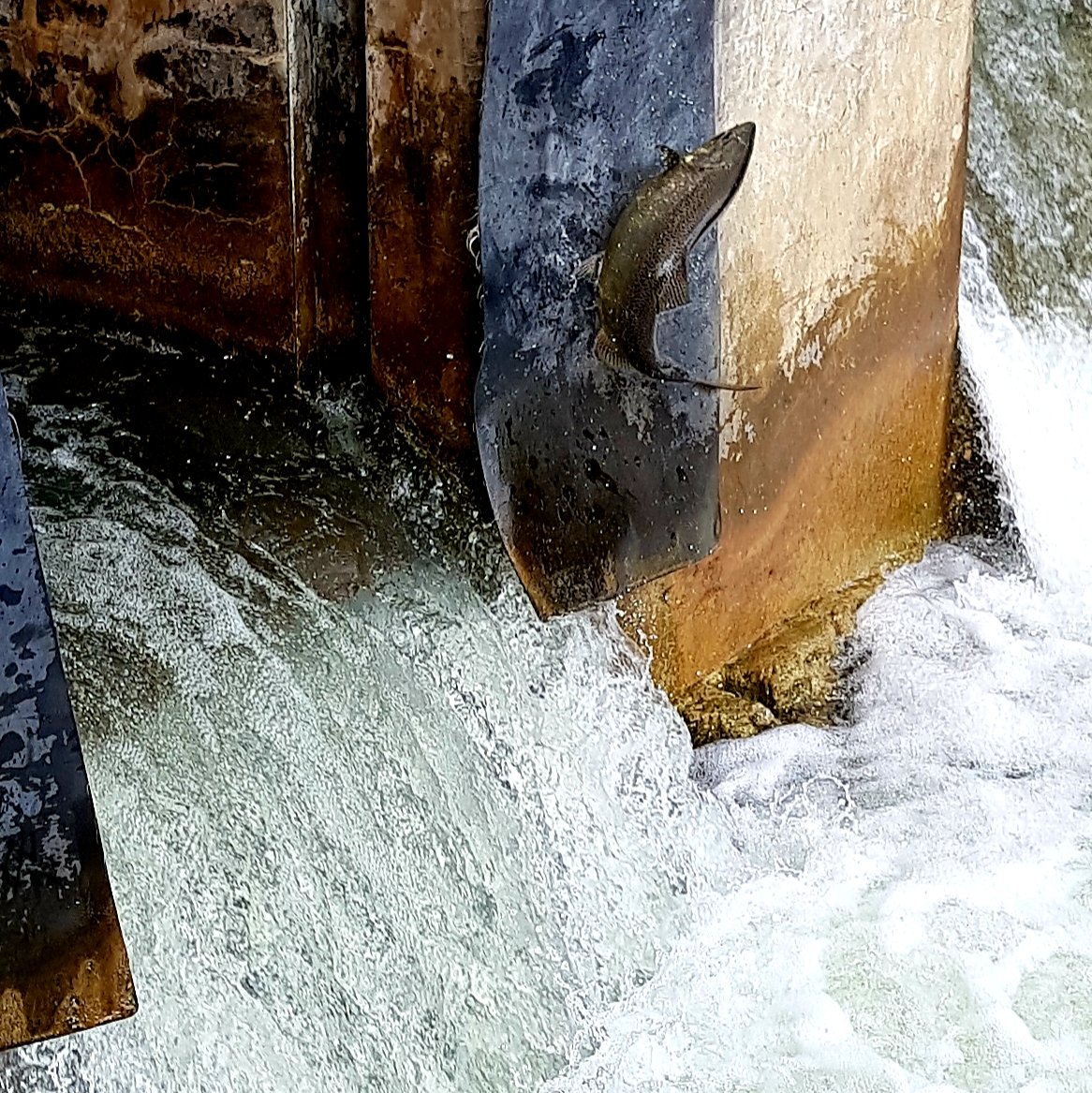 Some of the fish did not make it up the fish ladder. Fortunate there was a rubber mat protecting the fish from smacking into the concrete structure. I'm not sure how much better this is but I guess some people were complaining since there are plenty of people around watching the fish jump.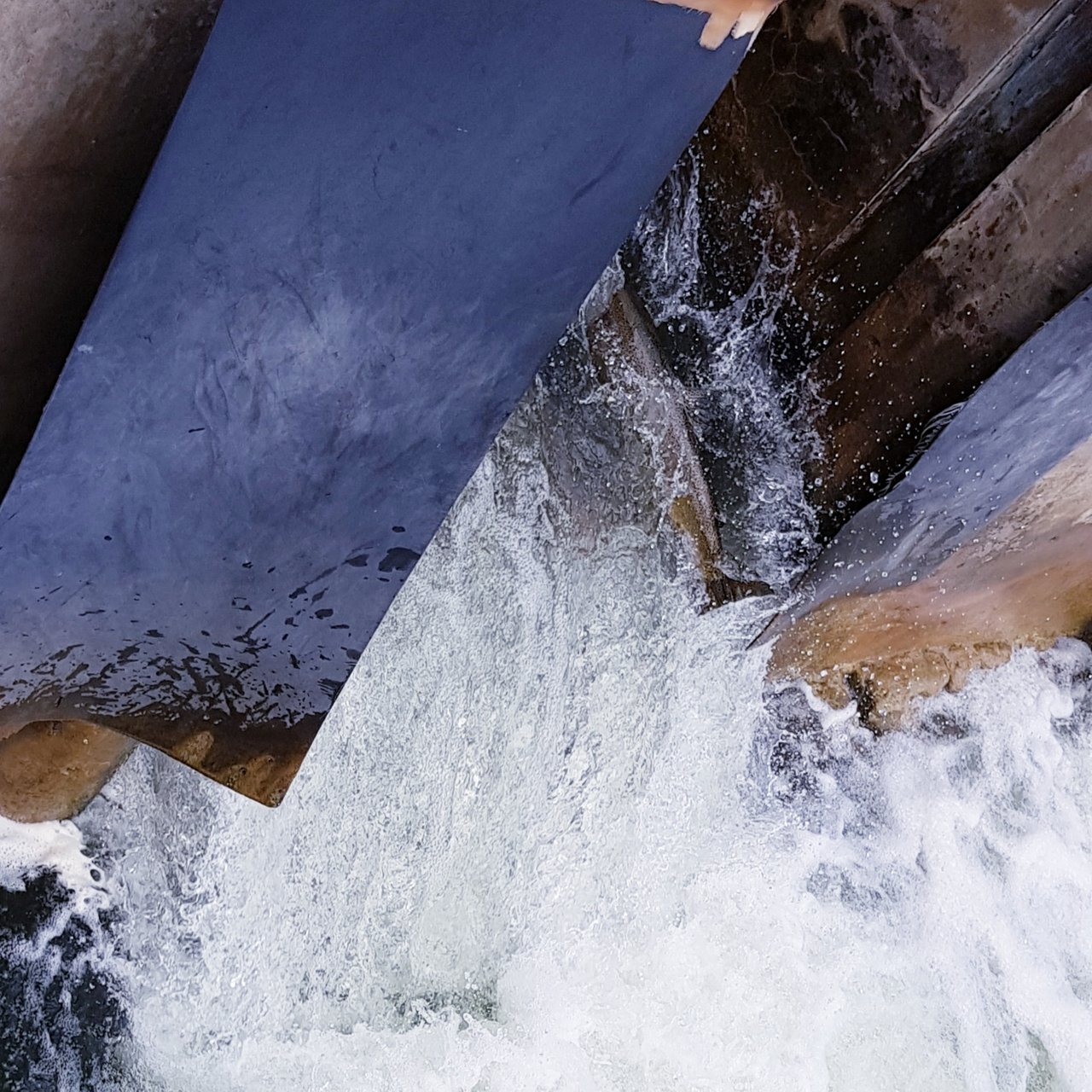 Whenever a fish makes it up the ladder, people get excited and clap. The fish are going up the river to mate and it is important for the health of their species that some of them make it up the ladder.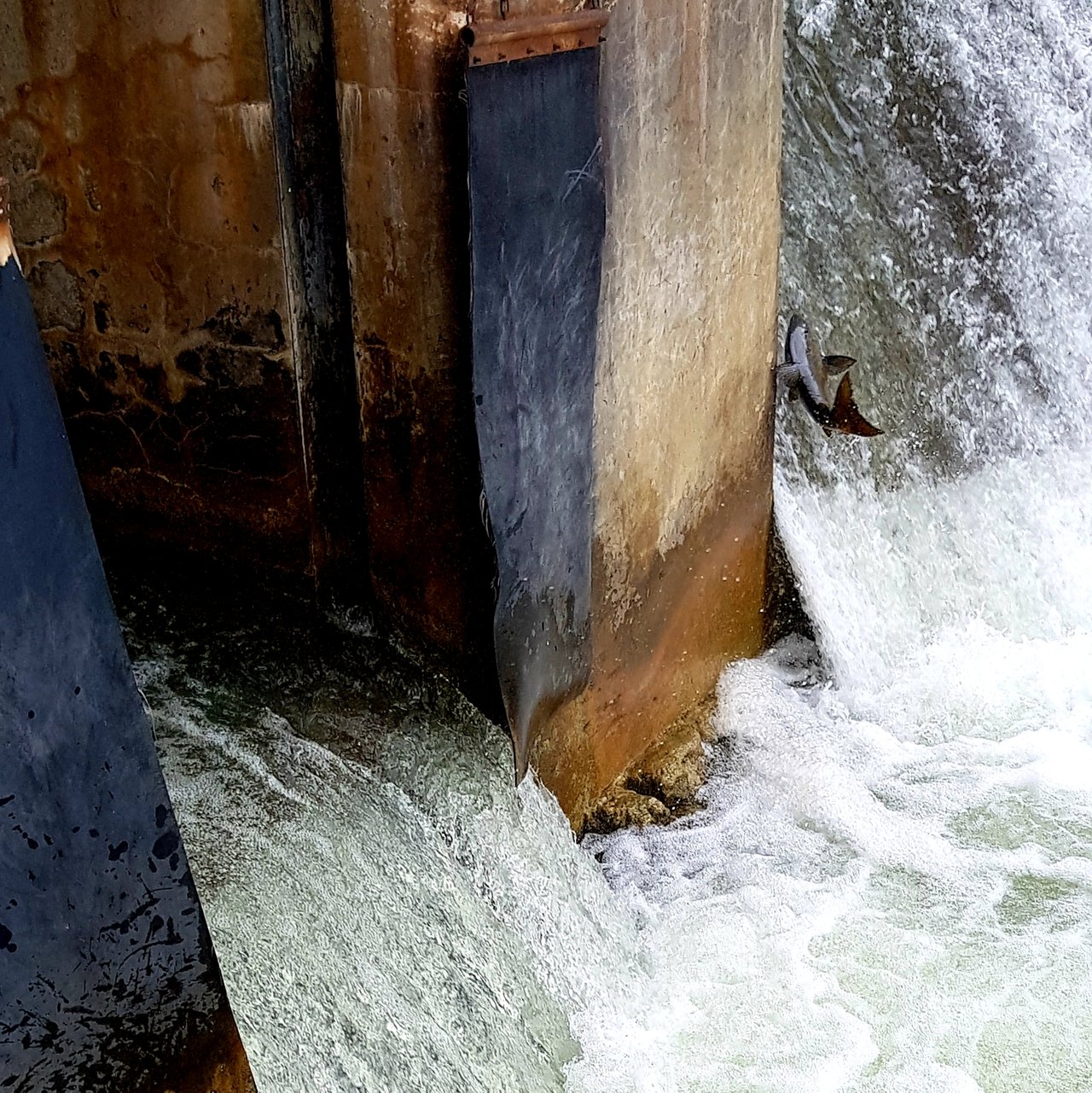 Here is another failure. Sadly, after a few failed attempts, the fish will get really tired and die. Later on in September, the river will be lined with the fish that weren't strong or lucky enough to make it up. Scavengers eat them and it helps the ecosystem, but it stinks.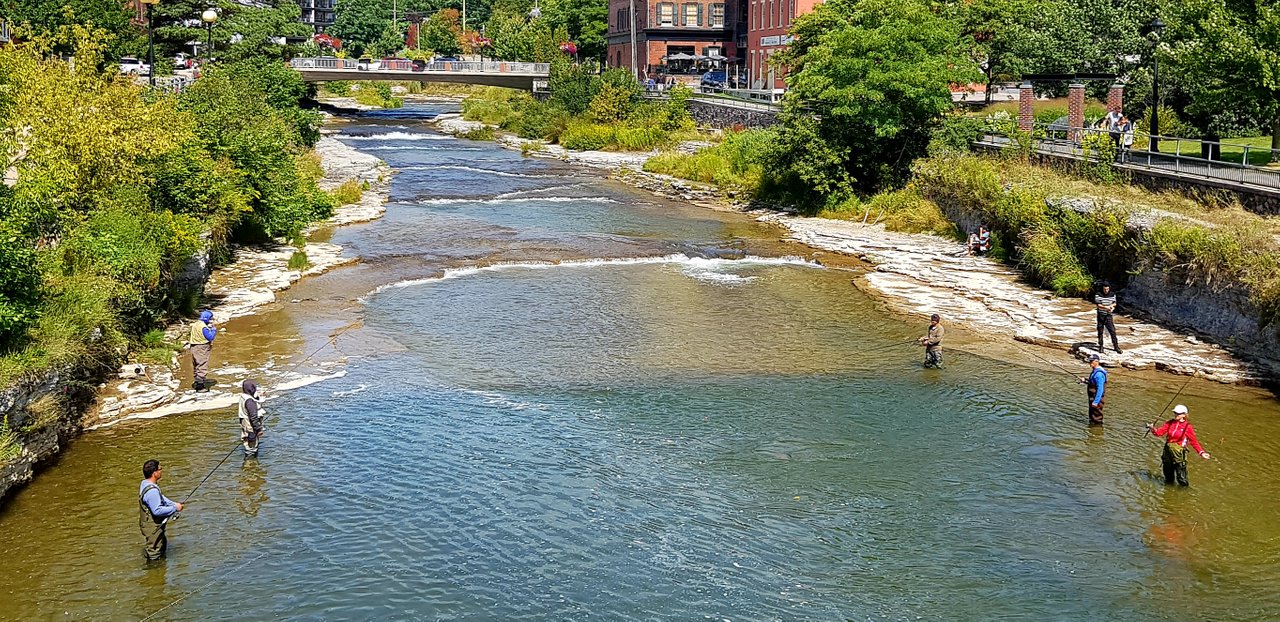 Another risk for the fish is fishermen. Although you cannot fish in all areas of the river, the fishermen do have a good chance. Fortunately, there is some sport involved and they cannot use nets or fish right where the fish are resting or jumping. However, it is a great place and time to catch fish. In anycase, enough fish make it past for the whole thing to be sustainable otherwise there wouldn't be fish left.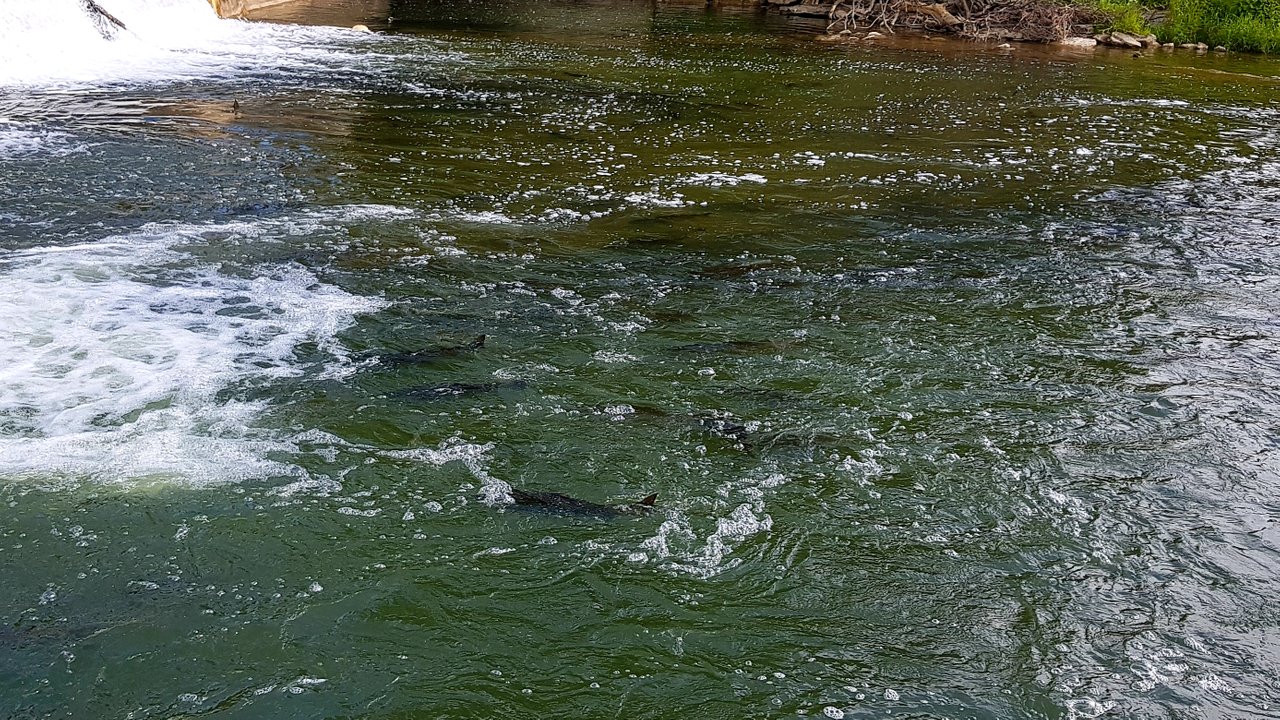 Some fish like to rest before they jump. Jumping requires a lot of energy since the fish are quite large and need to jump quite high. Also when they make it up, they still need to swim through the current. I'm not quite sure why they swim all the way up, but then again, I'm not a fish. They are looking for their favorite breeding spot. The majority of the fish will return to the exact same spot they were born although it is now known that some of them don't do that.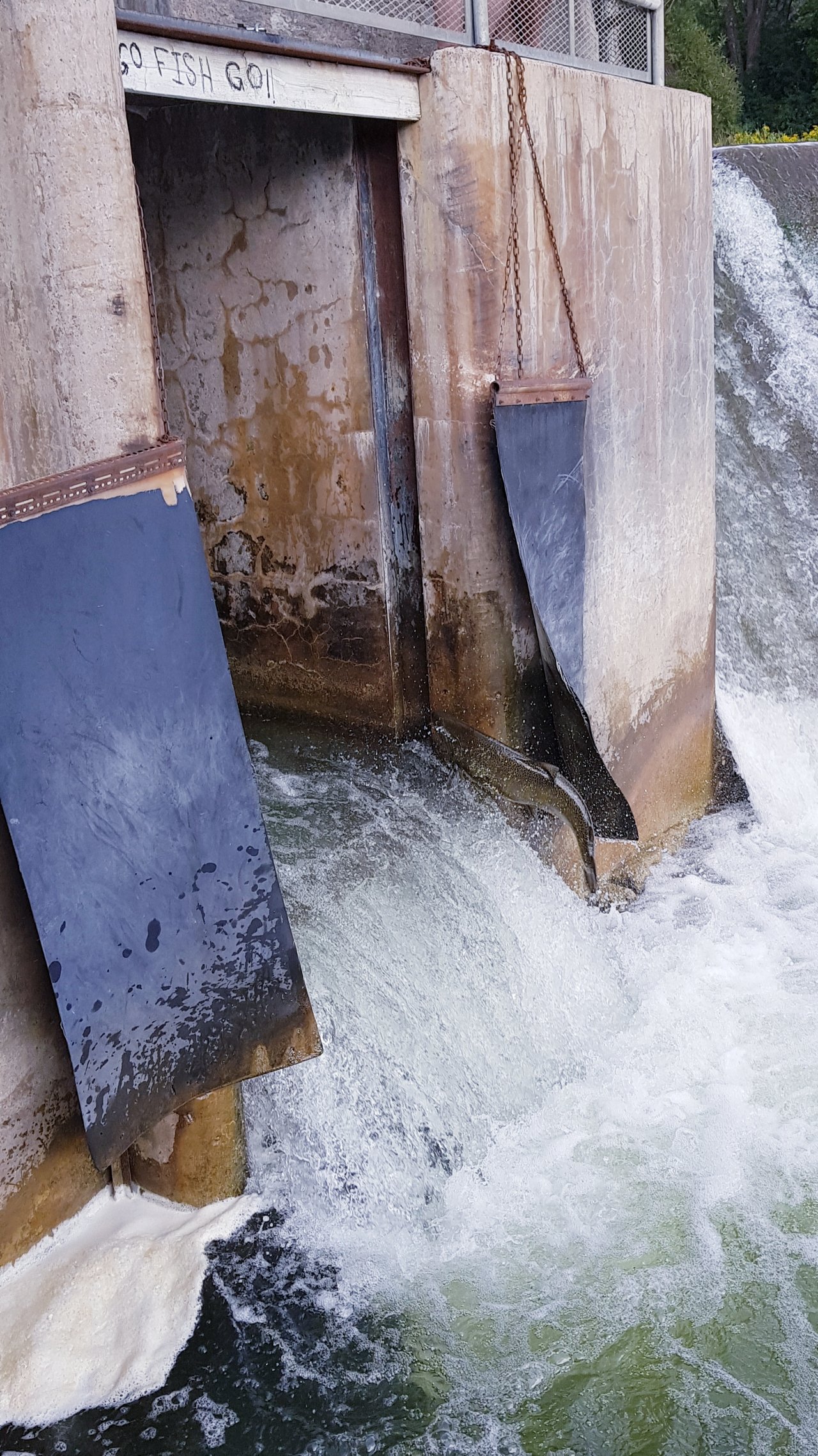 Here is another attempt that may look like a success. The sign on top encourages the fish. Actually this fish failed. Also, I doubt it can read the sign. In any case, they are driven by instinct. Apparently they use smells instead of GPS and maps to find their preferred breeding place.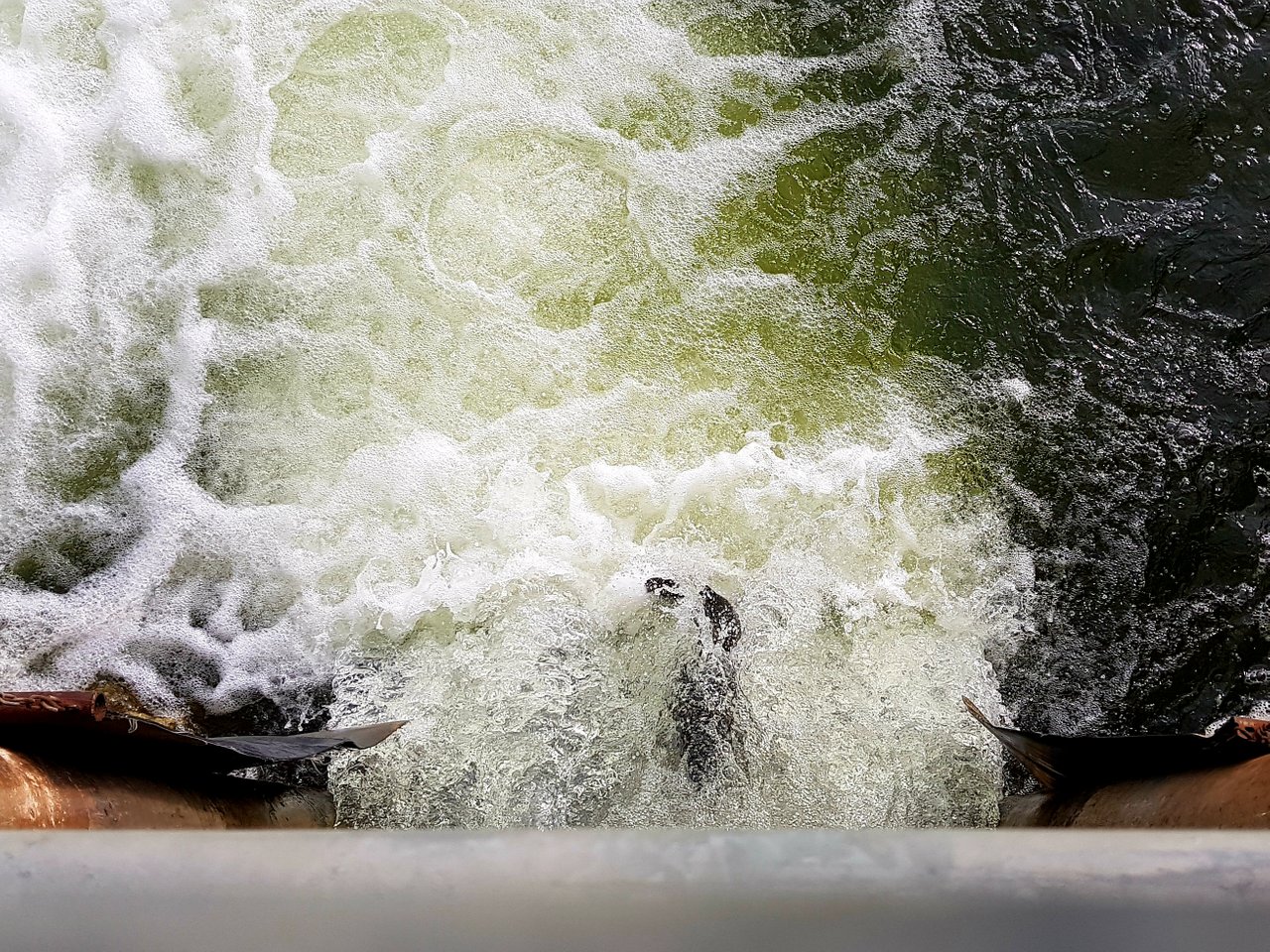 I didn't really look above this dam, although the river continues on quite further. The fish will go up as far as they can before breeding. They are looking for a calm place. Also, the idea is for the babies to have plenty of river before hitting the lake filled with bigger fish who will likely eat them up.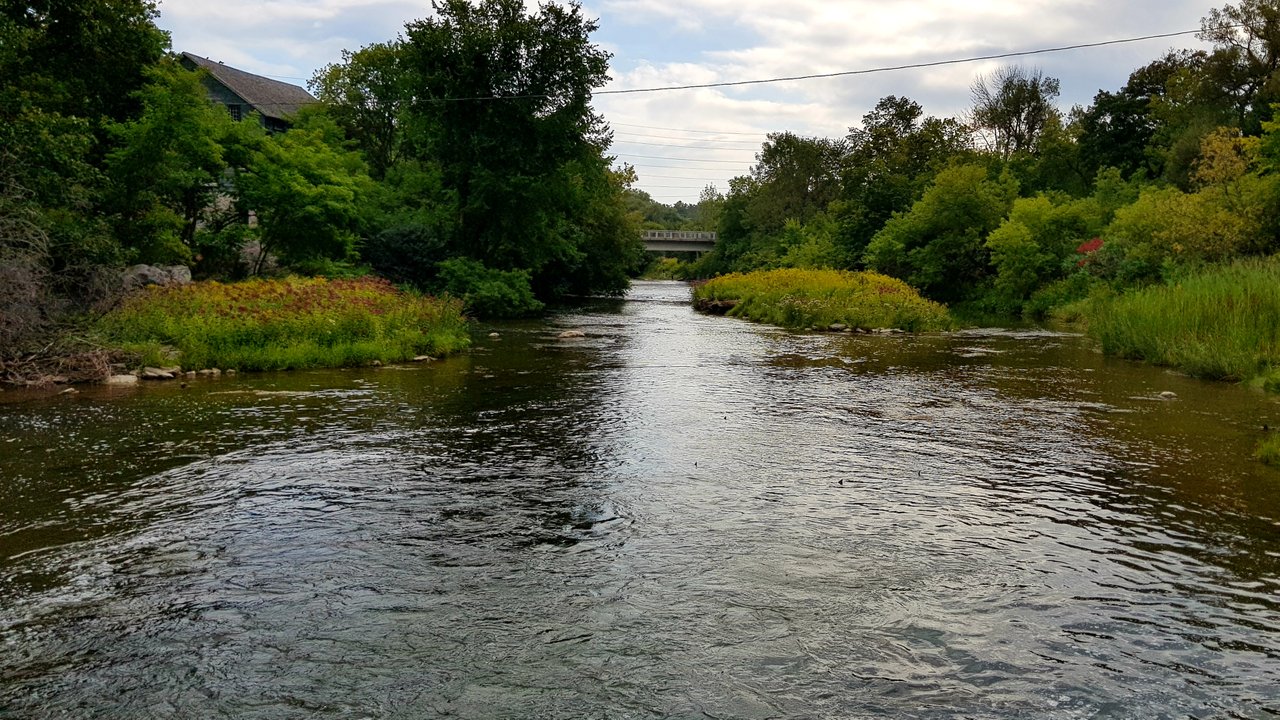 At the bottom of the dam is another calm spot. No one can fish between the dam and the bridge or above the dam. I'm glad to see that this unique even is well managed. Actually, it is worth mentioning that Pacific Salmon aren't even native to this region since lake Ontario flows into the Atlantic. The Atlantic Salmon which are native species cannot even be fished here and are much rarer.

If you want to fish get a license. However, I don't really recommend that you eat the salmon from the great lakes, catch and release is always better. Port Hope, where this river is located, is also famous for low-level radiation poisoning and heavy metals due to a local Uranium Processing plant that was in operation when the Manhatten Project was happening. It's no longer very polluted, but eating fish near areas with large scale human activity is generally a bad health choice.
The best thing to do here is just watching this awesome natural spectacle.
If you are in an area with a fish jump during April or September, I recommend that you watch it some time. If you are too lazy, here is a camera with details: http://www.riverwatcherdaily.is/Migration