Almost a year ago, I went camping for the first time. My boyfriend and I went backpacking in Pisgah National Forest, and camped at the top of Looking Glass Rock. Spoiler alert: it looks much more like a rock than a looking glass.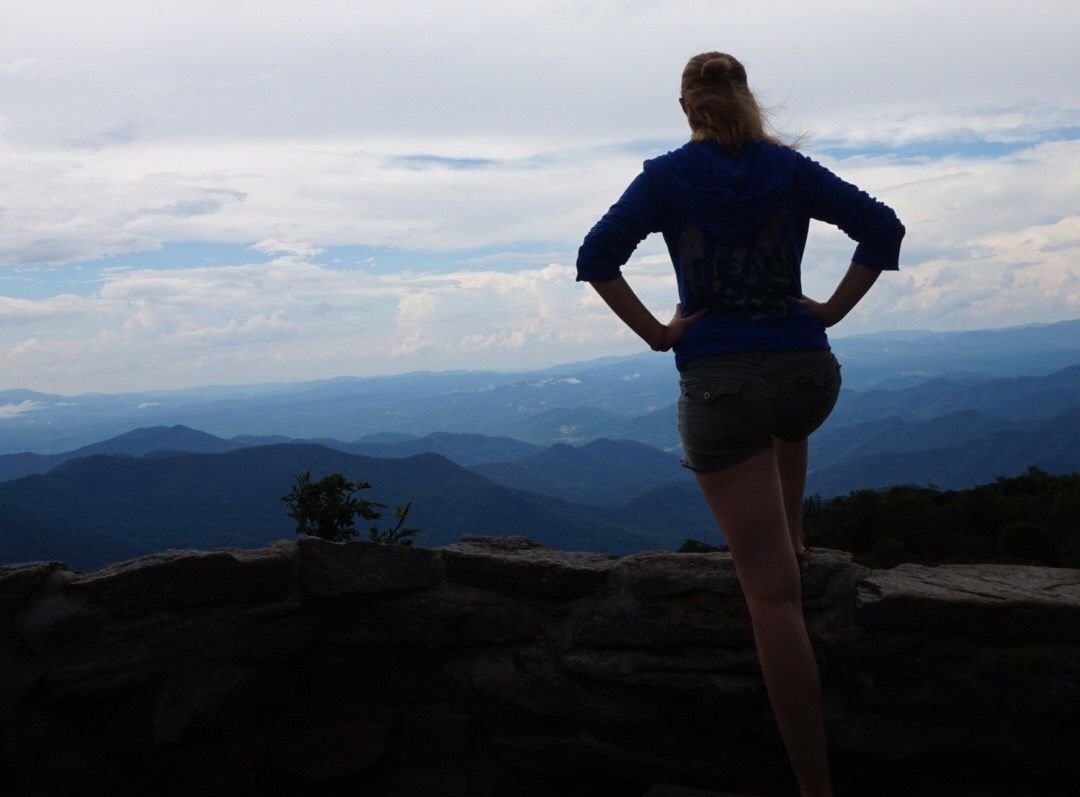 We packed up our stuff, then drove for a few hours into the mountains. We parked the car in a lot near the trailhead, and started the hike. The air was warm and extremely humid, and the trek up the mountain was fairly strenuous. It was such a relief to unload my pack at the campsite when we made it there!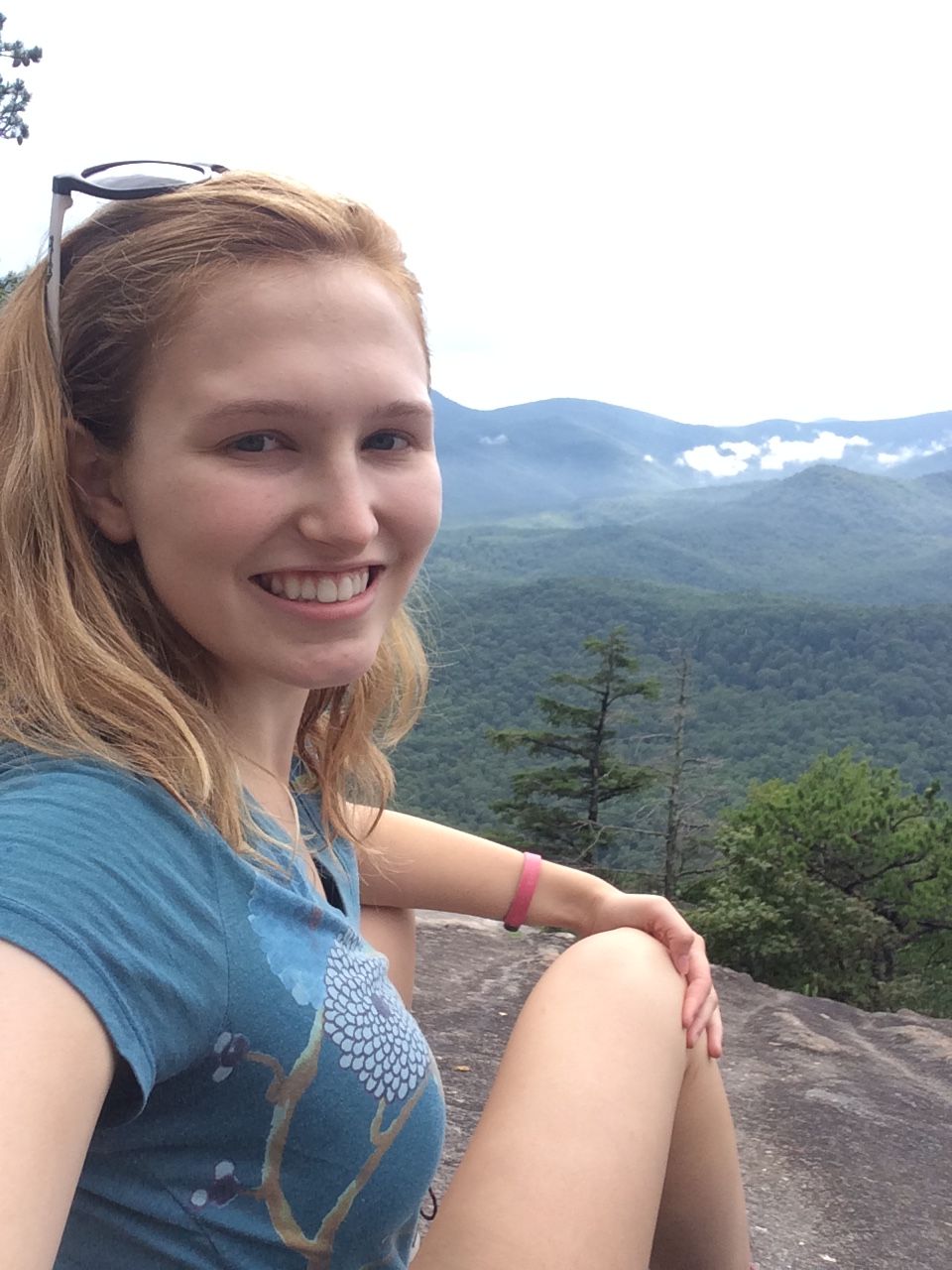 The open rock face wasn't far from the campsite, and it was such a beautiful view. We could see for miles and miles, and we watched the clouds rolling over the mountain peaks. You have to be careful on Looking Glass, because the rock face slopes down, and becomes more steep the farther you go. There have been cases where people went too far and fell off the edge.

Farther down the mountain is Looking Glass Falls, where similar things have happened, and people have been swept over the waterfall by the current of the river. Be careful in the mountains, everyone. If you start at the bottom, you have nowhere to fall. That's probably good life advice on a metaphorical level, too - starting from the bottom gives you nowhere to go but up.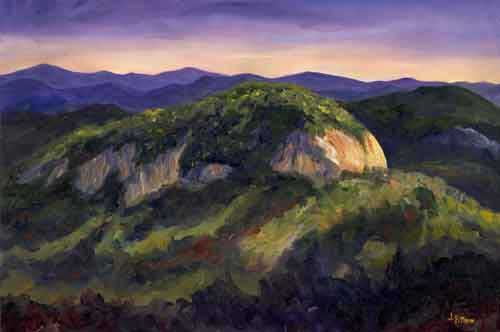 For reference, a nice painting of Looking Glass Rock. Art by Jeff Pittman.
Anyway, we set up hammocks and my boyfriend insisted that we set up tarps over them, too. I complained about it because it was extra work, and I had this idea of sleeping under the stars and actually being able to see those stars from my hammock.
Around 9 p.m., nature proved him right, because it started pouring. We shuffled through the pitch dark from our fire pit to the hammocks and took refuge under the tarps. It was way earlier than I usually go to sleep, and thunderstorms in forests are loud, so I was having a bit of trouble relaxing. After an hour or so, the wind picked up and the rain started coming in sideways, so we officially became cold and wet. It was nearly 6 a.m. before the rain petered out to a drizzle, then a mist, then dissipated into the sunlight of the morning.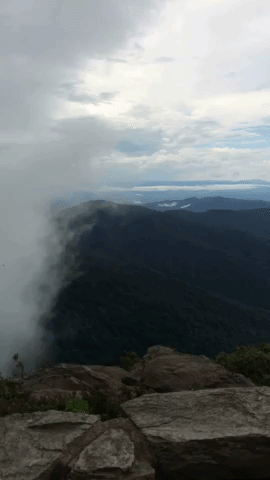 Remember, this was my first time camping. Growing up, I never went because my mom had a theory that something will always inevitably go wrong when you're stuck out there in the wilderness. So far, she seemed to be right, but the experience of being at the top of that mountain made it worth it.
Neither my boyfriend nor I had managed to get any real sleep, so we had granola bars and instant coffee for breakfast, then packed up our campsite. We visited the rock face one last time, and began the hike back down. The trip back was way shorter than the trip up, and we stopped for lunch in the town just outside the forest. We had planned to visit my grandparents, who live in that town, on the way back, but were so tired, we called a rain check.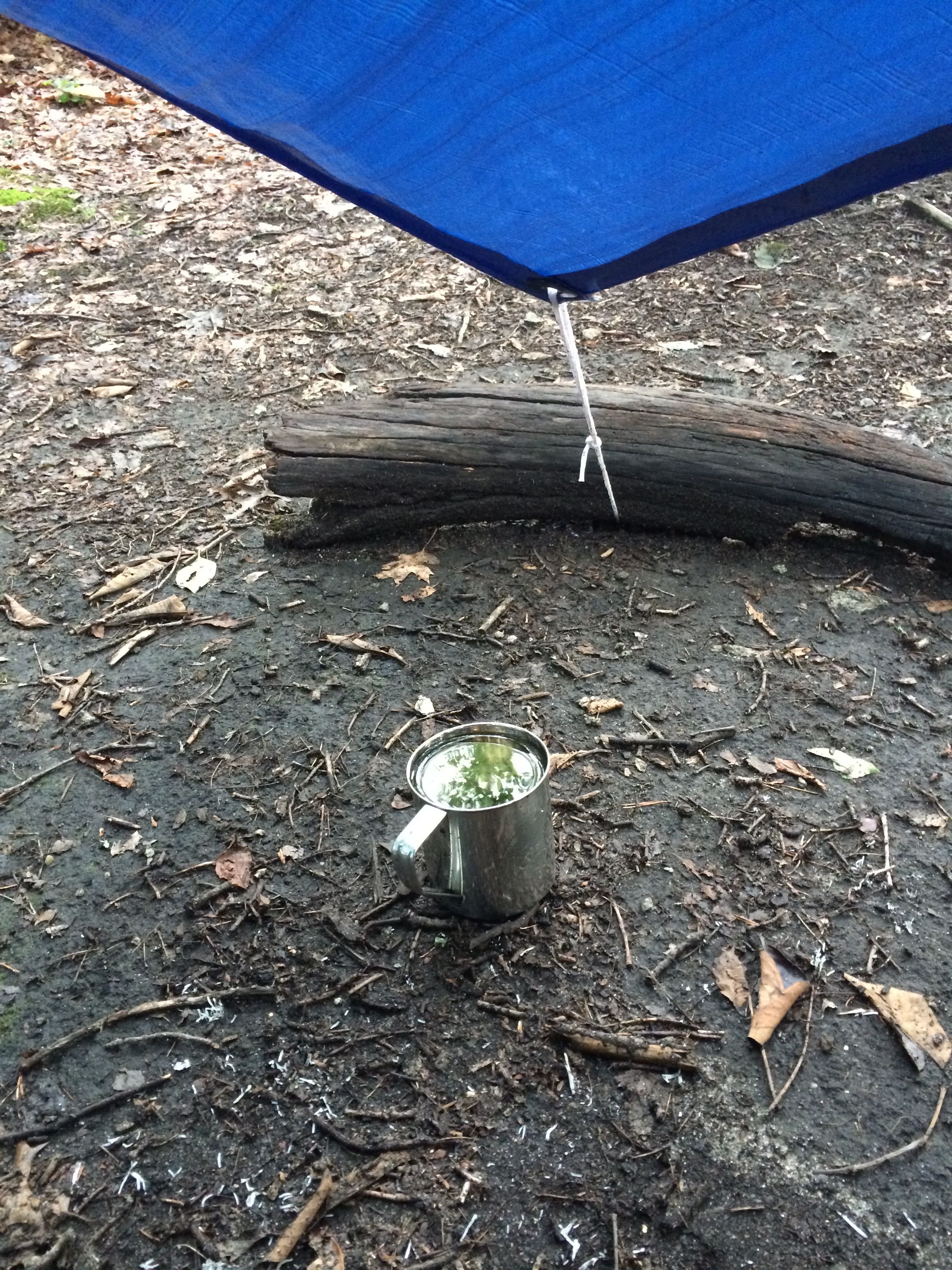 I accidentally left my empty cup out overnight. It was not empty in the morning.
Call us crazy, but we're going camping again tomorrow. This time though, we have a foolproof rain-avoidance plan: We'll drive up and park near the hiking trailhead. We'll go on a day hike. Then, we'll drive to a campsite much closer to the main road. If it starts to rain, we'll pack up and head over to see my grandparents. If it doesn't rain, we'll still visit them the next day. This time, we won't have to worry about braving the storm, lying awake all night, or considering jumping off the cliff to get back to the car.
I'm looking forward to it, and I'll be sure to post about it afterward! If you have any fun, crazy, infuriating, or even downright outrageous camping stories, feel free to share them in the comments!
xo,
Cecilia