Faszinierende Tierwelt. Von den Einzellern bis zu den Menschenaffen als Vertreter der Primaten spannt sich der Ausstellungsbogen im 1. Stock des Naturhistorischen Museums Wien (NHM Wien).
Fascinating animal lifeThe exhibition area on the 1st floor of the Naturhistorischen Museum Wien (NHM Wien) leads from the unicellular organisms to the great apes as representatives of the primates.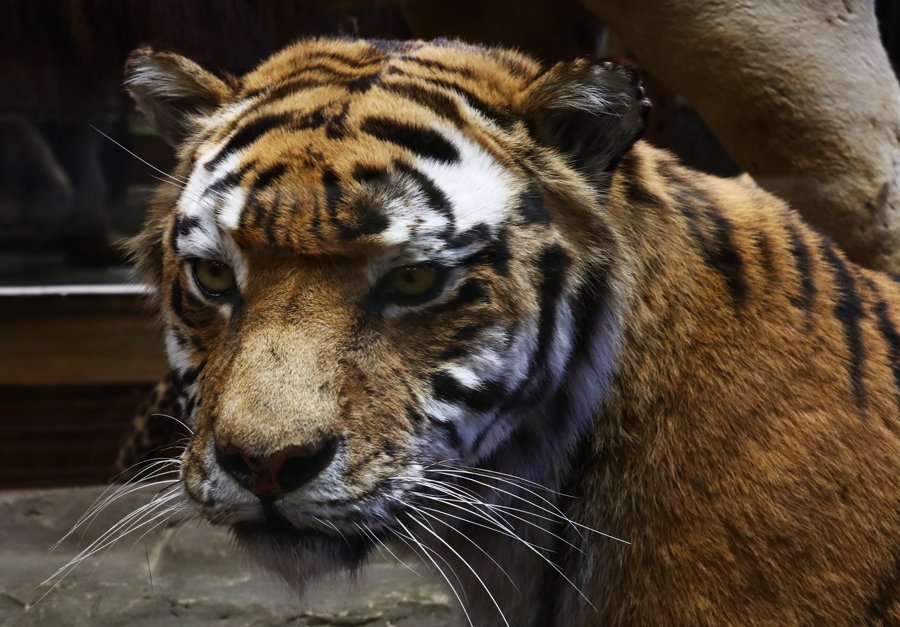 Sibirischer Tiger / Siberian tiger (NHM Wien)
In 19 Schauräumen wird die überwältigende Artenvielfalt der Tierwelt präsentiert. Die ältesten Exponate sind über 200 Jahre alt. Zahlreiche ausgestopfte Präparate von bereits ausgestorbenen oder bedrohten Tierarten verleihen der Sammlung einen unersetzlichen Wert.
The overwhelming biodiversity of the animal world is presented in 19 showrooms. The oldest exhibits are over 200 years old. Numerous stuffed specimens of already extinct or endangered animal species give the collection an irreplaceable value.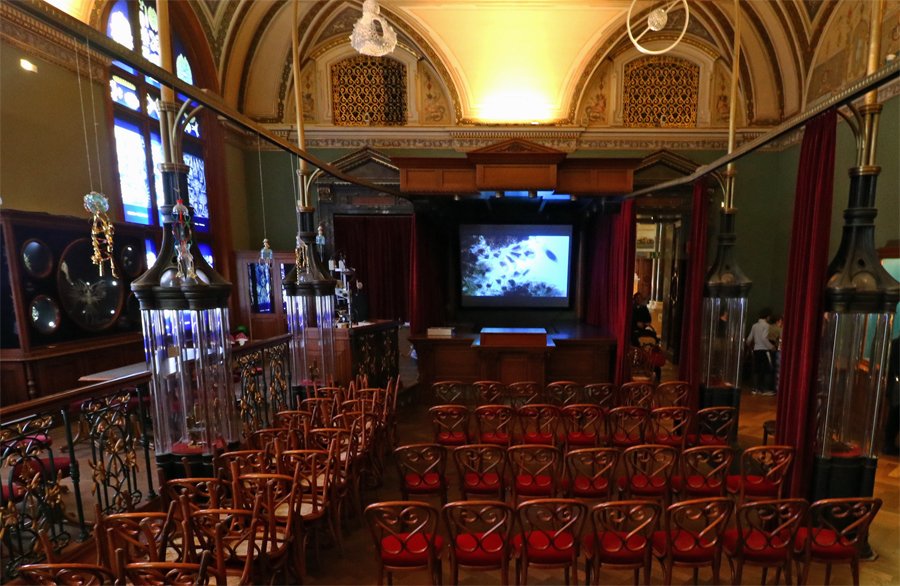 Der Saal 21 ist dem Mikrokosmos mit den kleinsten Vertretern aus der Tier- und Pflanzenwelt gewidmet. An jedem Wochenende finden hier Mikrotheater-Vorführungen statt. Dabei werden Mikroorganismen und andere Naturobjekte live und in 3D auf die große Leinwand projiziert. Nach der Vorstellung können die Besucher unter fachkundiger Anleitung die Welt des winzig Kleinen unter dem Mikroskop entdecken.
Hall 21 is dedicated to the microcosm with the smallest representatives of the animal and plant world. Every weekend, micro-theatre performances take place here. Microorganisms and other natural objects are projected live and in 3D onto the big screen. After the performance, visitors can discover the world of the tiny little one under the microscope under expert guidance.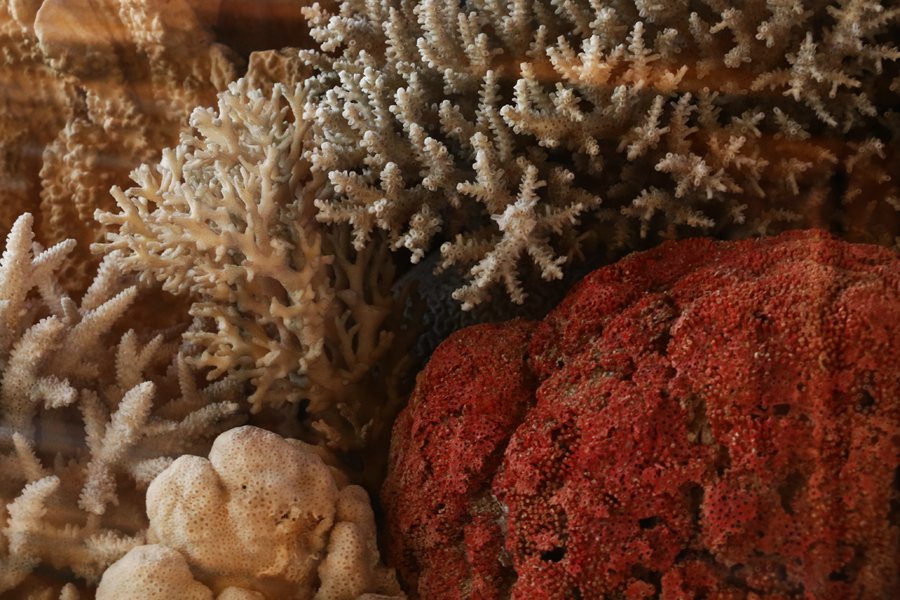 Riffkorallen des Roten Meeres / Reef corals of the Red Sea (NHM Wien)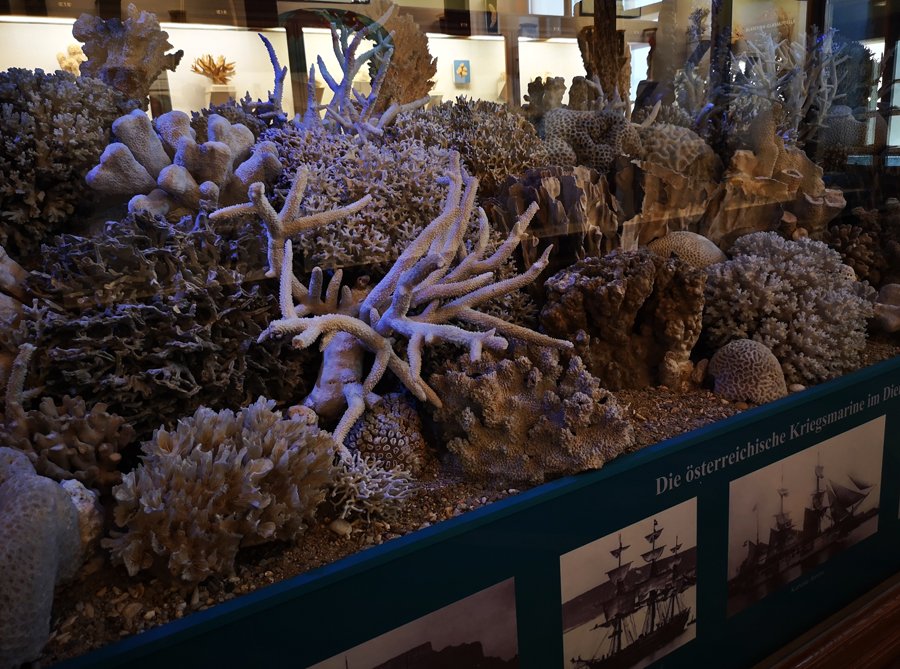 Nach dem Mikrokosmos geht es in die Welt der wirbellosen Tiere mit ihrer erstaunlichen Arten- und Formenvielfalt. Einzeller, Korallen und Weichtiere bilden den Schwerpunkt in den ersten beiden Sälen.
After the microcosm we enter the world of invertebrates with their amazing diversity of species and forms. Unicellular organisms, corals and molluscs are the main focus in the first two halls.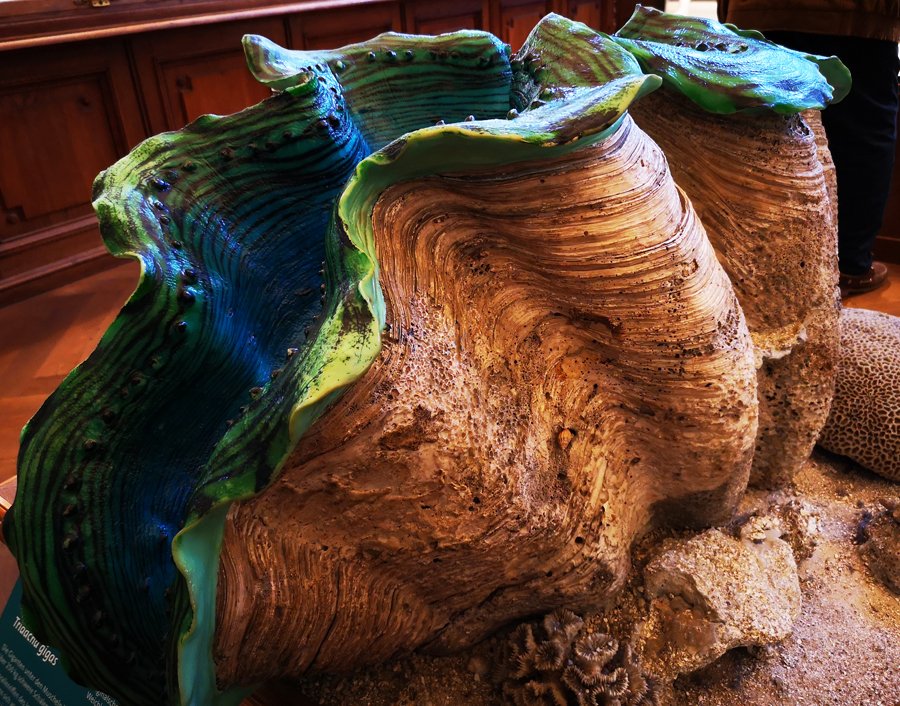 Riesenmuschel besiedeln die Korallenriffe im indo-pazifischen Raum. Die echte Schale des abgebildeten Exemplars wurde durch einen Weichkörper aus Kunststoff ergänzt.
Giant clams colonize coral reefs in the Indo-Pacific region. The genuine shell of the specimen shown was supplemented by a soft plastic body.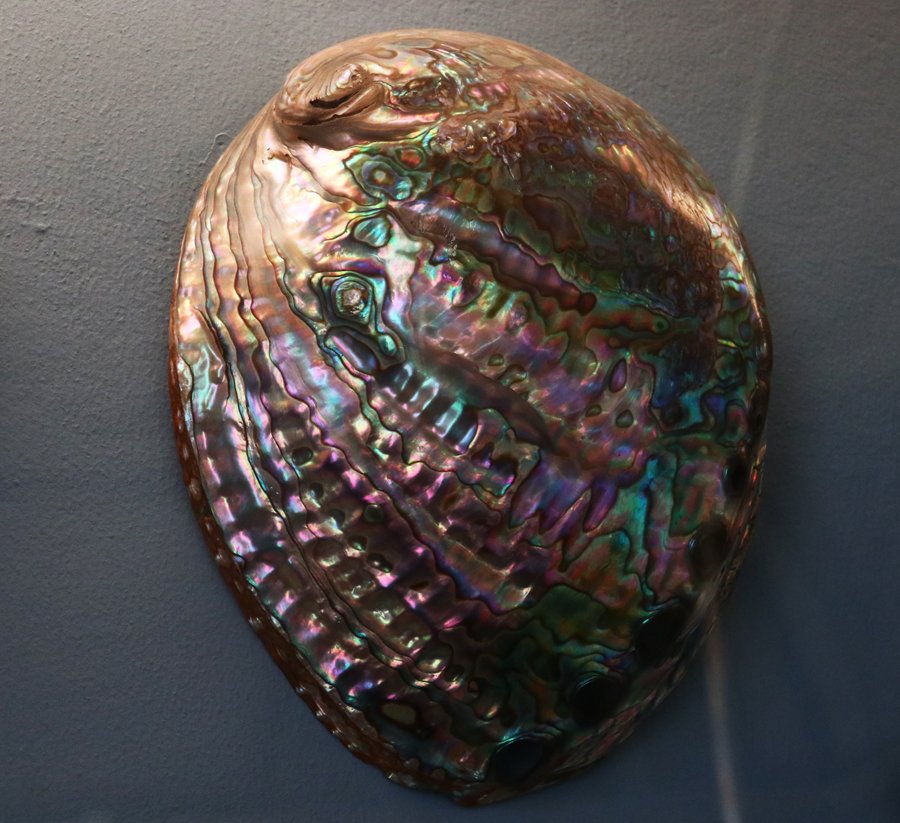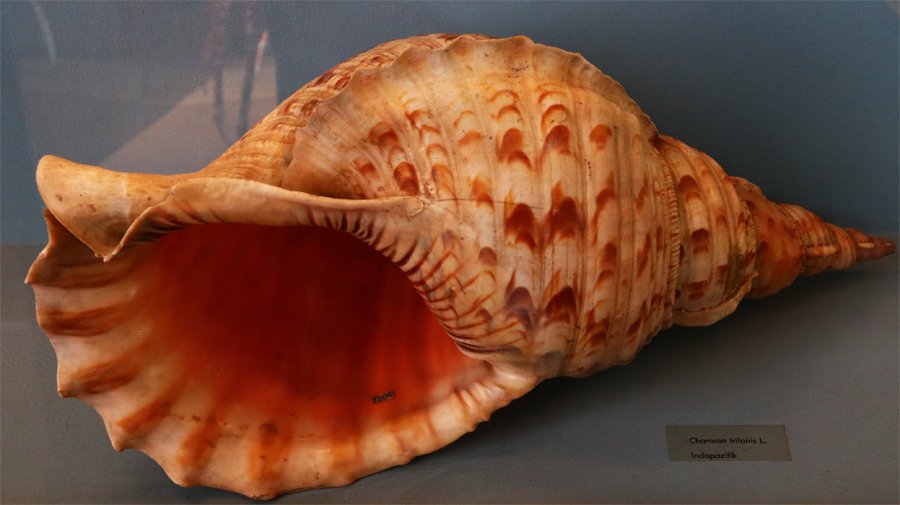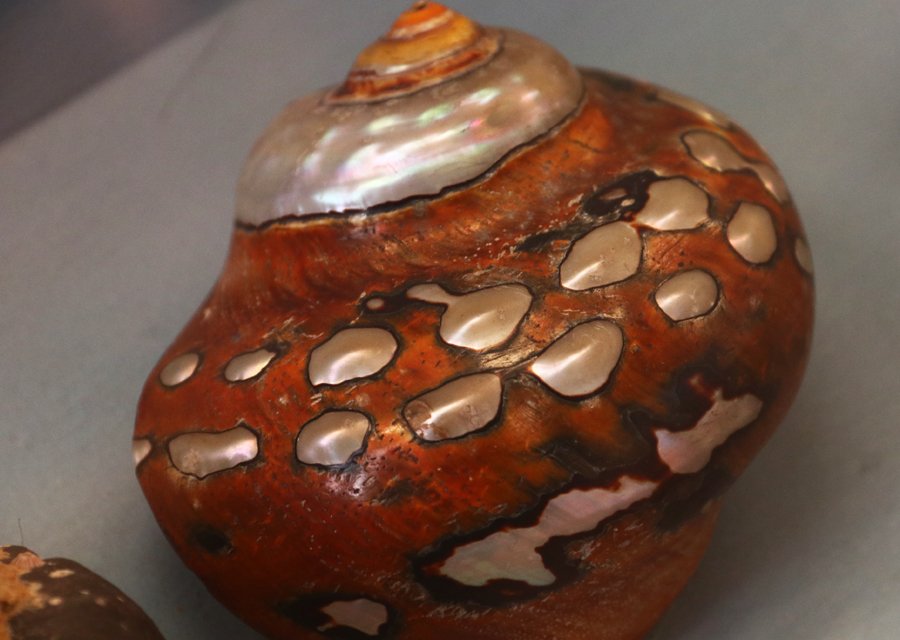 Der Großteil der Weichtiere (Mollusken) lebt im Meer, wobei Muscheln auch im Süßwasser vorkommen. Schnecken sind die artenreichste Klasse aus dem Stamm der Weichtiere und die einzige, die auch Lebensräume an Land besiedelt.
The majority of the molluscs live in the sea, mussels also occur in fresh water. Snails are the most species-rich class from the molluscs and the only one that has also terrestrial species.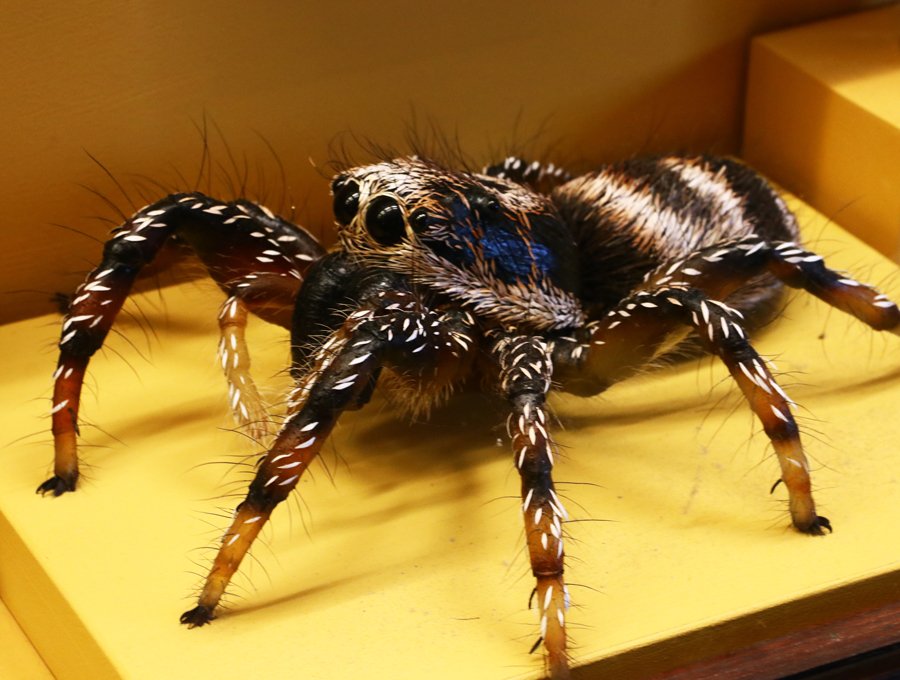 Zebraspringspinne (Modell) / Zebra Spider (model) [NHM Wien]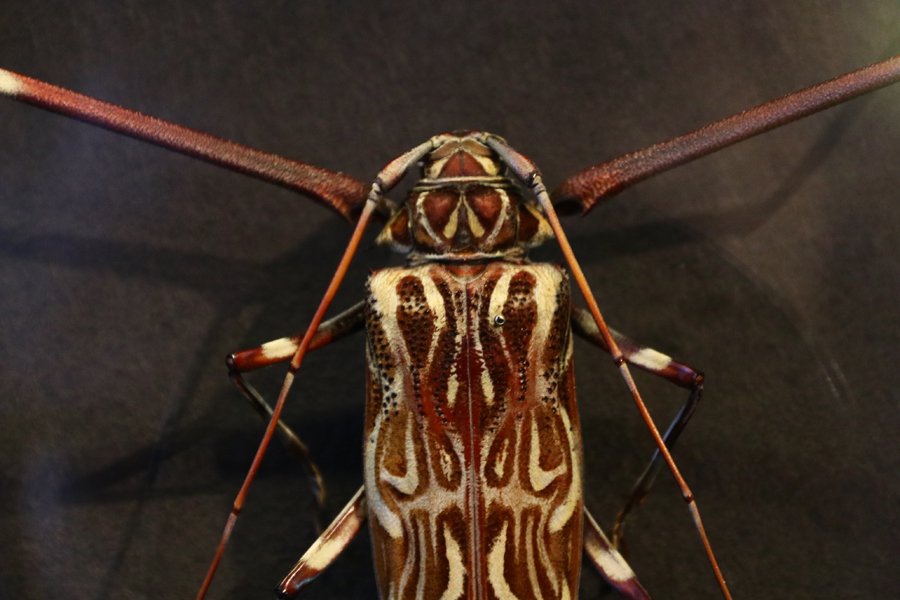 Harlekinbock / Harlequin beetle (NHM Wien)
In Saal 24 werden Gliederfüßer präsentiert. Zu diesem Tierstamm zählen Spinnentiere, Krebstiere, Tausendfüßer und Insekten. Die wissenschaftliche Sammlung umfasst mehr als 12 Millionen Exemplare, wovon weniger als ein Prozent ausgestellt ist.
In hall 24 arthropods are presented. This animal strain includes arachnids, crustaceans, millipedes and insects. The scientific collection comprises more than 12 million copies, of which less than one percent is exhibited.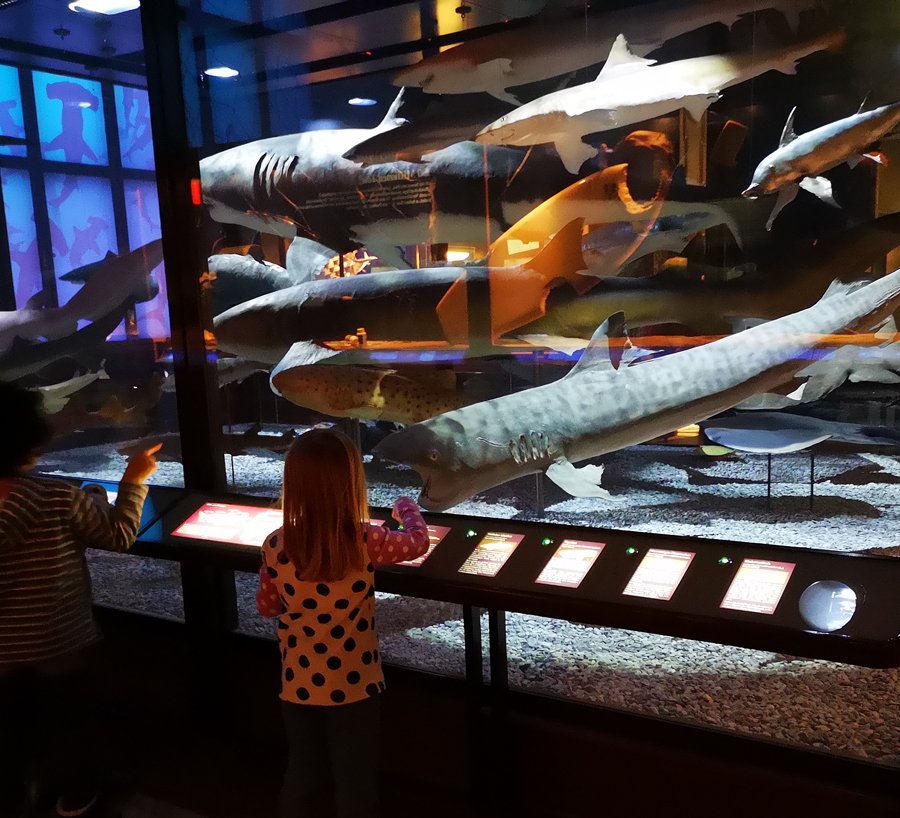 Insgesamt 15 Schausäle sind den Wirbeltieren vorbehalten. Die Ausstellung führt von den Fischen über Amphibien und Reptilien zu den Vögeln und schließlich zu den Säugetieren. Die Attraktion bei den Knorpel- und Knochenfischen ist eine freistehende Vitrine mit über 40 Haien und Rochen.
A total of 15 showrooms are reserved for vertebrates. The exhibition leads from fish to amphibians, reptiles, birds to mammals. The attraction of the showroom with cartilage and bony fish is a free-standing display case with over 40 sharks and rays.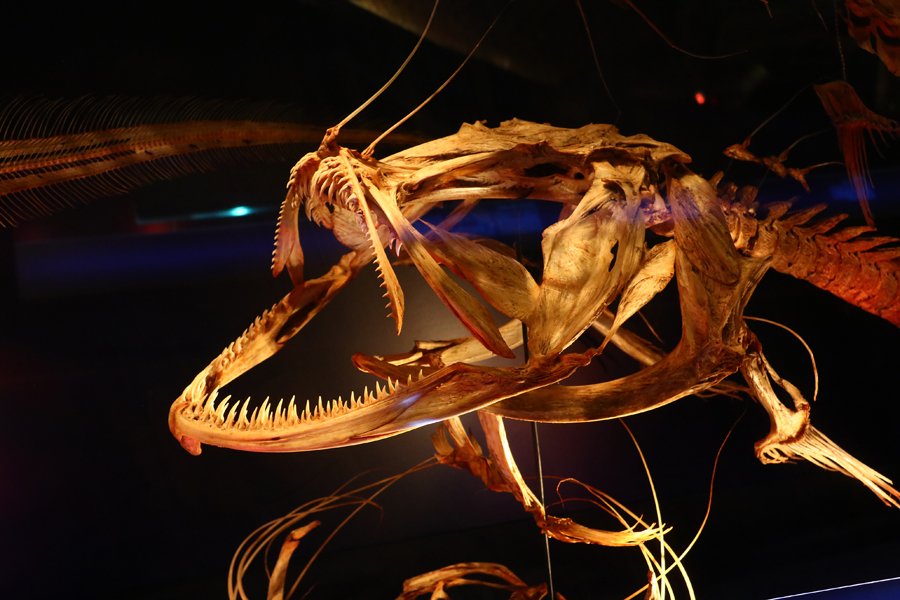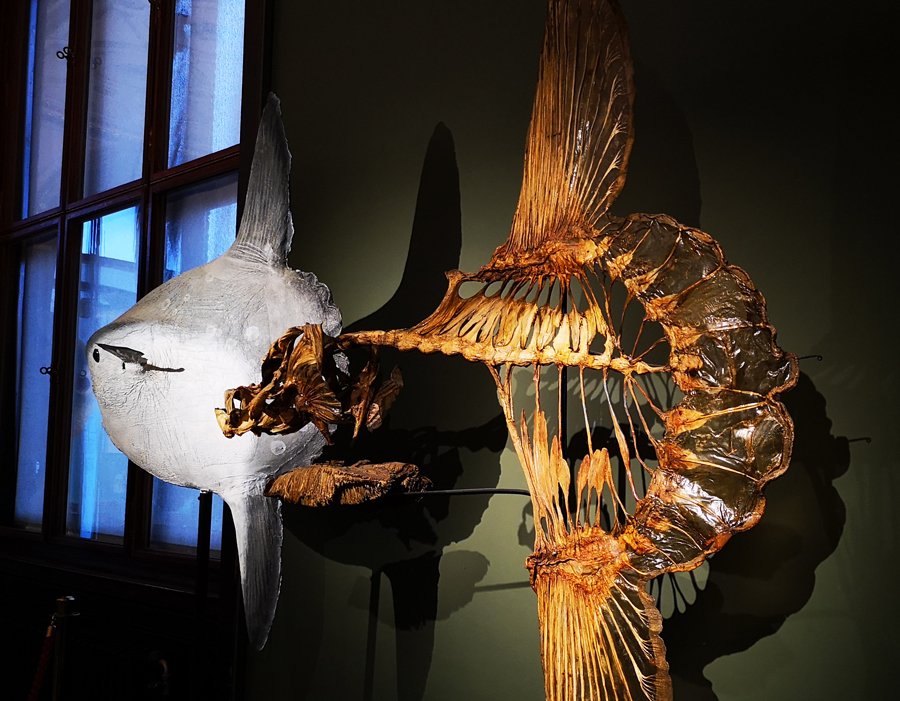 Sonnen- oder Mondfisch / Ocean Sunfish (NHM Wien)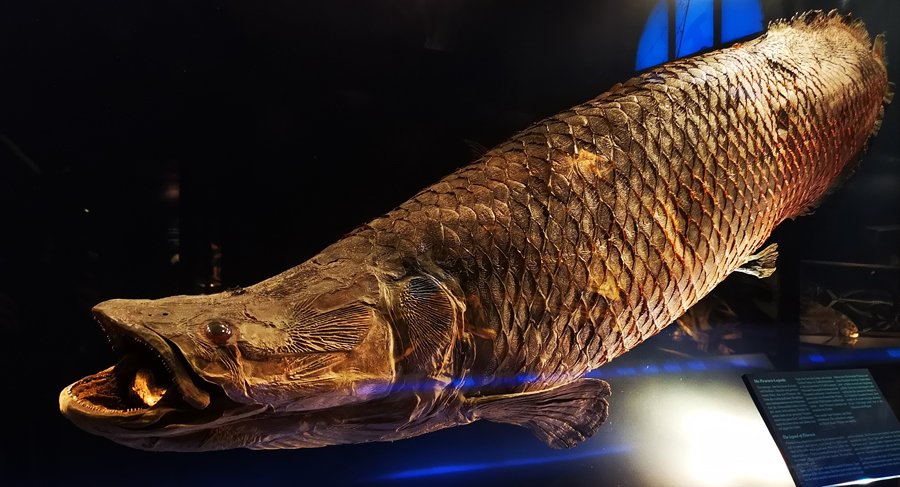 Arapaima gigas (NHM Wien)
Der Kadaver dieses Süßwasser-Raubfisches wurde nach dem Verfahren der Dermoplastik präpariert. Bei dieser Technik wird eine Nachbildung des Körpers mit der konservierten Haut des Tieres überzogen.
The carcass of this freshwater predator was prepared using the dermoplasty method. In this technique, a replica of the body is covered with the preserved skin of the animal.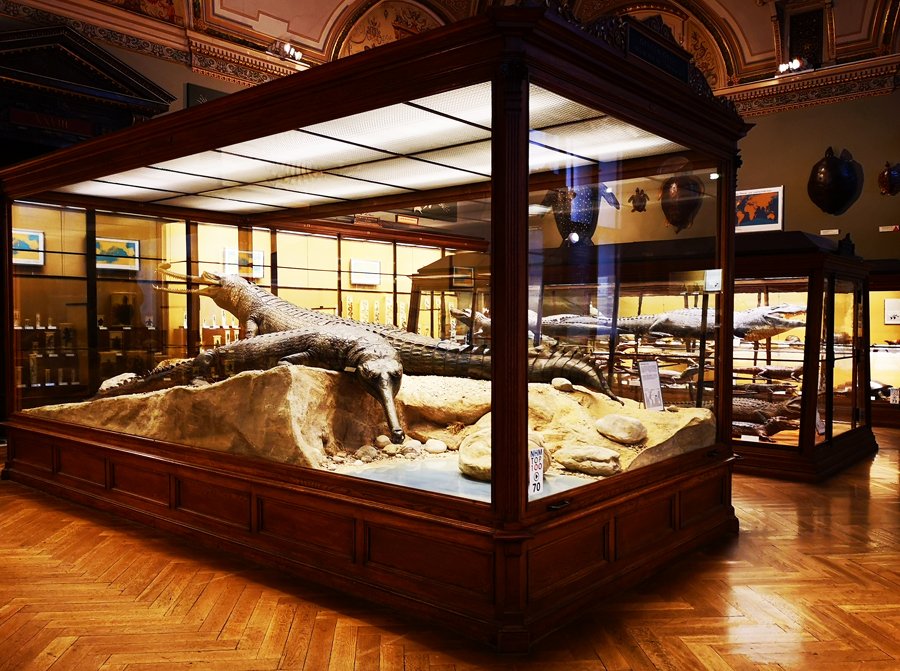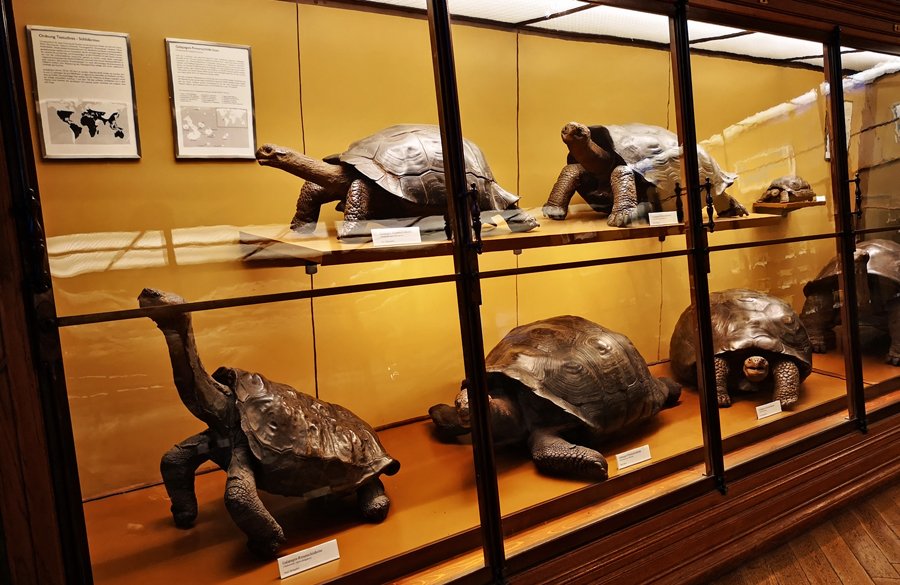 Amphibien (Lurche) und Reptilien (Krokodile, Echsen, Schlangen, Schildkröten und Brückenechsen) werden in zwei Schauräumen präsentiert. Die Holzvitrinen stammen größtenteils noch aus dem Eröffnungsjahr des Museums (1889).
Amphibians and reptiles (crocodiles, lizards, snakes, turtles and bridge lizards) are presented in two showrooms. Most of the wooden showcases still date from the museum's opening year 1889.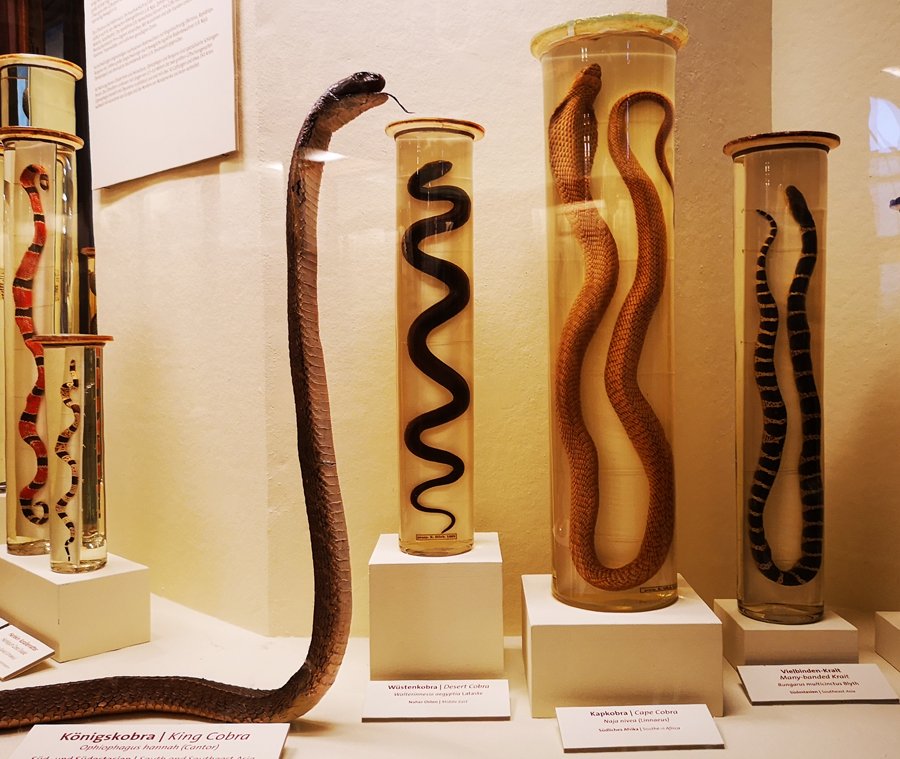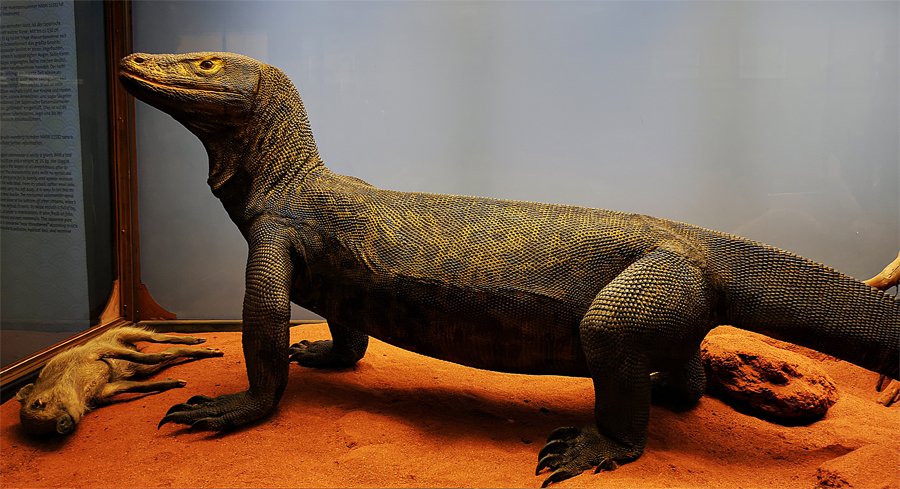 Komodowaran / Komodo dragon (NHM Wien)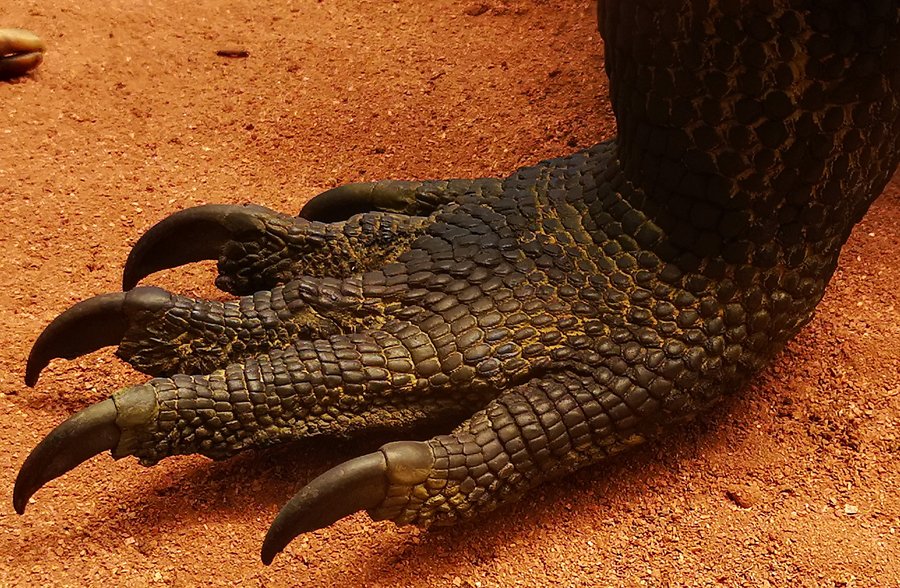 Rund 200.000 Objekte umfasst die wissenschaftliche Sammlung der Amphibien und Reptilien. Der überwiegende Teil davon ist in Form von Alkoholpräparaten konserviert. Trockenpräparate wie Dermoplastiken, Skelette und Häute bilden den Rest.
The scientific collection of amphibians and reptiles comprises around 200,000 objects. Most of them are preserved in the form of alcohol preparations. Dry preparations such as dermoplasties, skeletons and skins make up the rest.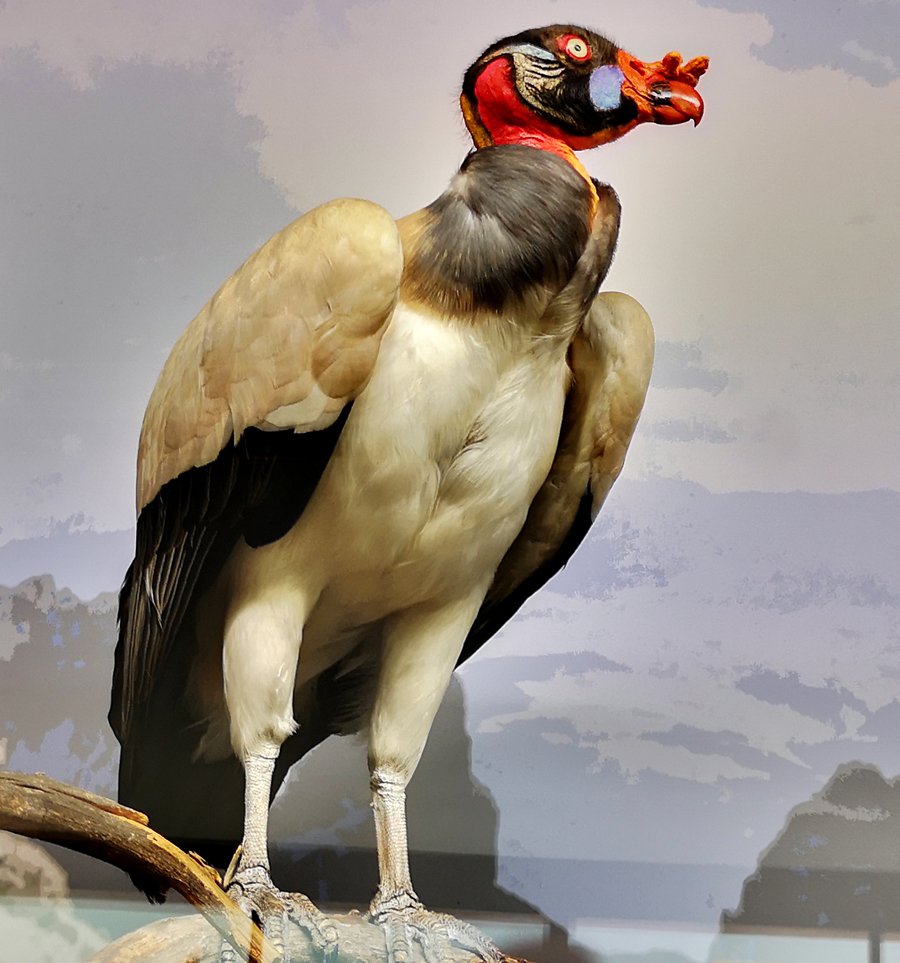 Königsgeier / King Vulture (NHM Wien)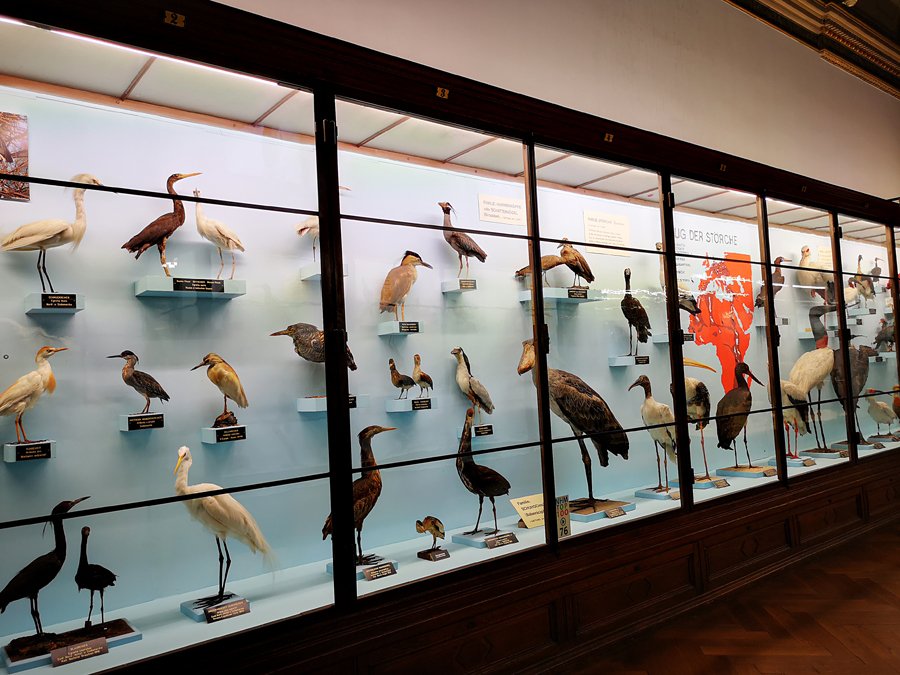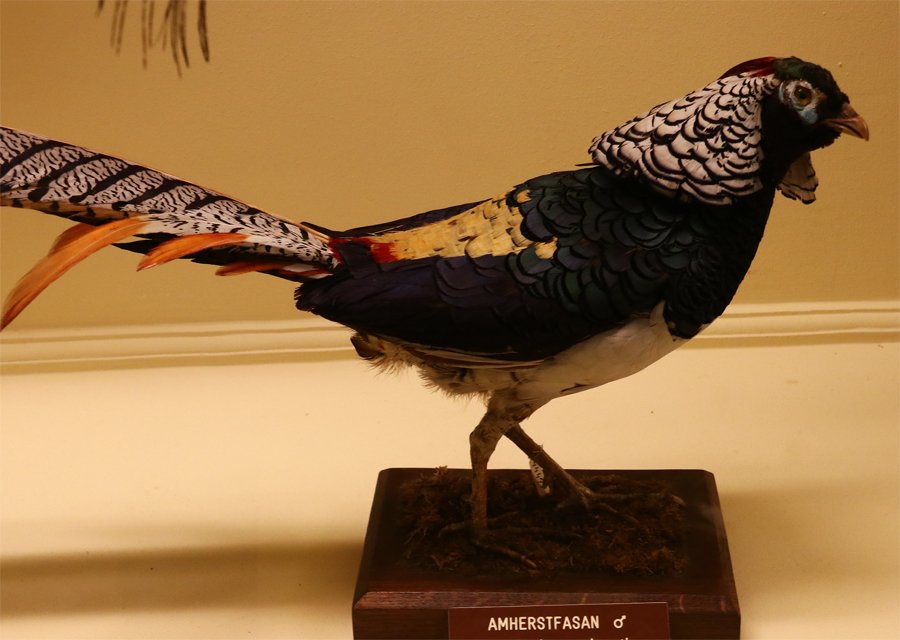 In die faszinierende Welt der Vögel entführen die Ausstellungen in den nächsten vier Sälen.
The exhibitions in the next four halls take you into the fascinating world of birds.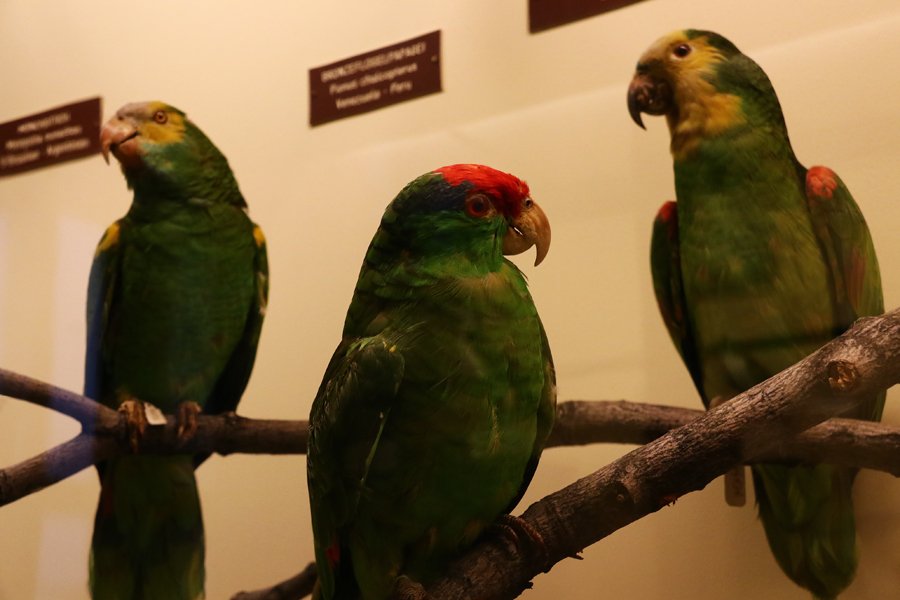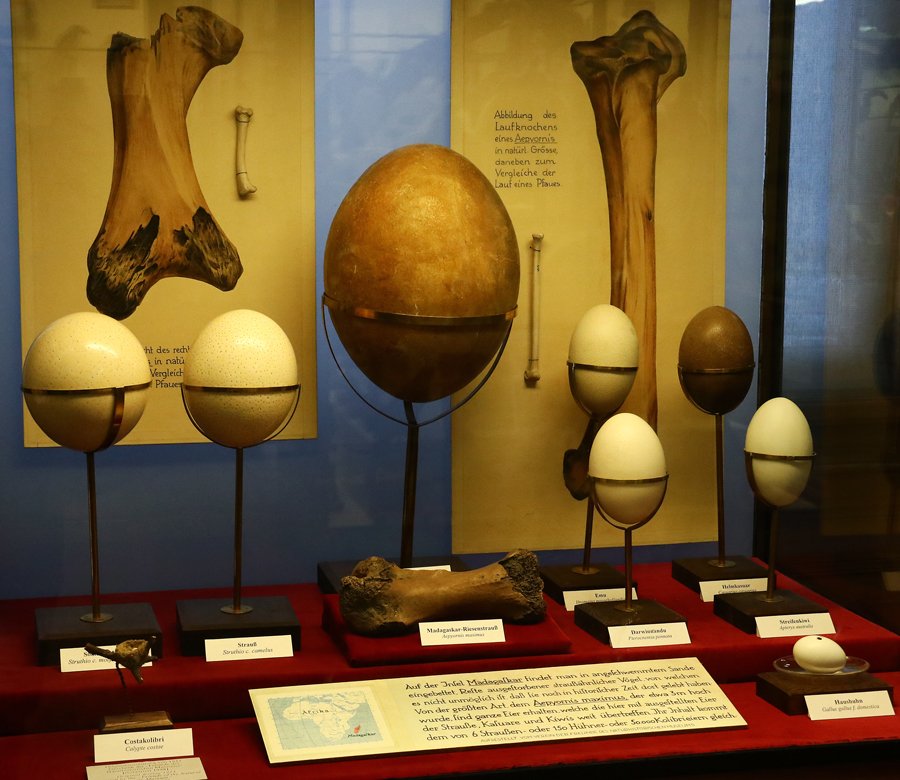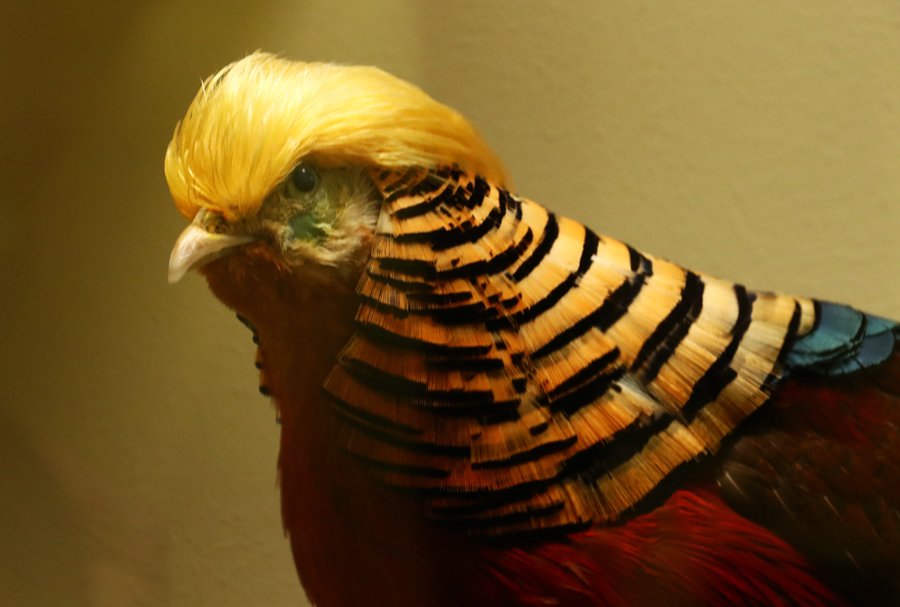 Goldfasan / Golden Pheasant (NHM Wien)
Das Museum verfügt über rund 130.000 Objekte aus der Welt der gefiederten Freunde. Nahezu ein Viertel aller bekannten Vogelarten ist ausgestellt.
The museum has around 130,000 objects from the world of feathered friends. Almost a quarter of all known bird species are on display.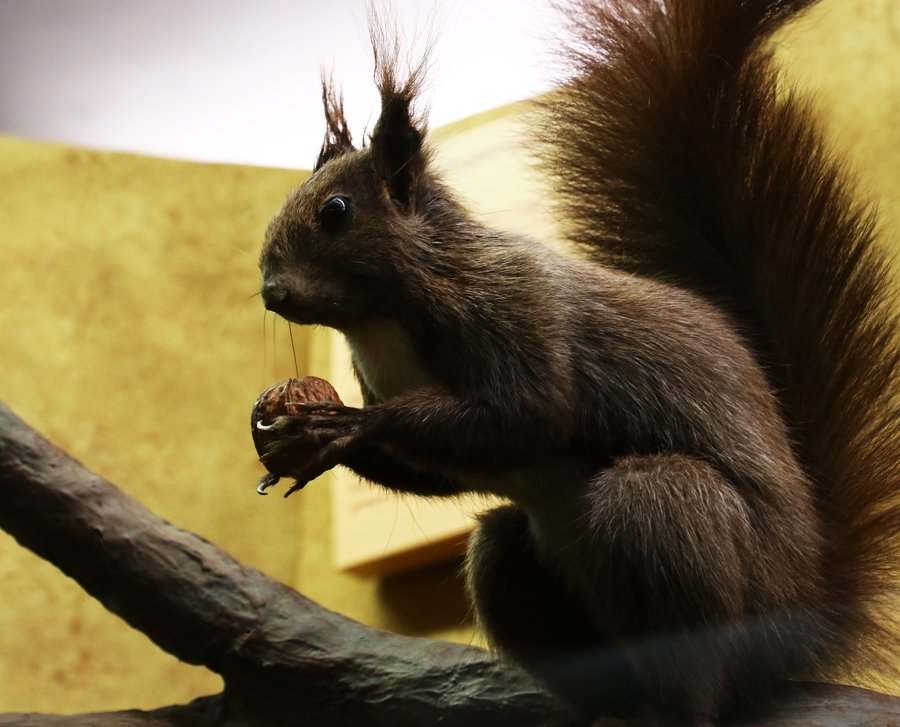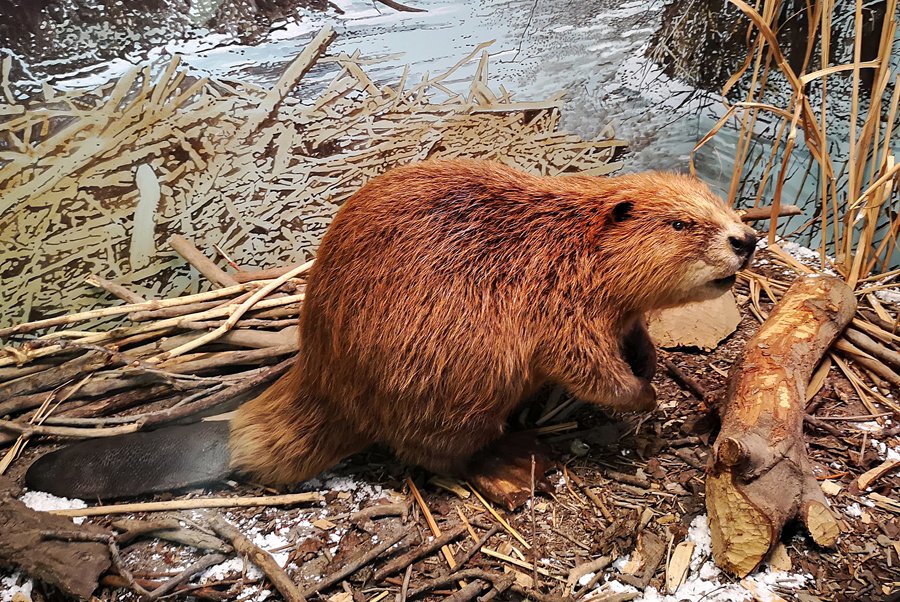 Eurasischer Biber / Eurasian Beaver (NHM Wien)
Den Abschluss der Sammlungen im 1. Stock bilden die Säugetiere. In sieben Schausälen wird anhand von rund 470 Dermoplastiken ihr Artenreichtum illustriert.
Mammals complete the collections on the 1st floor. In seven show rooms, their species richness is illustrated with the help of about 470 dermoplasties.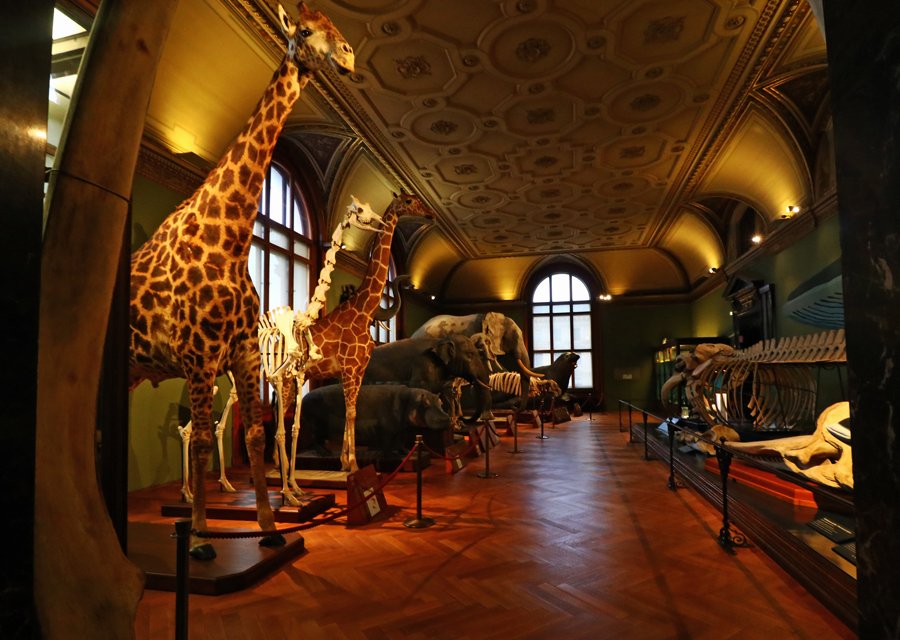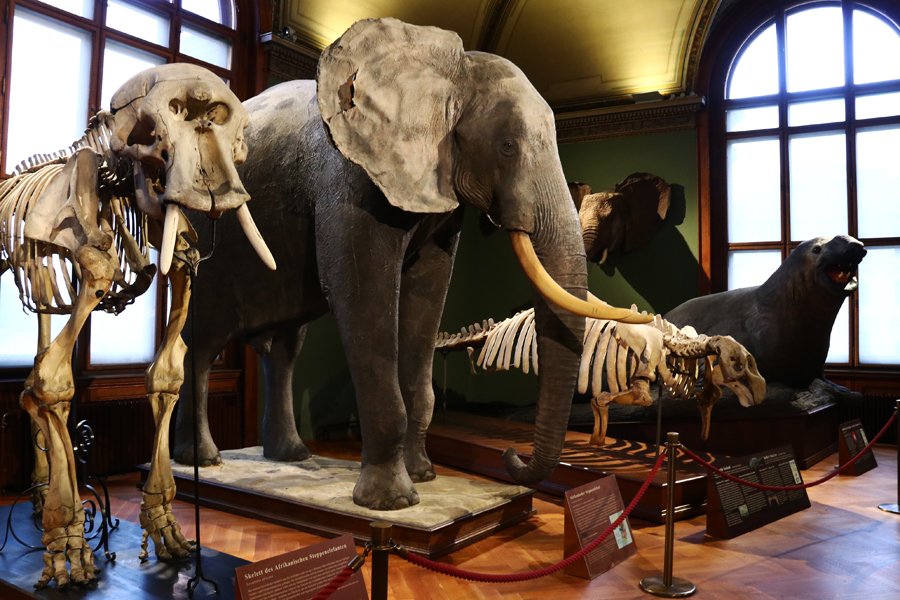 Im Großsäugersaal sind Wale, Elefanten, Giraffen, Flusspferde und Seekühe und ausgestellt.
Whales, elephants, giraffes, hippopotamuses and sea cows are exhibited in the Hall of Large Mammals.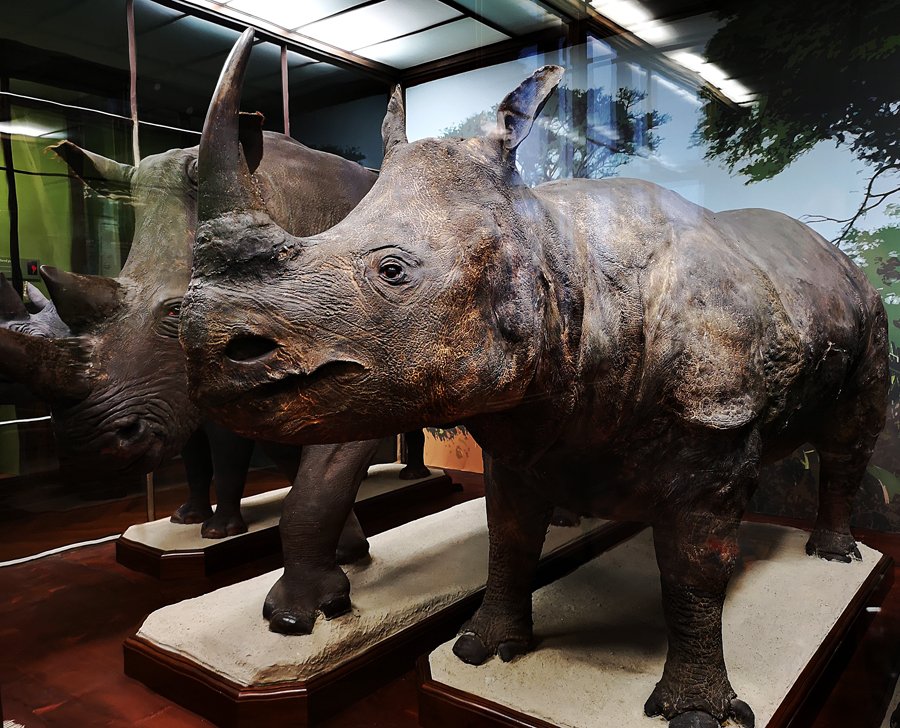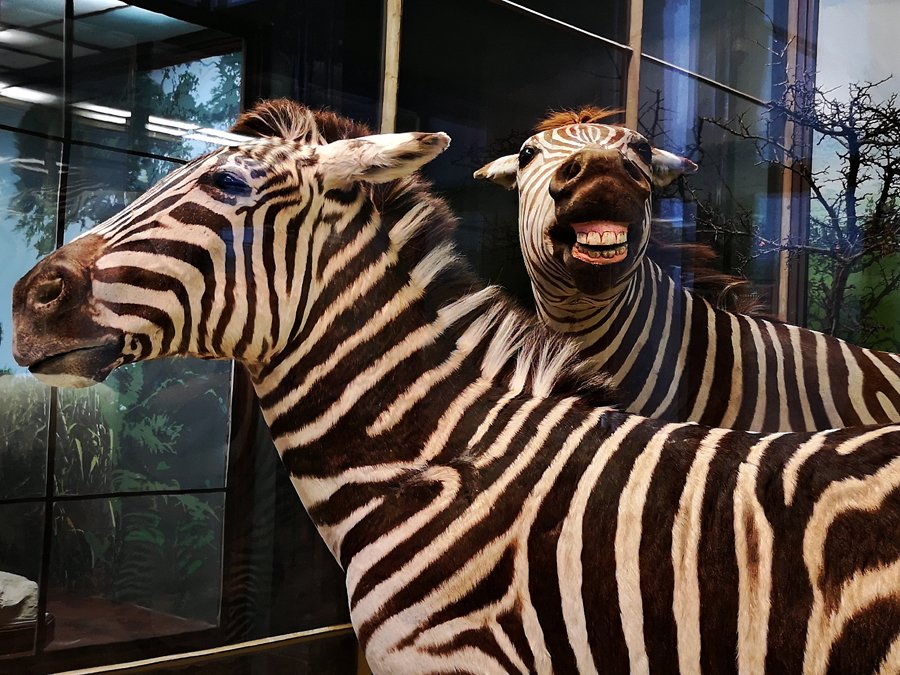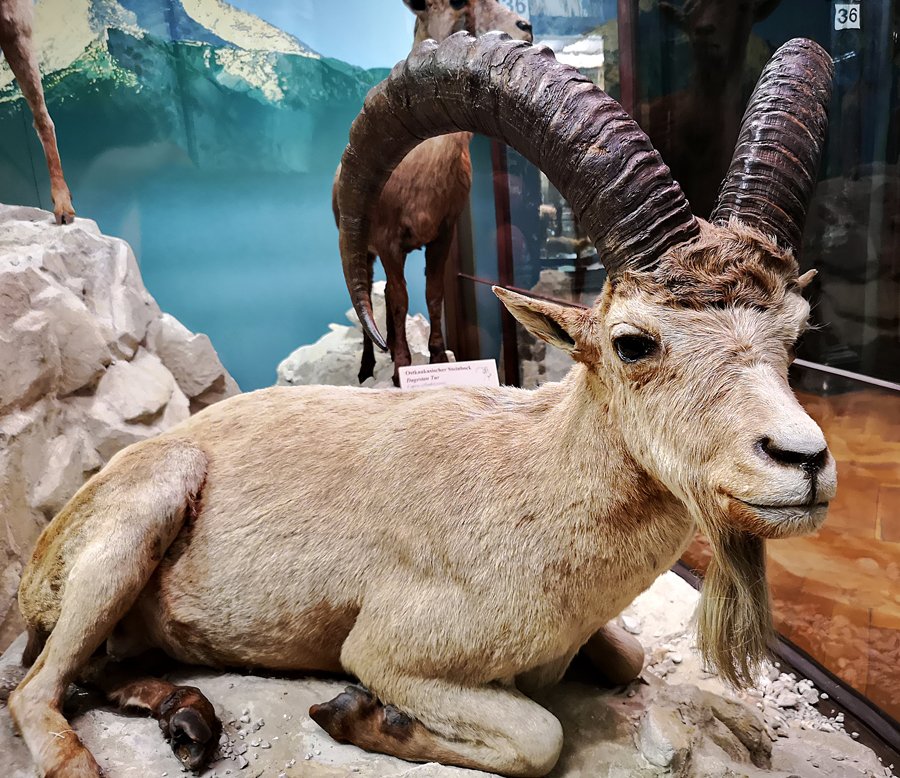 Westkaukasischer Steinbock / West Caucasian Capricorn (NHM Wien)
Der überwiegende Teil der Dermoplastiken lagert ebenso wie Tausende von Schädeln, Skeletten und Fellen im Tiefspeicher des Museums. Eine konstante Temperatur von 10 Grad Celsius beugt dem Parasitenbefall der Felle vor.
The majority of the dermoplasties, as well as thousands of skulls, skeletons and skins, are stored in the museum's deep storage room. A constant temperature of 10 degrees Celsius prevents the parasite infestation of the skins.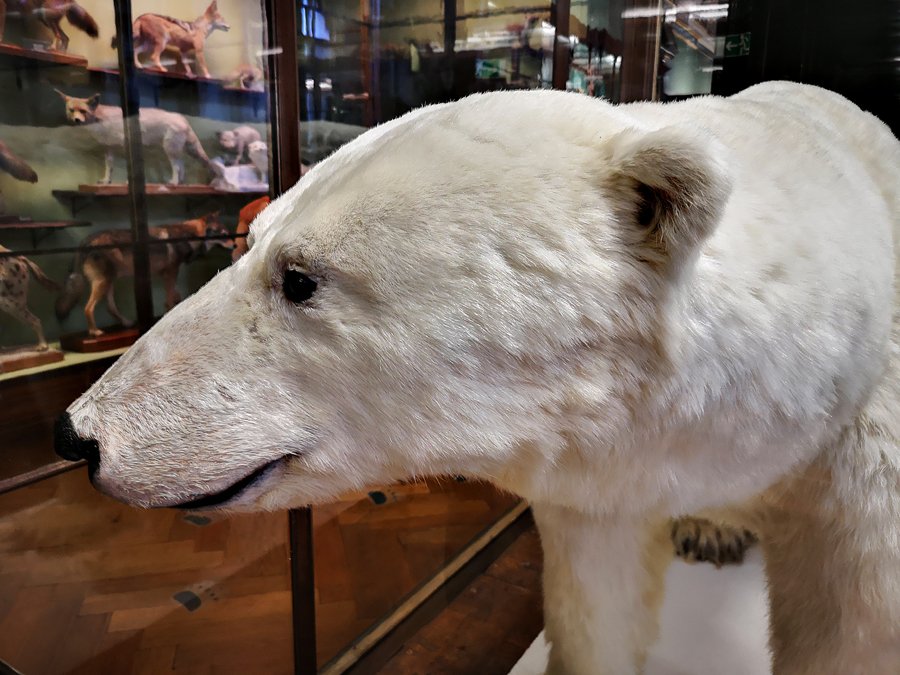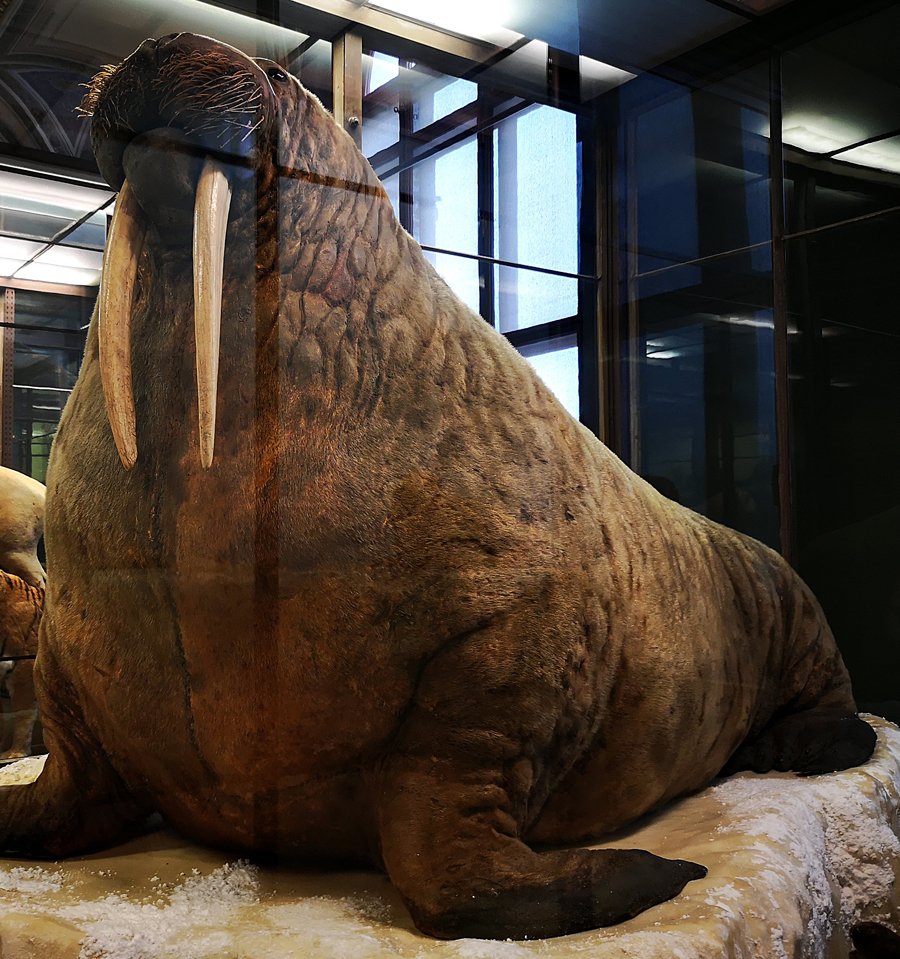 Walross / Walrus (NHM Wien)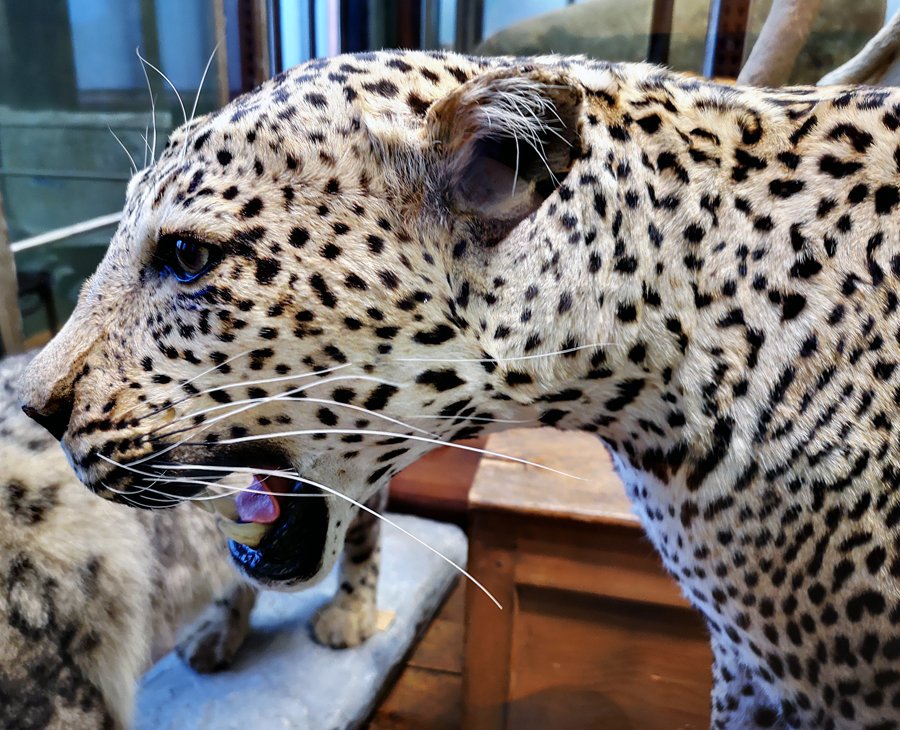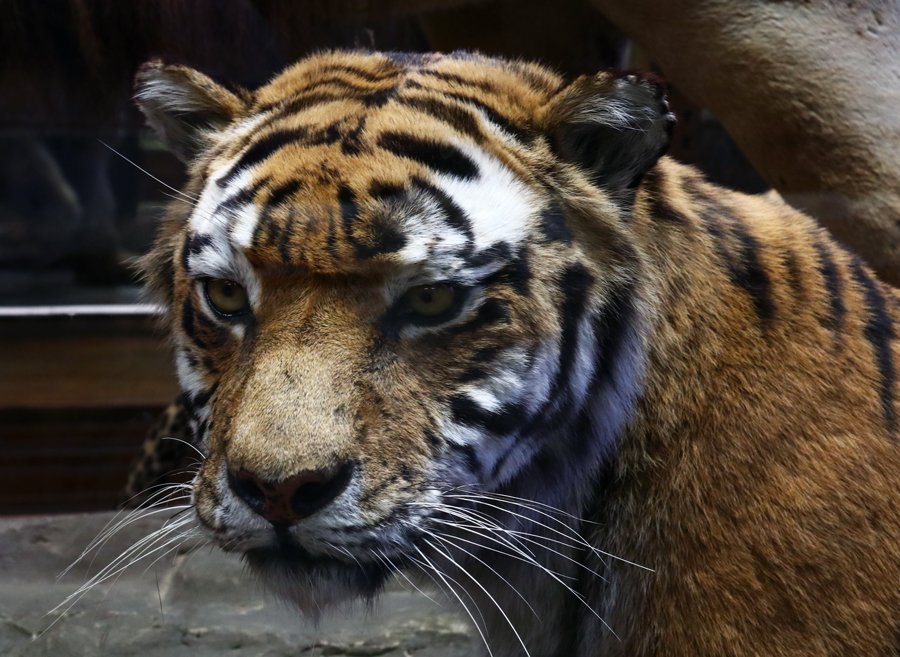 Raubtiere wie Tiger, Löwen, Bären, Robben, Füchse, Wölfe und andere mehr geben im vorletzten Schauraum den Ton an.
Predators such as tigers, lions, bears, seals, foxes and wolves dominate the second last showroom.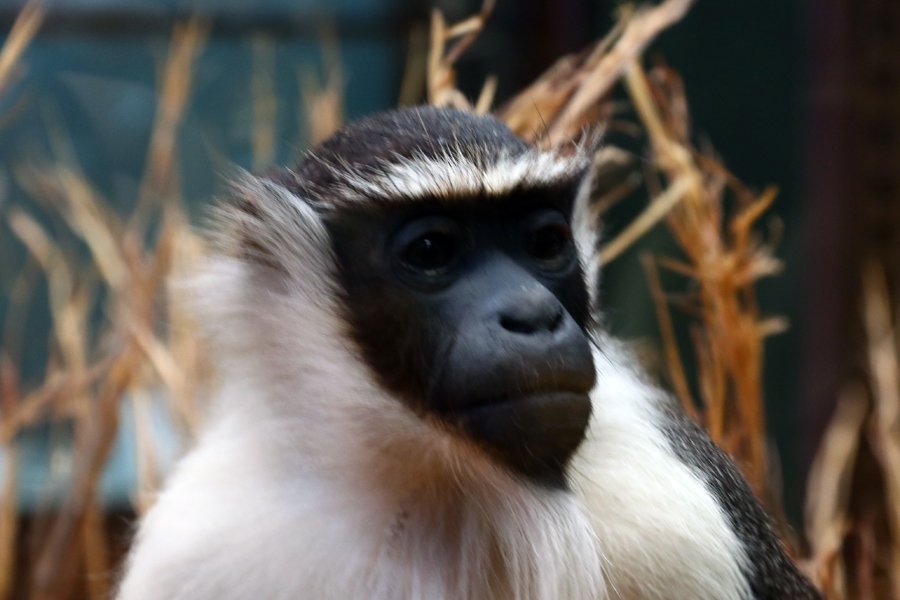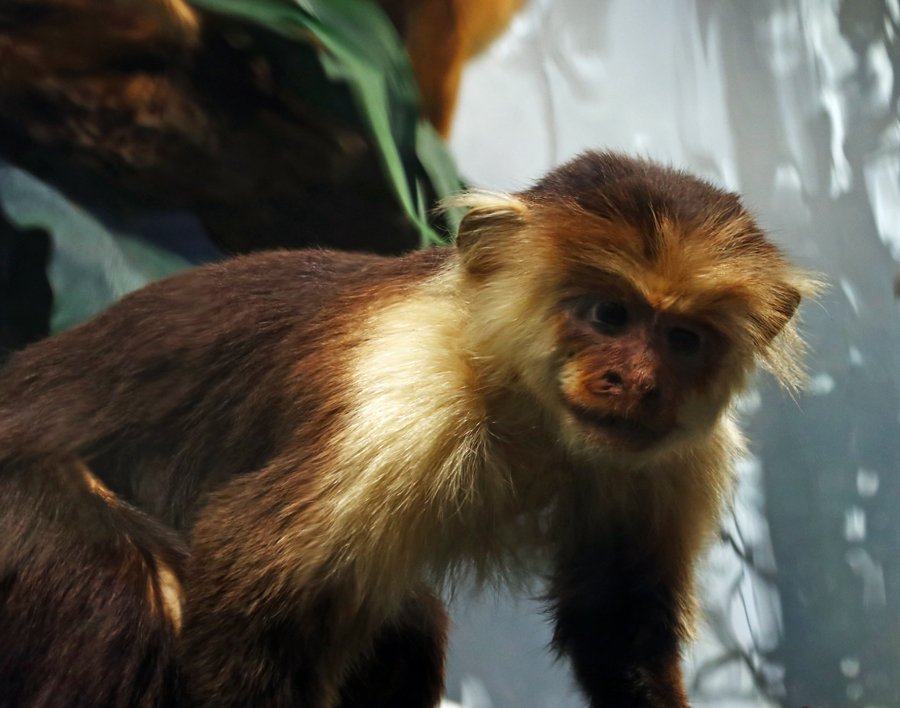 Der Rundgang endet im Primatensaal, in dem Lemuren und Affen ausgestellt sind. Viele Exponate in den diversen Schauräumen stammen aus der Sammlung des Naturforschers Johann Natterer, der ein leidenschaftlicher Sammler war und auch von seinen ausgedehnten Südamerika-Expeditionen zu Beginn des 19. Jahrhunderts zahlreiche Objekte mitbrachte.
The tour ends in the Hall of Primates, where lemurs and monkeys are exhibited. Many exhibits in the various showrooms come from the collection of the naturalist Johann Natterer, who was a passionate collector and also brought numerous objects from his extensive expeditions to South America at the beginning of the 19th century.
---