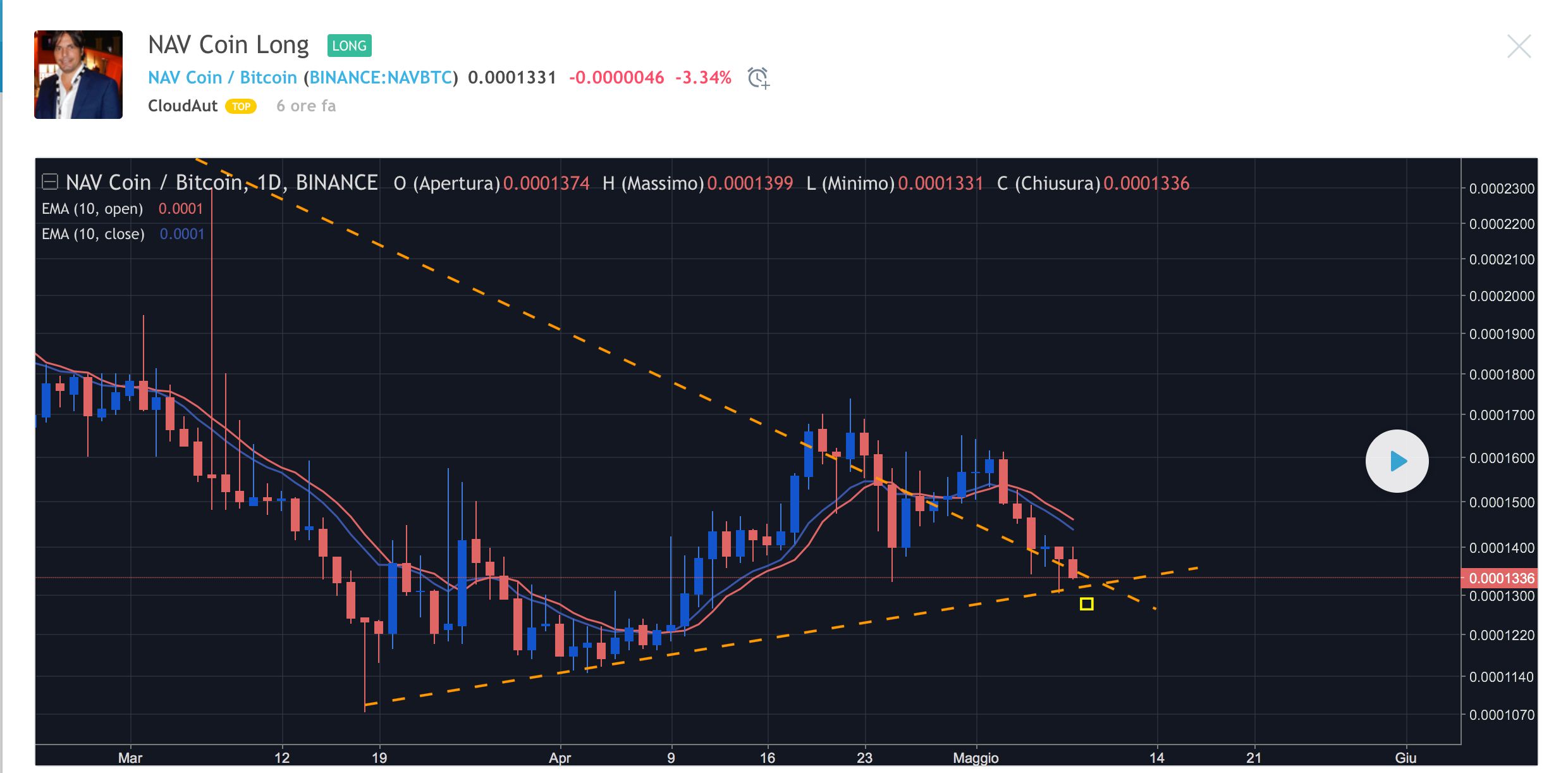 NAV Coin is one of the cryptocurrencies that, according to my modest opinion, will be greatly appreciated in 2018. It is a currency crypt that is currently around the 200th position in the Coin Market Cap.
Basically I think it is still extremely underrated. It has all the features that a crypto currency should be used in everyday life. It has extremely fast transactions. In just 3 seconds, the coins can be transferred. He has extremely low transaction faiths. Adopt the PoS system with AGE so that anyone has the possibility to do staking and ensure a 5% annual net income even if it does not keep the 24 hour computer on seven days a week. With this system, we can keep the wallet closed for days, months, or even years and then when we reopen it we will perceive the interests for the whole period that starts from when we started to do the first time.
It has an app, NAV Pay very easy to use on the smartphone with which you can send and receive NAV Coin in a moment.
In short, if I imagine a future, not too far away, where you go to the bar and buy a coffee with cryptocurrencies, I imagine you definitely pay with NAV Coin and not with Bitcoin. It would be absurd to wait 10 minutes for the transaction to be validated ... think that there would be a row! :)
Well, now the NAV Coin is in close proximity to a very strong dynamic support and I believe that at this crossroads it can once again begin the ascent it deserves.
The development team, New Zealand, seems to be really expert. Every week they publish all the developments and update the road map. The only thing they do not do is ... marketing. But there are great news on the horizon for NAV Coin, first of all, the Community Fund. We'll see!
This is my personal opinion and not a financial advice.
NAV Coin - pronti, partenza, via!
NAV Coin è una delle criptovalute che secondo la mia modesta opinione si potrà apprezzare notevolmente nel 2018. È una cripto valuta che attualmente si trova intorno alla 200° posizione nel Coin Market Cap.
Fondamentalmente ritengo che sia ancora estremamente sottovalutata. Ha tutte le caratteristiche che dovrebbe avere una cripto valuta da utilizzare nel quotidiano. Ha le transazioni estremamente veloci. In soli 3 secondi si possono trasferire i coin. Ha delle fede di transazione estremamente basse. Adotta il sistema PoS con AGE in modo che chiunque ha la possibilità di fare staking ed assicurarsi un guadagno netto annuale del 5% anche se non tiene acceso il computer h24 sette giorni su sette. Con questo sistema, possiamo tenere chiuso il wallet per giorni, mesi, o anche anni e poi quando lo riapriamo percepiremo gli interessi per tutto il periodo che parte da quando abbiamo iniziato a fare staking per la prima volta.
Ha un app, NAV Pay molto semplice da usare sullo smartphone con la quale è possibile inviare e ricevere NAV Coin in un attimo.
Insomma, se io mi immagino un futuro, neanche troppo lontano, in cui si va al bar e si acquista un caffè con le criptovalute, mi immagino sicuramente di pagare con NAV Coin e non con Bitcoin. Sarebbe assurdo aspettare alla cassa 10 minuti perché venga convalidata la transazione ... pensate che fila ci sarebbe! :)
Beh, adesso il NAV Coin si trova in prossimità di un supporto dinamico molto forte e credo che in questo crocevia possa nuovamente iniziare la risalita che merita.
Il team di sviluppo, neozelandese, sembra essere davvero esperto. Ogni settimana pubblicano tutti gli sviluppi e aggiornano la road map. L'unica cosa che non fanno è ... il marketing. Ma ci sono grandi news all'orizzonte per NAV Coin, primo tra tutti, il Community Fund. Staremo a vedere!
Questa è una mia opinione personale e non un consiglio finanziario.
You can follow me on:
Tradingview: https://it.tradingview.com/u/CloudAut/
My website : https://www.piattaformetrading.eu
Canale Telegram: Top Investments