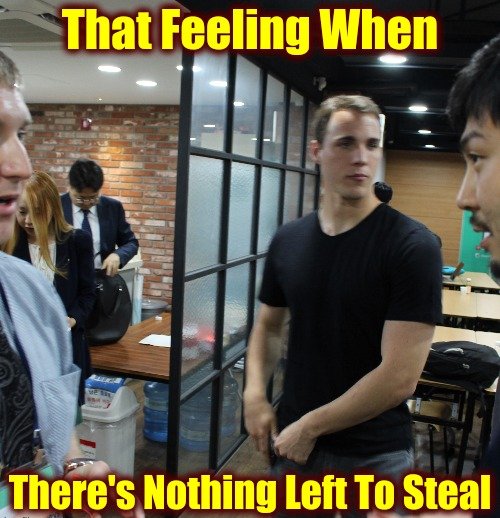 Out of nowhere, Sarah's phone lit up with a DM from @beanz that had a link to Ned's server. Intrigued, I quickly fired up Discord to see what that sleazy fucker was selling now. My initial enthusiasm was short lived, because I was first greeted with a notification explaining that in order to troll Ned's server, I would need to verify my identity.
As I debated handing over my personal details to that creepy bastard, my inner child began screaming: "What? Are you crazy! We've got an anus to protect!"
Then I heard what I came for, that slow mumbling voice that only occurs when Ned mixes Valium, Xanax and a Red Bull, you know – for the wings. But, as I listened to what sounded like Ned's rock bottom, my hopes of hearing him perform another bitcoin song, sadly, slipped away. I tried to take comfort in the comments that were ferociously pouring into chat, but even if I could have told them my tale of woe, they were way too angry to offer any sympathy.
Almost everyone was on the attack and I could tell that Ned wasn't going to take this lying down, because in his mind this was his, 'Independence Day!'
Fighting through the haze of tranquilizers and limited intellect, a desperate Ned muttered something almost incoherent in order to put all the haters in their place, but the ill-prepared, sluggishly-spoken nonsense, unfortunately, misfired and the crowd was whipped into a frenzy; a barrage of insults were catapulted into Ned so hard that he was almost flung from his swivel chair.
A dazed Ned slowly regained composure, as his right hand flapped around his desk, until it landed on the only thing that could save its dim-witted master: armed with the mouse and a desperate need for vengeance, Ned began mercilessly booting the hostiles from his server.
Then, out of nowhere, Ned fell silent, and, as I waited, someone in chat, who specialized in translating sedated-Ned into English, informed us that Ned had suffered enough and had retreated.
Now, I'll be honest with you, I could barely make sense of any of this, but I found Ned's pleas to be a bit heartbreaking, especially when, in order to convince us that he wasn't at rock bottom, he claimed that he still had some steem left, and he can quit - anytime.
I think it's obvious that we need to schedule an intervention, because Ned desperately needs help!