When I made my signature quilt recently, I accidentally left out a very important square my quilting South African friend made me. At the time, I didn't know what to do, but I was able to turn it into the softest, sweetest, personalized lovie for baby girl! I can't wait for her to get to use it!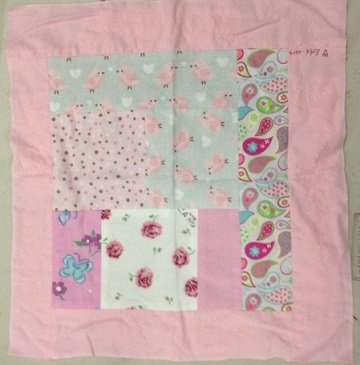 When I opened Ms. Este's gift and found this quilt patch, she let me know it was for "something later." I had all the signed quilt patches and decided to put together the quilt. Then I asked her to be sure and sign a patch for me because she hadn't. That's when she let me know that I hadn't included the patch she had made for the quilt! I had no idea this was the "something later" that it was to be used for!
I quickly came up with a plan to sew it to a super soft blanket on the back of it. It's a great size - about 20" square. It makes the perfect size for a little baby girl to cuddle up with. Around the edges it says, "Faith, Hope, Love, Joy" embroidered by hand by Ms. Este herself. It is definitely a special treasure and I love that it ended up by itself, used in a special way.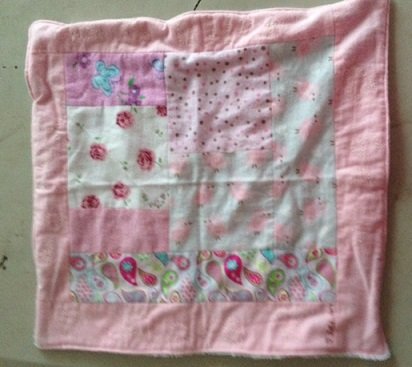 .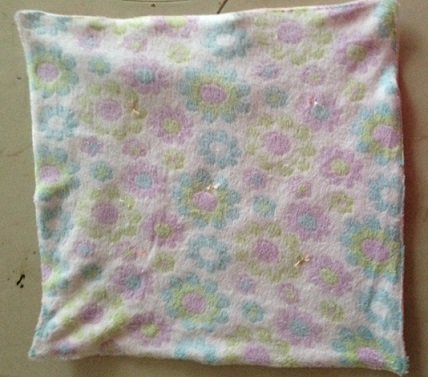 Ms. Este told me to use it however and she would be happy as long as I loved it. Well, I do! She said it was made with lots and lots of love! I can definitely feel it!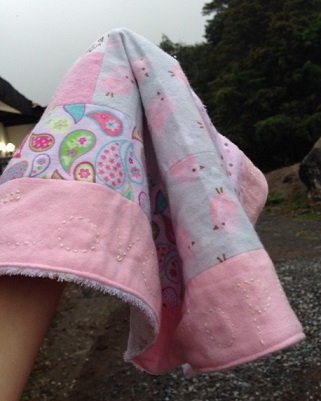 .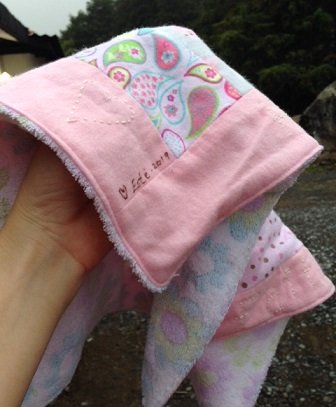 ---
---
#Needleworkmonday brought to you by @crosheille
---
---
My favorite hobby is quilting. Take a peek at my other quilt posts:
Baby Girl's Shower Quilt
Thatcher's Disappearing 9 Patch Baby Quilt
Gwen's Wonky Star Baby Quilt
Quilted Baby Boy Cowboy Boots
Piper's Picket Fence Quilt
Max's Zipper Quilt
Texas Angel Pillow
Handmade Rag Doll for My Daughter
Baby Charlotte's Purple Wave Quilt
Baby McKenzie's Perfectly Pink Girlie Quilt
Baby M's Soft Flannel Quilt
Bring Joel Home I-Spy Quilt
My Niece Ellanor's Baby Quilt
Hudson's Plus Quilt
Austin's Baseball Disappearing Nine Patch Quilt
Pop's Texas A&M Bento Box Quilt
Quilted Baby Cowboy Boots
Grandpa's Texas Flag Quilt
My Daughter's Paintbox Quilt
Texas A&M Graduation Disappearing 9 Patch Quilt
Grandma's Comfort of the Psalms Hexagon Quilt
Quilted Christmas Stockings
Nana's Pinwheel and Spools Quilt
Stacks of Sweets
8 Sponge Bob Quilt
First (and Only) Triangle Zig Zag Quilt
First Quilt for my Baby Boy
Purple Disappearing 9 Patch Quilt

---
---
Are you interested in visiting Panama to learn more about moving here? Check out Panama Relocation Tours if so. This tour will take you to many cities in the area where expats have settled and introduce you to many helpful people. Each tour is 5 nights and 6 days across the entire country (and you get to meet me)!