Last month, my friends here in Panama threw me a baby shower. At the shower, each person signed a square of fabric and they gave it to me so that I could make the baby a quilt. Having a project to do motivated me to get all the work done I needed to do around the house so I could focus on baby girl's quilt.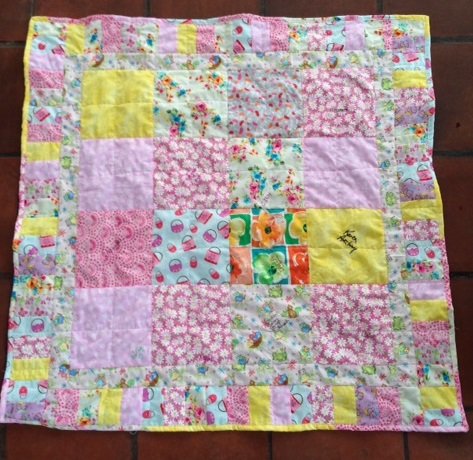 We all met up at a friend's house for the shower, and they decided to dress me up for the occasion. Ha! It was a lot of fun sitting around with them, opening gifts, playing a few games, and enjoying the day.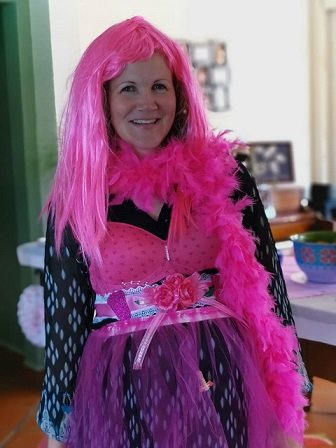 They had a lot of fun dressing me up.
When I left the shower, I wasn't sure I was going to get the project done that they had given me, so it sat on a shelf for a while. There were 16 signed squares and quite a few blank ones. I wasn't sure what design I wanted to do, so it just needed to sit for a bit and wait.
Finally, one day I decided to pull out the squares and see what I could do with them. This design came quickly into my head. I knew I couldn't cut up the squares too much because of the placement of some of the signatures. I was able to decide on big blocks in the middle with a border around it with one of the fabrics I had a little bit more of. Then around that, I cut the squares up to make another border with smaller rectangles. I love how it turned out. I wasn't planning to finish it all in one day, but I sat down and it all came together within about 5 hours! I was glad to not have it hanging over me for long to get it done.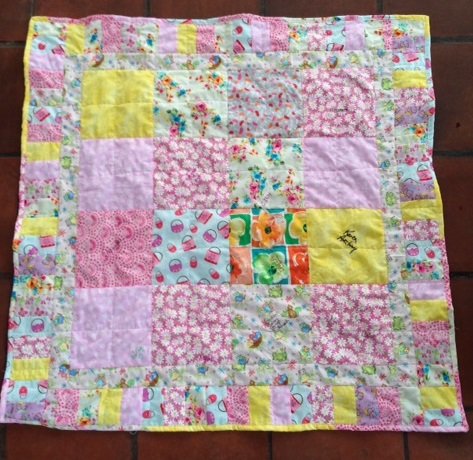 .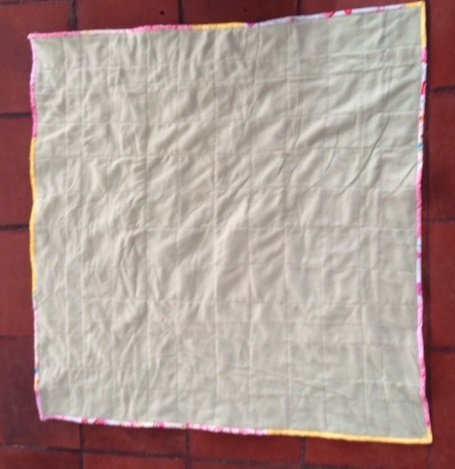 For the back, I decided to go with a solid fleece blanket I already had on hand. It made it quick to put together. The binding is all the leftover pieces of fabric from the front. There are only tiny pieces of scraps leftover from the quilt! It will be one of a kind! I plan to write baby girl's name and birth information on the front blank square.
I am glad to have such caring and nice friends here who came up with this fun idea for me. I'm even more glad that I was able to finish the project with time to spare before the baby arrives!
---
---
Baby update - I still have about 3 weeks until my due date. Everything is going well for both of us. She is very active, but lets me sleep well at night. I am ready to meet her, but enjoying this time when life is a little easier with her totally contained at the moment! I can't wait to introduce her to the world!
---
---
Are you interested in visiting Panama to learn more about moving here? Check out Panama Relocation Tours if so. This tour will take you to many cities in the area where expats have settled and introduce you to many helpful people. Each tour is 5 nights and 6 days across the entire country (and you get to meet me)!
---
---
---
My favorite hobby is quilting. Take a peek at my other quilt posts:
Thatcher's Disappearing 9 Patch Baby Quilt
Gwen's Wonky Star Baby Quilt
Quilted Baby Boy Cowboy Boots
Piper's Picket Fence Quilt
Max's Zipper Quilt
Texas Angel Pillow
Handmade Rag Doll for My Daughter
Baby Charlotte's Purple Wave Quilt
Baby McKenzie's Perfectly Pink Girlie Quilt
Baby M's Soft Flannel Quilt
Bring Joel Home I-Spy Quilt
My Niece Ellanor's Baby Quilt
Hudson's Plus Quilt
Austin's Baseball Disappearing Nine Patch Quilt
Pop's Texas A&M Bento Box Quilt
Quilted Baby Cowboy Boots
Grandpa's Texas Flag Quilt
My Daughter's Paintbox Quilt
Texas A&M Graduation Disappearing 9 Patch Quilt
Grandma's Comfort of the Psalms Hexagon Quilt
Quilted Christmas Stockings
Nana's Pinwheel and Spools Quilt
Stacks of Sweets
8 Sponge Bob Quilt
First (and Only) Triangle Zig Zag Quilt
First Quilt for my Baby Boy
Purple Disappearing 9 Patch Quilt
#needleworkmonday brought to you by @crosheille!