I have had this project in my head for a while now and I finally got it started and at least halfway finished. Every Christmas before we moved to Panama, my parents would give us matching Christmas pajamas and they usually came with flannel pants. What is one to do with 20+ pair of flannel pants in a tropical environment? Read below to find out!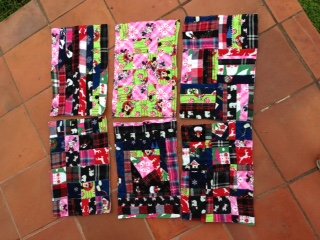 I have been wanting to do something with all of our flannel pants for a while now, but I finally found the time to get something done. I would like to make a quilt, but I just don't have the time. I decided on something a little smaller - quilted place mats!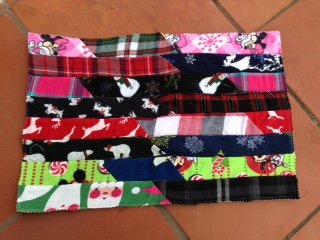 Stripes with Diagonal piecing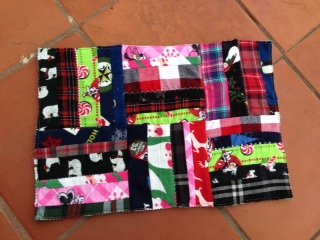 Stripes
These turned out to be almost as much work as putting together an entire quilt would have been, but I love how they turned out. I was hoping to finish 12, but I ended up with 6 at the moment. Maybe I can finish the other six before Christmas!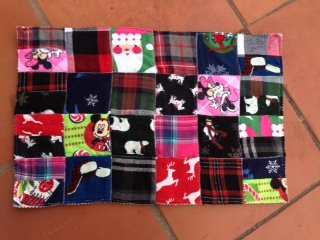 Patches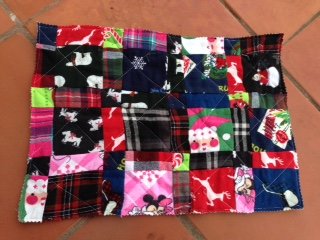 Disappearing 9 Patch
Nana is coming to visit tomorrow for about a month and we will get to celebrate her birthday and Mother's Day while she is here. These place mats will be one of those gifts. I know that she will love them and appreciate the time that was put into making them.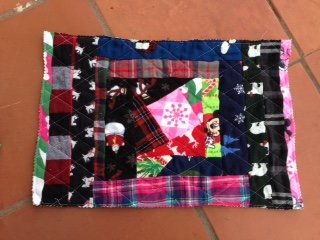 Wonky Log Cabin...sort of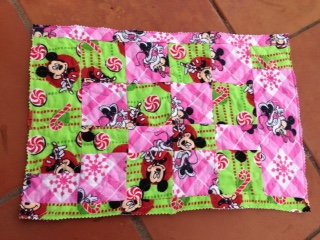 Mickey and Minnie
I cut one leg off of each pair of pants and pulled out the seams. Then I started cutting them up into different shapes based on what I was planning to do for each of the place mats. I tried to make each one 12"x18", but some of them ended up being a little smaller or a little larger!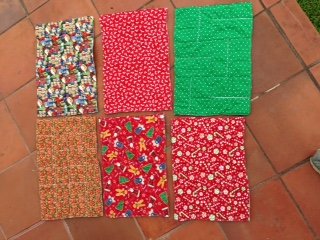 The backs
I cut up a fleece blanket and put it in the middle as the batting. The backs are all different Christmas fabrics that I had my mom bring in January when they came to visit. Which one is your favorite?
I am probably done with all projects until baby girl arrives! Thankfully my due date is about a week away, but I figure she will come a little late! We will have to wait and see!
---
---
Are you interested in visiting Panama to learn more about moving here? Check out Panama Relocation Tours if so. This tour will take you to many cities in the area where expats have settled and introduce you to many helpful people. Each tour is 5 nights and 6 days across the entire country (and you get to meet me)!
---
---
#Needleworkmonday brought to you by @crosheille
My favorite hobby is quilting. Take a peek at my other quilt posts:
Handmade Baby Lovie Blanket
Baby Girl's Shower Quilt
Thatcher's Disappearing 9 Patch Baby Quilt
Gwen's Wonky Star Baby Quilt
Quilted Baby Boy Cowboy Boots
Piper's Picket Fence Quilt
Max's Zipper Quilt
Texas Angel Pillow
Handmade Rag Doll for My Daughter
Baby Charlotte's Purple Wave Quilt
Baby McKenzie's Perfectly Pink Girlie Quilt
Baby M's Soft Flannel Quilt
Bring Joel Home I-Spy Quilt
My Niece Ellanor's Baby Quilt
Hudson's Plus Quilt
Austin's Baseball Disappearing Nine Patch Quilt
Pop's Texas A&M Bento Box Quilt
Quilted Baby Cowboy Boots
Grandpa's Texas Flag Quilt
My Daughter's Paintbox Quilt
Texas A&M Graduation Disappearing 9 Patch Quilt
Grandma's Comfort of the Psalms Hexagon Quilt
Quilted Christmas Stockings
Nana's Pinwheel and Spools Quilt
Stacks of Sweets
8 Sponge Bob Quilt
First (and Only) Triangle Zig Zag Quilt
First Quilt for my Baby Boy
Purple Disappearing 9 Patch Quilt