Not wide enough - and not symmetric
---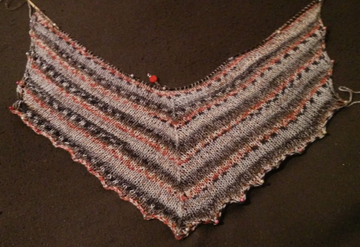 ---
I wanted to make a wide rectangle scarf with a tapered point - I've got 200g of sock yarn which should make a scarf that's long and wide. But somehow I both made it not wide enough (due to the inclined rows) and not symmetric (one side has nearly 10 stitches more than the other). So I frogged it and started anew!
I decrease two stitches in the middle every knit row and increase at the side with yarn overs every purl row. I love this double decrease and it's quite easy: you slip the stitch before the middle and the middle stitch together from the left needle to the right (they look a bit twisted there), then knit the next stitch and pull the two slipped stitches together over this stitch, the back rows are simply purled. This is another thing I learned from Sockmatician :)
---
---
10% of this post's rewards automatically go to
@Needleworkmonday
, our community account.
10% der Einnahmen dieses Posts gehen automatisch an
@Needleworkmonday
, unseren Community Account